Control Insect Pests for Healthier Citrus Trees and Bigger Yields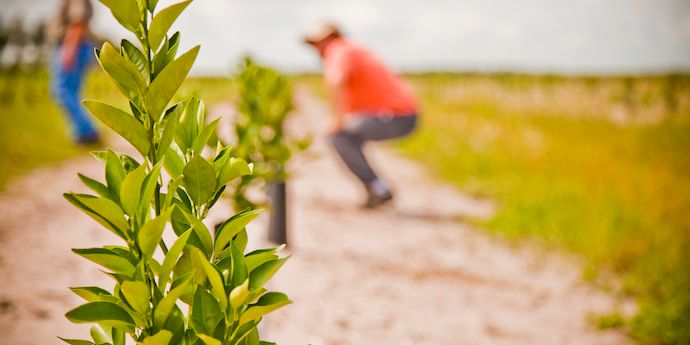 Protecting both young and established trees from key insect pests and the problems they cause will pay back this season and for years to come. An early soil application of DuPont™ Verimark® to young trees less than 5 feet tall or a foliar application of
DuPont™ Exirel® to bearing trees protects by delivering cross-spectrum insect control and helps avoid losses from certain insect-vectored diseases. That protection results in more vigorous, healthier citrus trees.
"Young trees are an operation's future," says Phil Stansly, Ph.D., entomologist, University of Florida. "They have the greatest potential economic value, so they require and merit all the protection a grower can give them."
After conducting field trials with Verimark®, Henry Younce, president of KAC Agriculture Research, Deland, Florida, recommends using it on young citrus trees. "It's the best option out there for controlling leafminers and psyllids. We saw 45 to 60 days of
control on Asian citrus psyllid and even longer than that on leafminers. That's the longest control of any labeled citrus product. We'll be including Verimark® in our rotation this year."
When using Exirel® in producing groves, you'll see the difference at harvest. Field trial results are impressive.
In large plot demonstrations at four Florida grove locations, when Exirel® was applied at spring and summer flush, average yield was increased by 13.7 percent over the grower standard insect control program.
Field trial results were even better in tests conducted in Immokalee, Florida. "We realized a 26 percent increase in production from Exirel® treated trees over the control treatment," says Forrest Taylor, citrus manager. "Overall appearance of the Exirel® treated trees was better, with denser canopies."
DuPont™ Verimark® and Exirel® insect control are not available in every state. See your local DuPont representative or retailer for details on availability.
The EPA registered label contains the statement, "This product is highly toxic to bees exposed to direct treatment on blooming crops or weeds. Do not apply this product or allow to drift to blooming crops or weeds if bees are foraging in the treatment area."
The information provided on this website is for reference only. Always refer to the product labels for complete details and directions for use.