Nematode Monitoring and Control in Citrus Groves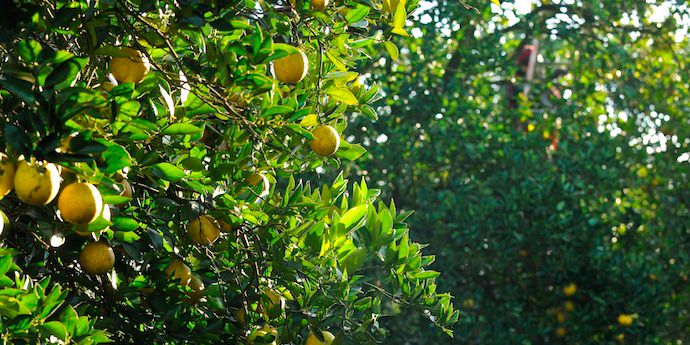 Nematodes numbers are on the rise, putting the productivity of Florida citrus groves at risk. Those are the findings from a three-year nematode monitoring study of soil and root samples in Florida citrus groves.
Analyzing 1,751 samples revealed that populations of harmful nematode species exceeded the threshold in 50 percent of the samples taken in 2014, an increase from 32 percent in 2012 and 44 percent in 2013.
"The most recent number is five times the level recorded in 2003, when roughly 10 percent of the samples taken exceeded thresholds," notes Jim Conrad, DuPont Crop Protection retail account manager.
In that same three-year time frame, detection and counts of dagger nematodes increased from 37 to 62 percent, according to DD Diagnostics, Lake Alfred, Florida. "The average dagger nematode count has increased from 33 to 89 per 500 cubic centimeters of soil," says Conrad.
Sting and citrus nematode numbers decreased slightly over the last three years. Two other species were detected less frequently: meadow lesion nematodes (23 detections) and coffee lesion nematodes (2 detections).
"Our current thresholds were established before arrival of HLB," says Conrad. "It's logical to expect that thresholds would be lower for trees infected with HLB bacteria because any stress, including nematode feeding, would exacerbate the negative effects of HLB."
Nematode Economic Thresholds
Citrus: Threshold varies, depending on sampling date.
Burrowing, Coffee Lesion and Meadow Lesion: Threshold is detection.
Sting and Dagger: Thresholds have not been established.
Nematode Monitoring Is Essential
It's difficult to visually detect symptoms of nematode damage in trees because the effects are often subtle: slowed growth, thinner canopies, less new foliage and twig dieback at the tree top.
"Those symptoms become more apparent when trees are environmentally stressed," says Conrad. "To stay ahead of the pest, annual nematode monitoring is important."
Sampling Tips
Nematode monitoring starts with baseline samples of soil and roots, followed by annual fall sampling to track changes in population and species. These tips will help you collect a representative grove sample.
Collect soil and root samples from the undercanopy areas of 20 to 30 trees within a five-acre block.
When sampling for burrowing nematodes, collect fibrous roots from the top 12 inches of soil, gathering enough to loosely fill a one-gallon freezer bag.
Thoroughly rinse soil from roots and bags, seal the bags and submit the samples for analysis as soon as
possible to a commercial laboratory or the University of Florida Nematode Assay Lab.
Management Options
If nematodes are present, consider employing these management options.
Sanitation: Clean equipment thoroughly before moving it between groves.
Plant only trees certified as nematode-free by the FDACS Division of Plant Industry.
Cultural practices: Maintain a vigorous root system in the shallow root soil profile.
Chemical suppression: Apply nematicide to suppress nematode populations in soil and on roots, focusing placement under the tree canopy in the top 24 to 30 inches of soil, where fibrous roots and nematode densities are highest.
DuPont™ Vydate® L insecticide/nematicide provides suppression of certain nematode species by reducing feeding, movement, reproduction and hatching. As it moves systemically, Vydate® L accumulates in young, actively growing roots and stops feeding quickly. A four-times-per-year Vydate® L application program (PDF) is recommended via microsprinkler irrigation: first in September, a second application 45 days later, a third application in February, and a fourth application 45 days after that.
"Citrus greening disease can significantly reduce root mass," notes Conrad. "Using Vydate® L could help reduce the impact of greening on trees that have compromised root systems due to the presence of nematodes."
The information provided on this website is for reference only. Always refer to the product labels for complete details and directions for use.