Foliar Health Applications for Corn, Soybeans and Wheat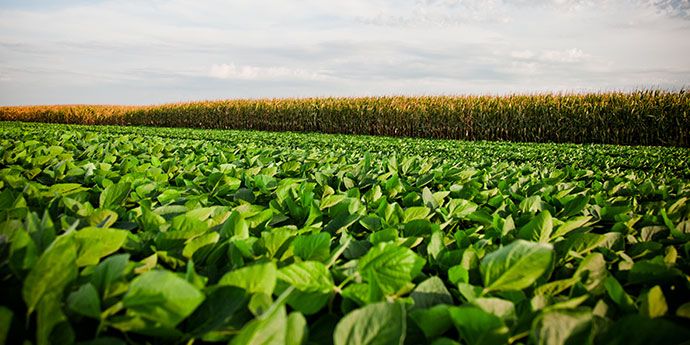 By adding a foliar health program to your crop protection plan, you add extra horsepower for increased yields by protecting your crops' elite genetics against pests and disease. The combination of proven insect control with a powerful fungicide provides preventative and curative properties to protect plants from pests that interfere with a crop's ability to thrive. This protects the health of the plant throughout the season. Find out more here.

A foliar health program from DuPont offers:
Control of both foliar and soil-borne fungal diseases for healthier-looking crops and higher yield potential
Consistent insect protection to control tough pests
Excellent protection from production-limiting plant diseases
Enhanced health benefits for the plant including increased leaf area and higher chlorophyll index to keep leaves greener longer
DuPont Crop Protection offers a full line of fungicides and insect control products to fit your operation's needs.
Use DuPont™ Aproach® fungicide for effective control of foliar and soil-borne diseases in corn and soybeans, including soybean white mold. Watch a video. For more information on Aproach® and a full list of benefits, visit aproach.dupont.com.
DuPont™ Aproach® Prima fungicide combines two premier fungicides for enhanced disease protection against hard-to-control diseases, including strobilurin-resistant frogeye leaf spot. See more here. For more information on Aproach® Prima and its benefits visit aproachprima.dupont.com.
DuPont™ Prevathon® insect control brings powerful worm and insect control and management flexibility to your soybean, corn and wheat acres. For more information on Prevathon® and its benefits visit prevathon.dupont.com.
Get started today

Talk to your local DuPont representative to discuss adding a foliar health program to your crop management plan as well as your TruChoice® Advantage program for:
Financial rewards and rebates that increase with participation
A local DuPont agronomy team of experts
Tailored product combinations to fit your fields
The information provided on this website is for reference only. Always refer to the product labels for complete details and directions for use.