Almond Insect Control: Maximize May Applications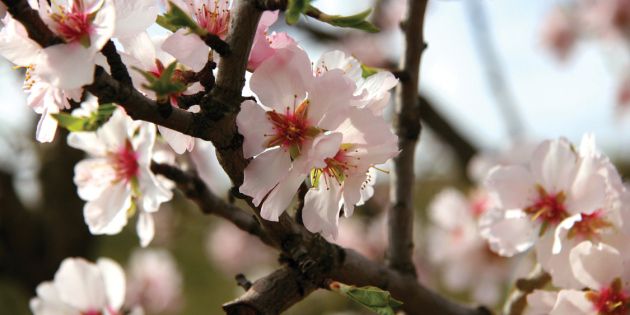 To make the most of the thriving almond market, take time now to assess your mid-season program for almond insect control.
Once the critical post-petal-fall period has passed, evaluate what was accomplished with dormant and bloom applications, then continue with a strategic insect control program that provides the most control while protecting important beneficials.
Almond Insect Control Starts With Sanitation and Scouting
Almond growers rely heavily on orchard sanitation to initially manage peach twig borer (PTB) and especially navel orangeworm (NOW), but an integrated pest management (IPM) program will include other elements.
During this post-petal-fall period, PCAs often use traps to determine biofix points utilizing degree-days to effectively monitor pest levels prior to the May application period. Proper trap placement is vital, as is working closely with your PCA to develop the most effective insect control program for your needs this season.
Protect Beneficials
Managing populations of PTB and NOW in almonds is both an art and a science. When pest populations reach threshold levels, mid-season pest control programs must protect orchards while preserving natural enemy populations. Beneficial insects are essential allies in any year-round IPM plan, but their work is even more critical during May and June.
Act When the Time is Right
Choosing appropriate pest control products and getting application timing right is critical. One strategy is to use insect control products with long-lasting activity to control PTB populations and early NOW pressure as growers enter a new phase of worm pressure.
Pest control products such as DuPont™ Altacor® insect control should be used early in the pest life cycle to prevent population buildup and maximize yield potential.
For May applications that protect crop quality, look for products that quickly stop feeding by PTB, NOW, Oriental fruit moth and oblique banded leaf roller and that have minimal impact on beneficial insects.
Resistance management best practices include rotating modes of action. If Altacor® is not used for a May spray — either due to another product choice or because an application wasn't needed — it can be used as an effective pest control option in the critical early hull split phase.
Diligent scouting and continued IPM tactics throughout the season will help maintain lasting control of damaging pests and keep our industry on track to bring in another bountiful almond crop.
The information provided on this website is for reference only. Always refer to the product labels for complete details and directions for use.