Plan for Flexible, Season-Long Grape Insect Control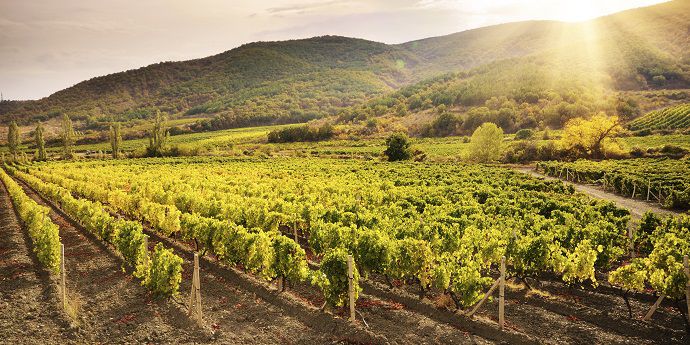 Effective vineyard pest control has evolved beyond the simple scout-and-treat approach to grape insect control. It now requires developing a season-long plan based on pest histories, pest infection levels and product rotation. If insect pressures shift from year to year or suddenly flare during the season, reassess and perhaps alter the plan.

For example, katydids are appearing in increasing numbers in grapes this season, notes Jeff Pacheco, technical sales agronomist, DuPont Crop Protection. "The increased populations could be due to more wet weather this winter and early spring resulting in more vegetation in the hills and fallow fields, which harbor the pest. Growers might need to rearrange their treatment plan, since not all products are labeled for katydid control."

Because they are relatively small and mobile, blending into grape foliage, katydid nymphs can be easy to miss, he adds. "It's easier to see the damage they do to grape leaves than look for the nymphs. High populations and severe leaf damage can interfere with photosynthesis. In some years, katydid nymphs can be a concern in grapes from March through May."
Katydid Nymph Control
If insect control measures are needed, a spray application may be justified to reduce damage prior to bloom. "DuPont™ Avaunt® insecticide (Group 22) provides control of katydid (nymph) along with exceptional control of key lepidopteran pests, including omnivorous leafroller, grape leaffolder, western grapeleaf skeletonizer, and suppression of leafhopper species," Pacheco says.

The wettable dispersible granular product is easy to handle and mix, and should be applied at the highest labeled rate of 6.0 ounces per acre for control of katydid (nymphs). Lepidopteran pests are labeled at a rate range of 3.5 to 6.0 ounces per acre, depending on the species. Leps typically stop feeding less than four hours after an application of Avaunt®.

"Avaunt® delivers fast, flexible control through ingestion and contact, and provides ovicidal, ovi-larvicidal and larvicidal activity on lepidopteran species," says Pacheco. "And its unique mode of action is easy on most beneficial insects."

Another option for controlling katydid nymphs is DuPont™ Altacor® insect control powered by Rynaxypyr®. Like Avaunt®, Altacor® delivers exceptional, lasting control of key lepidopteran species, as well as climbing cutworm and raisin moth. "Both products have favorable environmental profiles and cause no mite flaring, Altacor® has a great fit after bloom or prior to bunch closure," Pacheco adds.
Rotational Options
Worm control can be extended into the season by rotating pest control chemistries, says Pacheco. "The key is to avoid treating successive generations of the same insect pests using insect control products with the same mode of action. Growers definitely need to be aware of IRAC groups when managing insect pests throughout the season.

"Because Avaunt® is the only Group 22 insecticide registered for grapes, it's an excellent rotational partner with Altacor®, a Group 28 insecticide," Pacheco adds.
DuPont™ Altacor® and Avaunt® are not available in all states. See your local DuPont sales representative or retailer for details on availability.
The information provided on this website is for reference only. Always refer to the product labels for complete details and directions for use.