Optimize Nut Quality With NOW Control at Hull Split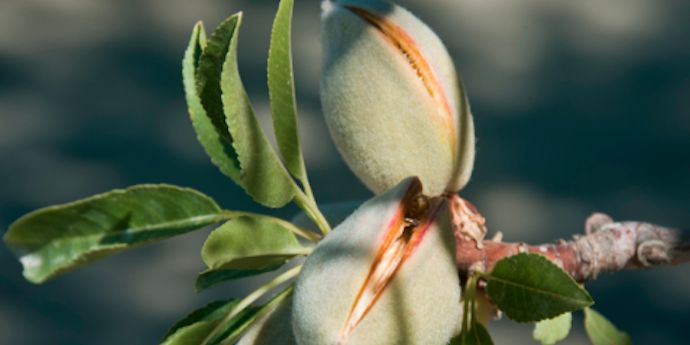 Hull split is a critical time for developing almonds because the second flight of NOW populations will begin to deposit eggs. Hull split also will probably be poorly synchronized due to drought, so one spray may not adequately control the second NOW generation.
DuPont™ Altacor® insect control powered by Rynaxypyr® is effective against NOW and other damaging insects, including peach twig borer and oriental fruit moth. Altacor® provides ovicidal,1 ovi-larvicidal, larvicidal and adult activity2,3 on NOW for flexible, lasting residual control.
Apply Altacor® when nuts are at 1 percent or less hull split and again 10 to 14 days later for optimal results. Careful monitoring of almond trees is critical. Start at the edges of the orchard, where the trees get the most sunlight and heat, to spot the beginning of hull split. Almond blanks split about five days before intact almonds, so that's the perfect time to prepare for the first hull-split spray.
Growers who have pistachio trees subject to high NOW pressure due to proximity to almond orchards can take advantage of the hull-split spray window to protect pistachio quality, too. Almond hull split coincides with or overlaps the 1,700 degree-day for pistachios, which is the beginning of pea-split pistachio susceptibility to NOW.
Use Altacor® in an integrated pest management (IPM) program for NOW control that includes orchard sanitation to remove overwintering mummies, early and rapid harvest and nut pickup, and continued scouting. Resistance management best practices emphasize rotating insecticide modes of action to ensure successive generations of the same pest are not sprayed with insecticides belonging to the same family.
1Significant ovicidal activity is observed at varying levels depending on pest species. Activity is maximized when eggs are laid onto treated surfaces.
2Disruption of adult insect behaviors in some pest species is observed (e.g., codling moth, oriental fruit moth) such as mate finding, mating, oviposition, feeding, locomotion and orientation.
3Adult mortality is species, application rate, exposure level and time dependent for NOW (based on lab and field studies).
Altacor® insect control is not registered for sale or use in all states. Contact your DuPont representative for details and availability in your state.
The information provided on this website is for reference only. Always refer to the product labels for complete details and directions for use.