Leafroller Control in Grapes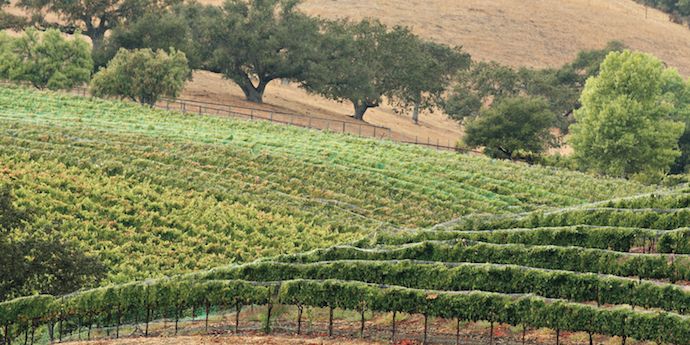 With drought conditions and limited water supplies stressing grape production in California, growers are fine-tuning programs to maximize production. When it comes to protecting crops from insect damage, omnivorous leafroller control is a priority.
A major worm threat in many California grape-growing regions, omnivorous leafroller (OLR) can diminish grape quality and impact yield. If left untreated, OLR enters flower clusters and grape bunches, where it feeds on developing berries, allowing disease pathogens to enter fruit at damage sites.
While dry conditions may entice OLR populations to move from overwintering habitat in weeds to grape vines, other factors play a larger role in the uptick in OLR pressure.
"When the price of grapes fell in recent years, a number of vineyards were abandoned," says Adam Sanchez, PCA, Crop Production Services, central California. "Without control measures in place, OLR populations skyrocketed, increasing pressure in neighboring vineyards."
OLR Control Tips
To prevent OLR infestations from gaining a foothold in vineyards, experts call for a combination of preventive and curative steps throughout the season. Hugo Ramirez, field development representative, DuPont Crop Protection, southern San Joaquin Valley, says an effective leafroller control program includes these key steps.
Keep vineyards clean. Remove weeds and other potential hosts where OLR can overwinter.
Monitor pest levels. Whether or not the vineyard had OLR pressure the previous year, carefully examine nearby weeds and flower clusters for larval nests.
Treat early. Several generations of OLR may be present during the season. Start insect control treatment with the first OLR generation and continue monitoring as the season progresses.
Ensure good coverage. Remove lower basal leaves on grape vines to help improve spray coverage. Make treatments between bloom and the start of bunch closing.
"Timing insect control applications to the pest's most susceptible stage is important," says Scott Chase, retail account manager, DuPont Crop Protection, eastern Fresno and Tulare Counties. "For OLR, that's the larval stage. You also need thorough spray coverage for effective OLR control, which means spraying before bunch closing when adequate coverage of tight grape clusters is difficult to achieve."
Plan for Season-Long OLR Control
For best results and long-lasting benefits, Sanchez treats OLR populations early in the season. Last year, he included DuPont™ Altacor® insect control powered by Rynaxypyr® in the bloom-stage tank mix he recommends for his customers.
"Altacor® mixes really well with other products in the tank mix," he notes. "It is effective on OLR and it controls other damaging worms, such as grape leaffolder and western leaf skeletonizer. I am also pleased that Altacor® doesn't cause mite flaring the way some other insecticides do."
To extend worm control mid- to late-season, growers may want to consider rotating pest control with a non-Group 28 insecticide, such as DuPont™ Avaunt® insecticide (Group 22), including katydid (nymphs) 1 control and leafhopper populations suppression.
"Altacor® also has a short re-entry interval, which can be important for table grape growers who do a lot of hand work in their vineyards," Ramirez says. "With Altacor®, crews can get back into fields quickly to continue cultural practices."
Benefits of Altacor® for OLR Control
DuPont™ Altacor® insect control offers grape growers the reliable, long-lasting control of key worm pests needed to protect quality and yield. Altacor® benefits include:
Extended residual worm control
Exceptional control of key lepidopteran pests, including omnivorous leafroller, grape leaffolder, western grape leaf skeletonizer, climbing cutworm, European grapevine moth, raisin moth and katydid (nymph)1
Excellent environmental profile
Fast, flexible control through ingestion, contact, ovicidal2 and ovi-larvicidal activity
Minimal impact on predators, parasites or pollinators3
Application timing flexibility
Excellent mixing and tank mix compatibility
Low use rates (3 to 4.5 ounces per acre)
Minimal worker protection equipment required
Shortest field re-entry interval available (4 hours)
Short preharvest interval (14 days)
For more on insect control in grapes with Altacor®, visit altacor.dupont.com or contact your DuPont representative.
1. FIFRA 2(ee) recommendation (California) for raisin moth and katydid (nymph) control. See product label for specific pests controlled or suppressed.
2. Significant ovicidal activity is observed at varying levels depending on pest species. Activity is maximized when eggs are laid onto treated surfaces.
3. Excellent fit and in line with integrated pest management programs (IPM) and good agricultural practices, insecticide applications should be made when pollinators are not foraging to avoid unnecessary exposure.
The information provided on this website is for reference only. Always refer to the product labels for complete details and directions for use.