Potato Insect Control Strategies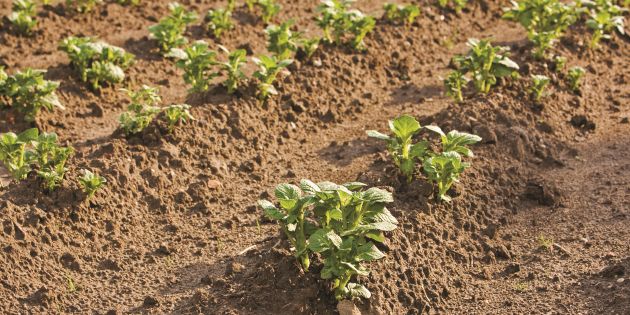 For reliable potato insect control, Washington growers count on Coragen® for exceptional control of cabbage looper, Colorado potato beetle, potato tuberworm and other key pests.
The state of Washington is one of the top producers of America's most popular vegetable — the potato. It's no wonder growers strive to protect their valuable crops from yield-robbing insects. A growing number of potato acres are protected against major worm pests, beetles and other destructive pests by DuPont™ Coragen® insect control powered by Rynaxypyr®.
Coragen® offers a breakthrough mode of action that provides long-lasting, broad-spectrum insect control at low use rates. With its reliable, consistent pest protection, Coragen® helps growers increase the quality and yield of their crop.
"Coragen® delivers what growers are looking for in new potato insect control products" said Lars Swanson, Rynaxypyr® portfolio manager, DuPont Crop Protection. "With its excellent environmental profile and superior control, Coragen® is an ideal tool for Washington potato growers looking to increase crop volume and marketability."
Thorough Potato Pest Protection
Coragen® delivers translaminar action, moving insect protection into and across leaf tissue, particularly when used in conjunction with a modified seed oil type adjuvant. When used early in pest life cycles, Coragen® prevents buildup of pest populations to maximize yield potential. Key pests controlled by Coragen® include cabbage looper, Colorado potato beetle (CPB), potato tuberworm and others.
Long-Lasting Control
After Coragen® is applied, insects stop feeding within minutes and protection lasts up to 28 days, depending on the target pest and application method. Flexible application options include foliar spray by ground, air and overhead chemigation. Coragen® is rainfast as soon as the spray treatment has dried. "Coragen® provides an opportunity for growers to reduce the number of insect control applications in their program and protect beneficial insects," says Swanson.
Application Tips
"Coragen® offers flexible application methods including overhead chemigation. Application practices should assure good crop coverage to maximize key insecticidal attributes and achieve effective control," says Swanson. "Application timing is also key for optimum control."
Swanson offers the following application tips for achieving long-lasting insect control on potato plants:
1. Apply Coragen® to eggs and early instar larvae. Although this timing may not always be possible with CPB due to this insect's population dynamics, it's best to avoid rescue treatments against very high populations.
2. Apply Coragen® at 3.5 to 5.0 fluid ounces per acre.* Use the highest labeled rate if the insect population is known or suspected to be broadly resistant to most classes of insecticides.
3. Ensure full coverage is obtained at application. Add modified seed oil or a methylated seed oil blend to the application tank mix. Avoid using sticker-type adjuvants. Using an adjuvant should help with translaminar leaf penetration, rainfastness and coverage (spreading).
4. When applied via center pivot systems, apply in "fast lap" and then follow with standard irrigation practices.
Broad Benefits
With its breakthrough mode of action, Coragen® provides a significant advance in insect control strategies, with more options for insect resistance management. Coragen® also offers an excellent environmental profile with the industry's shortest re-entry interval to give growers greater flexibility.
Along with potatoes, Coragen® is registered for use on a wide range of vegetable crops, including lettuce, peppers, tomatoes, corn, tuberous vegetables, legumes (except soybeans) and spices.
*See Coragen® label for specific pests controlled or suppressed.
The information provided on this website is for reference only. Always refer to the product labels for complete details and directions for use.