Early Potato Insect Control Reduces Pressure All Season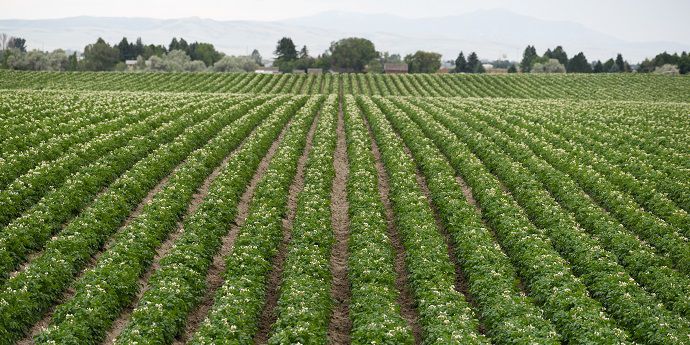 As potato crops develop, so does the threat from potato insects, including the Lygus bug, which has become more prevalent. Getting the jump on these pests early in the season will safeguard plant yield and potato quality at harvest and help reduce insect pressure throughout the season.
More Weeds, More Insects
Cool, wet conditions can produce a bumper crop of weeds that provide ideal habitat for potato insects. "When those weeds start to dry up in the warm summer sun, tender green potato plants provide the perfect new food source," says Greg Simonson, DuPont technical sales agronomist. "A well-timed insecticide application is the best way to protect your crop."
One effective early season control option is DuPont Avaunt® insecticide, which provides long-lasting residual control of a broad spectrum of insect pests that damage potatoes, including:
Potato tuberworm
Cabbage looper
Beet armyworm
Leafhopper
Colorado potato beetle
For a major threat such as potato tuberworm, controlling the small moths in June or early July will help to reduce the population throughout the season. An insecticide application should be made when tuberworm larvae and/or moth counts reach locally established treatment thresholds.
"It's easier to control of tuberworm early in the season, when a spray application more thoroughly covers the plant and soil surface, before the full crop canopy forms," says Simonson. "Avaunt® is absorbed into leaf tissue so it's most effective when applied to vigorously growing plants."
The only Group 22 insecticide available for potatoes, Avaunt® is an ideal rotational partner in an effective insecticide resistance management program, he notes. "It also offers the flexibility to be applied by ground, air, or overhead chemigation."
Another Pest Threat
Over the last few years the Lygus bug (western tarnished plant bug) has become more common in Pacific Northwest potato fields and inflict serious crop damage, says Simonson. "The Lygus bug cause feeding damage on potato plants but also can transmit purple top wilt virus to the crop."
Often found in alfalfa, where large populations can develop, Lygus are quick to colonize in nearby potato plants. Both adults and nymphs of all sizes can be present at the same time, with three or four generations produced each year.
Common natural predators, including big-eyed bugs and damsel bugs, prey on Lygus adults and nymphs and help to control populations. Braconid wasp parasitoids also attack Lygus. When natural predators aren't enough, timely insecticide applications that begin early in the season, as part of a well-planned rotation, can help to minimize damage from this pest.
"Controlling weeds also helps to reduce their numbers, since a wide range of weed species provide habitat for Lygus bugs," adds Simonson.
Benefits of Avaunt®
Avaunt® delivers several important control and application advantages:
Group 22 insecticide offers unique mode of action
Residual control is long lasting (14+ days)
Controls broad spectrum of worm pests
Has minimal impact on beneficial insects* and mites when used according to label
Can be applied by ground, air or overhead chemigation
Has short reentry and 7-day PHI
*Do not apply or allow to drift to blooming crops or weeds while bees are foraging in the treatment area. Low impact to bees once spray has dried.
The information provided on this website is for reference only. Always refer to the product labels for complete details and directions for use.