Foliar Health Basics: Fungicide Active Ingredients Not the Same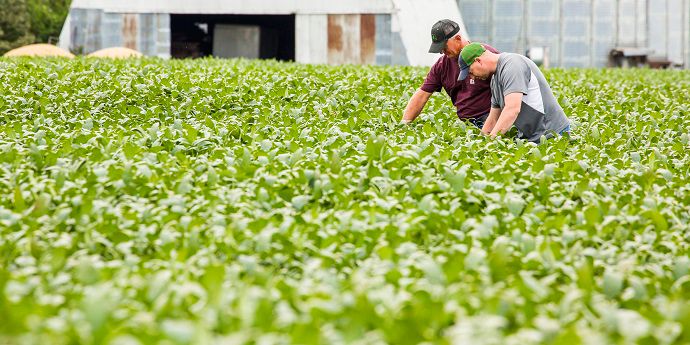 All Fungicides Aren't Created Equal
There are several fungicides to choose from to protect corn and soybean crops, but those fungicides were not created equal. Look at the active ingredient(s) in each product to understand its advantages and limitations.

"The fungicide active ingredient picoxystrobin is more rapidly taken in and moves more quickly throughout plant leaves than other types of strobilurins," explains Bond McInnes, fungicide technical manager, DuPont Crop Protection. "That helps protect leaf surfaces only partially covered at application, as well as leaves and stems that have not yet emerged.

"Field trials show that by effectively controlling disease, picoxystrobin also boosts root and shoot growth and increases plant green leaf area," he says. "That allows the plant to produce photosynthetic energy longer into the season, which contributes to improved grain yield and quality."
Picoxystrobin also provides lasting activity, stopping spread of infection and preventing new infection for 14 to 21 days after treatment, says McInnes. Picoxystrobin is a key active ingredient in DuPont™ Aproach® and Aproach® Prima fungicides.
DuPont Aproach® Prima contains a second active ingredient, cyproconazole (from the triazole chemical group). It is very mobile within plant tissue and can inhibit fungal spore production, slowing disease development.

Combined as a premix, picoxystrobin and cyproconazole deliver complementary activity that controls all phases of a pathogen's life cycle, explains McInnes. "Aproach® Prima delivers broad-spectrum, long-lasting, preventive and curative control of foliar diseases including southern rust, gray leaf spot and northern corn leaf blight in corn; and rust, frogeye leaf spot and brown spot in soybeans, even under heavy disease pressure."
DuPont™ Aproach® and Aproach® Prima fungicides are not registered in all states. See your DuPont retailer or representative for availability in your state.
Fortix® (Arysta), Headline®, Priaxor® (BASF); Quadris®, Quilt Xcel® (Syngenta); Stratego® (Bayer).
The information provided on this website is for reference only. Always refer to the product labels for complete details and directions for use.