Stop Insect Damage to Protect Crop Yield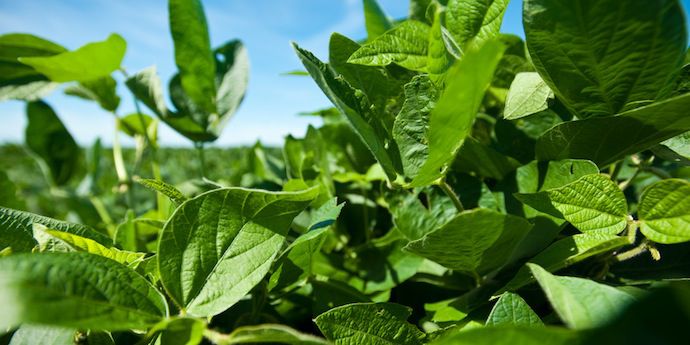 Southern soybean, corn and cotton farmers must be as adaptable as the insect pests they are trying to control. Insect damage can take a bite out of yields and profits, especially when infestations outlast insecticide residual control or insect populations develop resistance to particular chemistries.
Some of the most damaging pests include lepidopteran worms such as corn earworm, armyworm, European corn borer, green cloverworm1, cabbage looper, soybean looper, western bean cutworm and velvetbean caterpillar1. Even in the best conditions, these pests can hurt yields with their characteristically high egg counts and aggressive feeding.
In a single season, crops may face waves of different insect species or a complex of multiple insect species, including potentially resistant populations. The past two years have shown that weather challenges can exacerbate insect attacks.
Intense heat and drought in 2012 put crops at a disadvantage as plants stopped growing but insects kept feeding. Unusually cool spring weather in 2013 delayed planting while fields harbored heavy overwintering egg loads. With warm weather, growers are at risk for an overwhelming number of insects hatching, developing and feeding more quickly than crops can grow.
Gus Lorenz, a University of Arkansas extension entomologist, says late-planted soybeans were hit especially hard in 2012. "About 25 to 30 percent of our soybean crop was late-planted and experienced heavy insect pressure last year, and it appears we may be in for a repeat of that in 213," says Lorenz.
"Worm pests defoliating plants can cause yield loss, but the real loss occurs when corn earworm feeds on the blooms and pods. Growers who planted soybeans late or planted double-crop soybeans this year should scout closely and be prepared to spray."
Residual Control Protects Longer
Sometimes the insects just keep coming. With conventional insect-control products, keeping up with heavy insect pressure may require additional applications as often as every three days. Repeated applications are time-consuming and expensive, and may accelerate the rate of insect populations developing resistance.
Brian Hayes, an independent crop consultant in Mississippi, says his customers are seeing tougher insect challenges, particularly from lepidopteran worms. "Over the past four years, worms have gotten harder to control with commonly used products," says Hayes. "We're applying every four days and still seeing huge worms."
Hayes and other crop consultants have been looking for effective new modes of action to help overcome the resistance issue. They are reporting good results with DuPont™ Prevathon® insect control powered by Rynaxypyr®. Available for use on soybeans, corn and cotton, Prevathon® controls the key worm complex with residual control of 14 to 21 days.
Bill Emerine, a Missouri crop consultant, also notes the results of effective worm control on crop quality. "Keeping worm populations in check helps maximize yield and can help improve quality by eliminating the effects of significant insect damage. Prevathon® can literally make the difference of whether you can sell your corn crop or not," says Emerine.
Putting a Stop to Resistance
To avoid insecticide-resistant insect populations, Lorenz advises growers to never use the same insecticide mode of action on the same insect species in the growing season. But he adds some resistance issues may be due to insects migrating long distance in their winged adult stage.
"We've noticed an increasing number of fields with worms that appear to be resistant to pyrethroid insecticides," says Lorenz. "Most growers now understand that resistance occurs if they use the same insecticide on the same field more than once in season. Now we are starting to see that northward migration of adult moths on weather fronts may mean that worm pests in Arkansas could represent populations that were treated with pyrethroids on fields from as far away as Texas and Mexico. If insects have been exposed to pyrethroids earlier, that may be why we were seeing some loss of control on later-season insects."
Triple Threat to Worm Pests
The objective for growers is to stop yield-robbing pests immediately, prevent resistance issues for the long term and avoid harm to beneficial predators and pollinators that help improve crop yield, says Dan Sherrod, DuPont Crop Protection product development manager, based in Memphis, Tennessee.
Getting the job done requires thoughtful resistance management and choosing the right insect control product or products. But despite growers' best efforts to follow resistance management guidelines, resistant insects can still appear. Turning to a unique mode of action is one key to avoiding those problems.
"Prevathon® and its alternative mode of action and residual control not only preserve yield but also help address insect pest resistance challenges by reducing the need for additional applications," says Sherrod. "An added bonus is that Prevathon® has a favorable environmental profile, including minimal impact on beneficial insects and natural insect predators. Prevathon® works with nature to help extend periods of low pest numbers in the field. The bottom line is that we consistently see improved yields from fields treated with Prevathon® to control key pest worms."
Yield Advantage
Compared to the untreated check plots, acres treated with Prevathon® have produced six bushels more per acre for soybeans and 150 to 300 more pounds per acre of cotton.
Yield results on corn are even more encouraging. In combined Midwest and Mid-South large plot field strip trials, applications of Prevathon® across corn hybrids delivered five to 30 more bushels per acre than grower standard insecticide programs.
In conventional corn under heavy insect pressure, Prevathon® increased yields by an average of 20 to 30 bushels per acre when compared to the standard insecticide program. The results point to opportunity for improved corn yield and quality on non-genetically modified, refuge or other corn.
IPM and Treatment Thresholds
"The impact of soybean insect pests such as corn earworm, beet armyworm, velvetbean caterpillar1, soybean looper1 and green clover worm1 is extremely variable," says Lorenz. "You may not need to control them every year if the crop canopies quickly and you have abundant natural predators. But the farther south you go, the more likely it becomes for insects to cross the treatment threshold and start eating into profits."
The treatment threshold, or number of insects at which the cost of control will pay for itself in saved yield, is based on several factors including pest size, species, crop stage and row spacing. The University of Arkansas recently updated its advice for corn earworm treatment on soybeans in Arkansas and the Mid-South. When using a standard 15-inch diameter sweep net, the new treatment threshold for corn earworm is nine larvae per 25 sweeps. Treatment of defoliating insects is also advised at 35 to 40 percent defoliation prior to bloom and 25 percent defoliation after bloom.
IPM for Corn and Cotton
Soybeans, corn and cotton are high-value crops. Pests, particularly worms, can have a major impact on yield and quality. "I've looked at many insect-control products on tests plots over the years, and Prevathon® is one of the most exciting game-changing chemistries I've ever seen," says Lorenz.
1 This Prevathon® recommendation is permitted under FIFRA Section 2(ee) for the control of cabbage and soybean looper, southern armyworm, green cloverworm in soybeans in the states of Alabama, Arkansas, Georgia, Kentucky, Louisiana, Missouri, Mississippi and Tennessee and has not been submitted to or approved by the EPA. The 2(ee) expires on 12/31/15.

2 Belt is a registered trademark of Bayer CropScience. Beseige and Karate are trademarks or registered trademarks of a Syngenta Group Company.
The information provided on this website is for reference only. Always refer to the product labels for complete details and directions for use.