Proper Sprayer Cleanout Prevents Contamination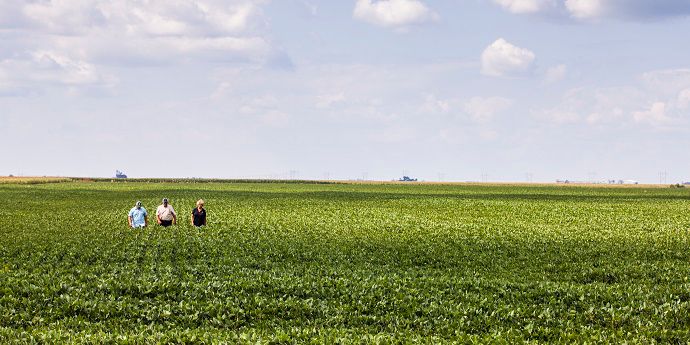 Proper sprayer cleanout is key to avoiding damage to non-target crops. After applying DuPont™ FeXapan™ herbicide Plus VaporGrip® Technology, triple-rinse sprayers and all sprayer components that come in contact with the spray solution, including tanks, pumps, hoses, connectors, screens, nozzle bodies and nozzles.
Triple-rinsing cleanout protocols generally call for cleaning equipment immediately after application using the following steps:

1. Drain the sprayer (including booms and lines) immediately. Don't allow the spray solution to remain in the spray boom lines overnight prior to flushing.
2. Flush tank, hoses, boom and nozzles with clean water.
3. Inspect and clean all strainers, screens and filters.
4. Prepare a cleaning solution with a commercial detergent, sprayer cleaner or ammonia according to manufacturer instructions.
5. Wash all parts of the tank, including the inside top surface. Start agitation in the sprayer and thoroughly recirculate the cleaning solution for 15 minutes. Remove all visible deposits from the spraying system.
6. Flush hoses, spray lines and nozzles for at least 1 minute with the cleaning solution.
7. Repeat steps above two additional times for an effective triple rinse.
8. Remove nozzles, screens and strainers and clean separately in the cleaning solution after completing the triple rinse.
9. Dispose of rinsate in compliance with all laws and regulations.
10. Drain sump, filter and lines.
11. Rinse the complete spraying system with clean water.

Review label requirements for complete sprayer cleanout procedures.

Follow FeXapan™ stewardship guidelines to ensure effective weed control and to minimize risk of off-target herbicide movement.
DuPont™ FeXapan™ is a restricted-use pesticide.
DuPont™ FeXapan™ herbicide Plus VaporGrip™ Technology is not registered in all states. See your DuPont retailer or representative for availability in your state.
The information provided on this website is for reference only. Always refer to the product labels for complete details and directions for use.