DuPont™ Zorvec™ Disease Control Prevents Late Blight of Potatoes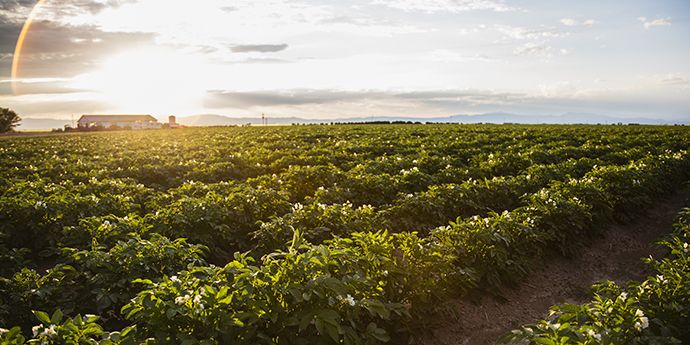 Late blight of potatoes remains one of the most destructive and economically draining threats to your potato crop. Caused by Phytophthora infestans, late blight can reduce potato yields by 20 percent to 40 percent. The global economic cost of the disease exceeds $5 billion annually.*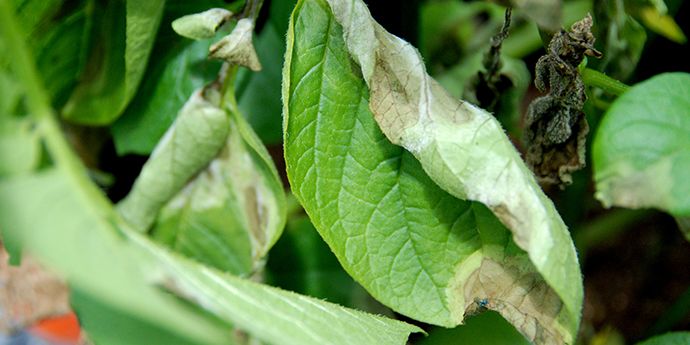 The most-damaging potato disease worldwide, it's the same disease that led to the Irish potato famine in the 1840s and 1850s, during which more than one million people starved. Despite new varieties bred to avoid fungicide resistance, the Phytophthora infestans pathogen still finds ways to thrive. Fortunately, DuPont Crop Protection has developed a game-changing technology, DuPont™ Zorvec™ disease control, to protect potatoes from this ruthless pathogen that continues to worry growers.
"Both growers and consultants are very scared of the blight because we know how aggressive it is," says Fábio Henrique de Oliveira, an agricultural engineer with the potato farmers' cooperative in Brazil. "It's our main disease. If it's not managed and controlled, it can destroy the crop. I've seen losses of 50 percent to 80 percent to this disease.
Luis Roberto Trevisan, a potato grower from Brazil, agrees, "The main problem is the potato blight. It is a fungal disease that really damages the crop." Trevisan's grandfather came to Brazil from Italy and began growing potatoes. His goal is to continue producing potatoes profitably, which means controlling the challenges caused by late blight.
Late blight acts quickly and with little warning. The first symptoms you see — black or brown lesions on stem and leaf surfaces — don't appear until several days after infection. Once these appear, the plant can be destroyed in only a few days.
"When late blight strikes, you can't see it," notes Tatiana Neves, a DuPont marketing coordinator in Brazil, serving the districts of São Paulo and Rio de Janeiro. "When you see the symptom on the plant, the disease has already taken over and damaged it. This disease is a grower's biggest worry because it limits the production."
Revolutionary Control
Research trials show Zorvec™ disease control technology delivers an unmatched combination of consistency and longer-lasting control against late blight of potatoes to help you produce a healthier, more-uniform potato crop. This changes everything for growers in the battle to prevent late blight losses.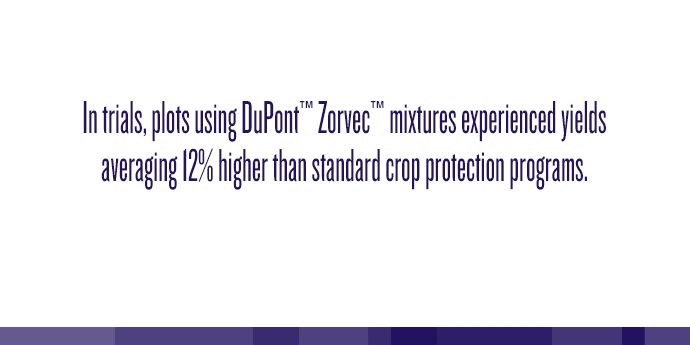 In field trials, Zorvec™ technology has proven highly effective at controlling late blight of potatoes at lower use rates, with no cross-resistance to other fungicides. It is most effective when used as a preventive treatment during the rapid vegetative growth and tuber initiation phases, 20 to 50 days after emergence, when the disease can have its greatest negative effect on yields. Using Zorvec™ technology provides season-after-season confidence that your potato fields are protected.
"When Zorvec™ technology is approved in Brazil, I believe it will tip the potato blight control market," Neves says. "It will be amazing to growers, because it will bring a new concept of control that people don't have. And it will give the growers the flexibility they haven't had.""We feel very pleased to know there is one more important tool that we know we will use," Trevisan says. "We feel more confident about planting and confident we will keep our potatoes healthy to the end of the growing season."
Talk to your DuPont Crop Protection dealer to learn more about how Zorvec™ technology can prevent late blight of potatoes and help you realize increased yields, profit potential and success in your fields.
*According to www.usablight.org
DuPont™ Zorvec™ disease control (oxathiapiprolin) is not registered for sale or use in all countries. No offer for sale, sale, or use of this product is permitted prior to issuance of the required country level registrations.