Awards and Recognition of DuPont Diagnostics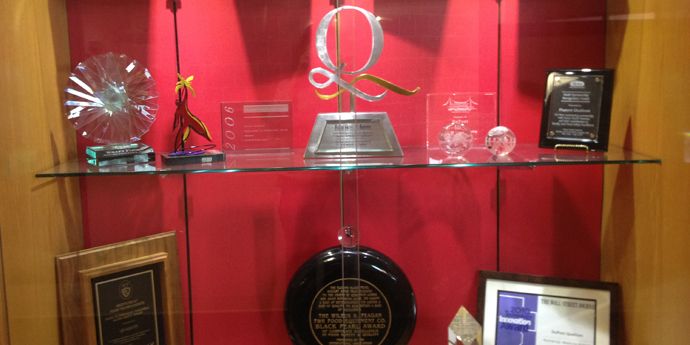 From the introduction of its first diagnostic product for food, DuPont has been recognized for providing leading-edge advances in technology.
Annual Food Quality Award sponsored by DuPont Nutrition & Health.
Wall Street Journal names DuPont™ BAX® System in 2010 Technology Innovation Awards.
Out of nearly 600 entries in 17 categories, DuPont was one of just 49 winners. The BAX® system was named as a runner-up in the Medicine-Biotech category for two pathogen detection tests that were introduced in 2009:
A new test for simultaneously detecting three pathogenic species of Vibrio bacteria in fish and shellfish.
A highly superior test for a strain of E. coli called O157:H7 in beef and fresh produce, such as spinach and lettuce.
DuPont Qualicon Receives Frost & Sullivan Award for Excellence in Technology

DuPont Qualicon has received the 2006 North American from Frost & Sullivan in the field of pathogen detection for the development of its DNA-based BAX® system.The Excellence in Technology Award recognizes an innovation that is expected to bring significant contributions to the industry in terms of adoption and change. It also recognizes the company's overall technical excellence and commitment toward technology innovation.
IAFP names DuPont as recipient of prestigious Black Pearl award for global commitment, innovation in food quality and safety.

This honor is given annually to one company for its efforts in advancing food safety and quality through consumer programs, employee relations, educational activities, adherence to standards and support of the goals and objectives of the International Association for Food Protection.
DuPont scientists honored by ACS as Heroes of Chemistry
During its 224th national meeting in August 2002, the American Chemical Society honored a four-person team of DuPont Qualicon scientists for developing the BAX® system, an innovative and accelerated system that can detect harmful pathogens in food supplies.
RiboPrinter® System wins the 1997 Food Technology Industrial Achievement Award
This prestigious award from the Institute of Food Technologists recognizes a company for developing an outstanding food product or process that has been successfully applied in commercial operation.
RiboPrinter® System chosen as honors recipient in the 1995 Food Processing Award program
An independent panel of industry experts cited the RiboPrinter® System as having made a significant contribution to the food and beverage processing industry.
RiboPrinter® System named to the R&D 100 for 1995
Selected from thousands of products, materials, and processes from the world's most prominent companies, research organizations, and universities, the RiboPrinter® System was judged to be one of the 100 most important technological developments of 1995.
RiboPrinter® System winner of the Food Processing (U.K.) Award for the most outstanding technological development of 1995
Great Britain's prestigious Food Processing Award singles out from a global field of entries the year's most significant technological development in the food industry. Judges cited the RiboPrinter® System as a device that could "revolutionize long-established food microbiology techniques."
BAX® System named to the R&D 100 for 1996
The BAX™ pathogen detection systems, introduced in May 1995, are the first products to use the polymerase chain reaction to detect pathogenic bacteria in food. Innovative, powerful and easy to use, the BAX™ systems can revolutionize food testing and food safety. And now the BAX™ systems have been chosen from among hundreds of entries worldwide to receive this prestigious award.