Integrated Technology Solutions for Cellulosic Ethanol Licensing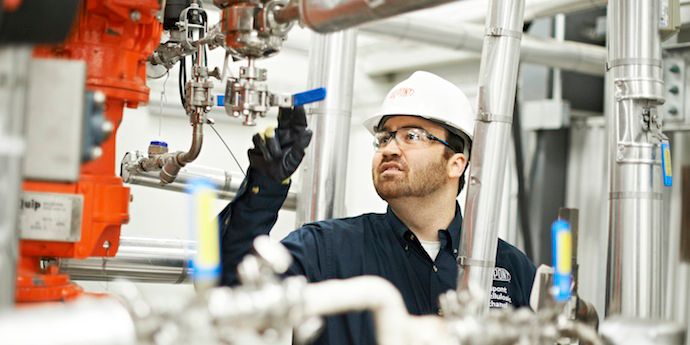 DuPont offers cellulosic ethanol licenses to global energy producers, agricultural companies, energy investors, plastics and chemical producers, and other leaders in the emerging cellulosic economy.
Our demonstrated farm-to-fuel integrated technology solution is powered by DuPont Pioneer feedstock supply chain expertise and backed by DuPont scientists and engineers to provide operations, technical support and ongoing technology development.
Key Elements of Our Cellulosic Ethanol Licensing Offering
Technology Package
The process technology package (commonly known as a basic engineering package) includes all necessary information to start a detailed engineering plant design phase. Our package includes performance guarantees and enables a facility to achieve high ethanol yields.
Technical Support
Technical services support plant design, commissioning, start-up and ongoing performance optimization.
Biocatalyst Supply
DuPont supplies enzymes and ethanologens for production of cellulosic ethanol at a licensed plant.
Feedstock Supply Consulting
Leveraging experience from the DuPont facility in Nevada, Iowa, a team of experts can assist in development of a feedstock supply chain, from understanding the feasibility of regional sourcing to planning and executing a supply chain.
Key Advantages of our Integrated Technology Solutions
Commercial biorefinery designs for cellulosic ethanol production that maximize productivity
Integrated engineering packages that set industry standards in process design
Technical support across the project life cycle
Safe, sustainable production systems that minimize the environmental footprint: no wastewater treatment and almost zero process water makeup
Energy-efficient use of steam and electricity
Customized lignin co-product solutions to maximize customer value
Collaborative solutions for addressing the entire cellulosic ethanol value chain, from farm to fuel
End-to-end technology solution and technical expertise
Technology can work with a variety of feedstocks, from agricultural residues to energy crops
As a global company with operations in more than 100 countries, DuPont has been successful with many business models — working with customers where they want to build facilities, with the feedstocks they require — to create lasting partnerships that deliver mutual value.