New Land Management Strategies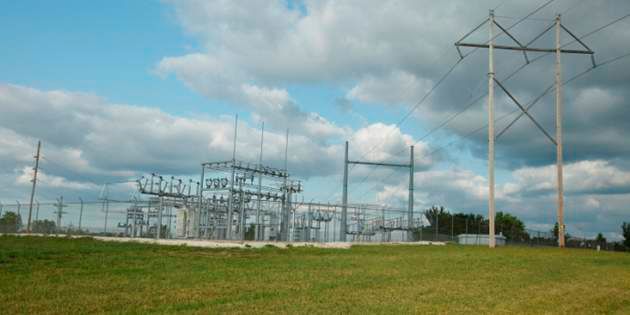 Controlling weeds and brush is critical to maintaining safe roadways and effective utilities delivery, as well as protecting the people who maintain and provide those services. DuPont Crop Protection has valuable information and products for selective weeding, brush control and bareground management.

In this issue:
Click the "Sign Up Now" button to start receiving customized Weed Wise information via e-mail.


Balancing Herbicides and Mowing to Beat Power Line Overgrowth
Keeping power flowing to its customers is job one for the South Kentucky Rural Electric Cooperative Corporation (RECC). Managing unwanted vegetation that grows in power line rights of way is an important part of maintaining that dependable service.
"It's a challenge to get everything under control," says Paul Merrick, RECC team leader. "We have to control the ground brush and the limbs that approach power line sites."
Using herbicides to control ground brush can add a year or more to the window of control compared to bush hogging, he says. "Controlling brushy, stem-type species, while allowing the grasses and wildflowers to come back allows us to use less herbicide, cover more ground and spend more time side trimming."
An effective herbicide not only extends time between applications, but also reduces the number of stems that must be controlled, explains Merrick. "For example, on the initial application, you may have 100 stems in an area; the second time around you may only have 20 to 30. Your control cost decreases because you are applying less product and your right of way is opened up, making maintenance easier. You cut costs by using less product, and you save time and labor."
The average annual cost of mowing is about three times the cost of annual herbicide applications, according to several state experts. A Washington State Department of Transportation cost comparison supports that number, putting the annual cost of residual herbicide application at about $75 per road mile versus $200 per road mile per year for one-pass shoulder mowings.
Environmental safety is also important, adds Merrick. "Another benefit of using herbicides instead of mowing is protecting soil from erosion. Mowing in wet conditions can make ruts, which start to wash away the soil.

"By controlling vegetation in the rights of way, we ensure smooth power delivery, create areas that are pleasing to the eye and help create feeding places and homes for wildlife to thrive."







REGIONAL SPOTLIGHT
Effective Weed Control With Shrinking Resources
Making the most of limited time and resources is one of Rand Swanigan's biggest on-the-job challenges. As a roadside management specialist for the Missouri Department of Transportation, he oversees noxious and general broadleaf weed control along 32,000 miles of roadside throughout the state.
"It's a large area and resources are limited. When the time is right for weed-control applications, we often have other road service obligations that take higher priority," he says.
"We typically focus on spring herbicide applications. But we have been testing DuPont™ Perspective® and Streamline® herbicides in a fall application for broadleaf weed control. Our goal is to expand the window for application and still maintain control the following year."

A fall application would allow them to control weeds they wouldn't have gotten to with their other control options, he says. Spotted knapweed, for instance, is becoming a real issue in Missouri, where it continues to germinate into early fall. "Getting an early start on treatment will help us curb spotted knapweed encroachment."
Perspective® and Streamline® offer handling advantages, he says, including a dry formulation that's easier to handle than liquids, and low use rates, which means the products take up less storage space.
"I've been impressed by the broadleaf weed control Perspective® and Streamline® have provided," he says. "Controlling weeds and maintaining clear sightlines, especially on interchanges, is critical to highway safety."

Controlling weeds and brush on rougher terrain also presents some safety challenges, he adds. "Streamline® has potential to work well as a spot treatment on rock outcroppings and other areas where it is dangerous to cut by hand."
Effective herbicide control reduces mowing, which saves money and increases operator safety, says Swanigan. "Some of our roads do not have a shoulder, forcing tractors to operate on the road surface, which is a safety concern."
"We support biodiversity along our Missouri roadsides. Because they feature protected plants and native wildflower species, we encourage spot treatments instead of broadcast applications," he says. "Our tests show Perspective® could be an asset in these situations because it stays where it is applied."





RESEARCH AND DEVELOPMENT UPDATE
Herbicides Tackle the Toughest Weeds
Three herbicides to meet the vegetation-control needs of land managers who protect public safety are now available from DuPont Crop Protection.
Based on the proprietary active ingredient aminocyclopyrachlor, the herbicides have unique properties at the molecular and whole-plant levels that deliver potent activity on a wider spectrum of broadleaf weeds and brush, explains Ronnie Turner, DuPont product development manager. "These formulations are designed to provide excellent residual control on many difficult-to-manage broadleaf weeds."
Formulated using DuPont technology that allows effective control at low use rates in dry, concentrated formulations, DuPont™ Perspective® , Streamline® and Viewpoint® require less handling, tank-mixing, storage space and waste disposal, he adds.
Perspective® selectively controls broadleaf and invasive weeds, such as thistles, leafy spurge and knapweeds, along roadsides and other sites, managing weeds while preserving natural habitats. It controls ALS- and glyphosate-tolerant species, including marestail, kochia and pigweeds.
Streamline® controls noxious weeds, brush and broadleaf weeds in utility rights of way and along roadsides where natural grasses and habitats need to be maintained. It controls tough species, including boxelder, hackberry and mesquite.
Viewpoint® provides broad-spectrum brush control of tough species including sweetgum, oaks, boxelder, hackberry and mesquite in utility and industrial rights of way.

WEED FOCUS
Hackberry: Woody, Wily Foe


A tough brush challenge because of its deep roots and adaptability to a wide variety of soil conditions and terrain, common hackberry (Celtis occidentalis) is native to the flood plains of the eastern United States, but is found as far west as Montana and as far south as Texas. Although it thrives in moist areas along stream banks, hackberry adapt to many soil types, growing on slopes, bluffs, limestone outcroppings and rocky hillsides. Hackberry's tenacity and adaptability make it challenging to control.
An established hackberry tree produces berries that are eaten and then transferred by birds. The seeds overwinter and germinate in early spring. One mature tree can produce many seedlings.
Mowing small seedlings can provide control, but herbicide applications often are the most practical and effective method for managing hackberry.
Apply a herbicide in summer – late May through August, in most geographies – at full leaf stage of growth and when soil moisture is sufficient for growth.
DuPont™ Streamline® and Viewpoint® herbicides provide effective control of hackberry and other difficult-to-control brush species. Streamline® is recommended for use on roadsides and near utilities, while Viewpoint® delivers effective broad-spectrum brush control in utility line rights of way and industrial sites.
DUPONT INNOVATIONS
Blends Technology Brings Tailored Products to Market Faster
A novel way to custom blend two or more existing products, each with one or more active ingredients, is allowing DuPont Crop Protection to deliver tailored herbicides to its customers more quickly. This proprietary technology allows DuPont to respond rapidly to changing weed pressures and market needs.

Products developed through this process are different than a premix, which is created by granulating the desired ratio of two or more active ingredients into a new product. For every new active ingredient ratio, the manufacturer must register the premix as a newly formulated product.
With homogeneous blends created by patented DuPont technology, single ingredients are extruded into uniform granules that are blended with other extruded products to create mixtures. These homogeneous blends won't segregate when handled, shipped or stored. And because each active ingredient formulation is already registered, time to market is streamlined.
The end result is targeted, cost-effective selective weeding, brush-control and bareground solutions, using proven DuPont active ingredients for reliable, effective results. Click here for more on DuPont herbicides developed for land management applications.

DuPont™ Perspective®, Streamline® and Viewpoint® are not registered for sale or use in all states. See your DuPont retailer or representative for details and availability in your state.
The information provided on this website is for reference only. Always refer to the product labels for complete details and directions for use.