Strategic Herbicide Use Delivers Brush Control for Safe Sites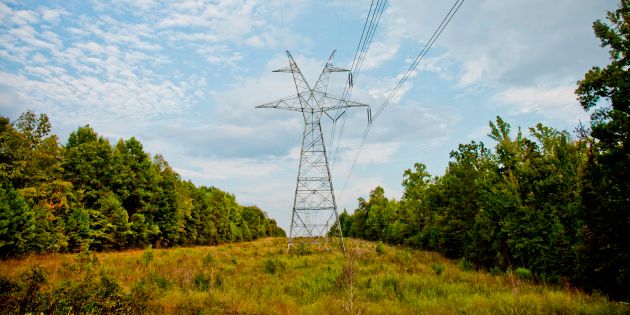 Take stock of brush control concerns along utility rights of way and roadways before spring regrowth begins. Experts suggest incorporating herbicides into vegetation control programs to sustainably manage tough brush species. Read on for their advice on boosting productivity and increasing time between treatment cycles.
In this issue:
• Benefits of Strategic Herbicide Use for Lasting Brush Control
• Controlling Quick-Sprouting Poplar
• Improve Tank-Mix Effectiveness
• Training Opportunity: Product Stewardship Best Practices
Benefits of Strategic Herbicide Use for Lasting Brush Control
While mechanical methods of brush control may deliver quick results, land managers who conduct a cost-benefit analysis of mechanical control have found that incorporating herbicide applications into an integrated vegetation management (IVM) program can pay dividends with effective, long-term brush control. Spending less time controlling vegetation can lead to fuel and labor cost savings, and frees crews to complete other vital maintenance projects.
Efficiency and Cost Savings
Billy Moye, southern manager for Progressive Solutions, a national vegetation management company, says adding herbicides to an IVM program is one of the most effective ways to extend the interval between control measures.
"Hand cutting encourages new growth to sprout back," he explains. "In no time, you'll find 10 sprouts on a freshly cut tree stump. When you remove a tree with an effective herbicide, it won't sprout back."
He says strategic herbicide use is a long-term investment that will deliver significant cost savings over time. "A quality herbicide program can add years to a treatment cycle, substantially reducing equipment and labor costs. Plus, unlike mowing or cutting, there's no biomass to remove, saving on transportation and dumping fees."
John Boyd, extension weed science professor with the University of Arkansas, has been working with DuPont™ Streamline® and Viewpoint® herbicides for four years. "When evaluating brush control treatments, what really count are the results a year after treatment. With these products, we're seeing 90 percent or better control after one year. That's excellent, especially on sites where we've treated brush that's a mixture of ages and sizes."
Crew Safety and Environmental Impact
Protecting crew safety is a chief concern for land managers, says Boyd, who has experience with utility and roadside brush control.
"Anytime you have crews working with axes, sling blades and chainsaws, safety is a top priority. Herbicides reduce some of those equipment use risks," he says. The same is true along roadsides. "Spraying can take less time than mowing and the results are longer-lasting, reducing the amount of time crews are exposed to traffic risks."
Moye adds that mowing is an equipment-intensive task that burns fuel and increases emissions. "If you can replace mowing with low-volume herbicide backpack applications, the only thing your crews will leave behind are their footprints."
WEED FOCUS
Controlling Quick-Sprouting Poplar
Poplar is a tough brush that grows quickly and recovers well from mechanical control, requiring an integrated vegetation management program for effective control. (Photo courtesy of Paul Wray, Iowa State University, Bugwood.org.)


"We call species such as poplar 'cycle-busters,'" says Billy Moye, southern manager for Progressive Solutions. "It grows exponentially faster than the surrounding brush, forcing vegetation managers to interrupt standard mowing cycles to take care of it."
He says incorporating herbicides into the program will extend control to match that of the surrounding area. He recommends a tank mix of DuPont™ Streamline® or Viewpoint® herbicide with Krenite S brush control agent to tackle both poplar and other brush species, such as pine, that are growing with the poplar.
PRODUCT SPOTLIGHT
Improve Tank-Mix Effectiveness
Whether you're tackling tough brush species in utility and industrial sites with DuPont™ Viewpoint® herbicide or clearing roadside rights of way while preserving native grasses with DuPont™ Streamline® herbicide, adding Krenite S to the tank mix can boost the range of species controlled.
Krenite S is a water-soluble liquid brush control agent that controls undesirable woody species without discoloration or undue leaf loss.
Application Rates and Timing
The following guidelines will help you design the optimum brush control program for each site.
RESOURCES
Training Opportunity: Product Stewardship Best Practices
We are pleased to announce a new online learning series designed to help you develop and implement stewardship best practices in the day-to-day use of land management pesticide products.
Product stewardship is an integrated business process for identifying, managing and reducing risks to safety, health and the environment through all stages of a product's life. Practicing good stewardship is in the best interests of everyone who plays a role in vegetation management. At DuPont, we understand training is an important component of stewardship, so we have developed tools to make stewardship training easier.
Get started with these no-cost tutorials:
Understanding Pesticide Product Labels
Handling, Storing and Transporting Pesticides
Mixing and Loading Pesticides and Disposing of Pesticide Containers
DuPont™ Streamline® and Viewpoint® herbicides are for use in non-crop applications and do not have a grazing tolerance. Krenite S is not registered for sale or use in Arizona or California. The information provided on this website is for reference only. Always refer to the product labels for complete details and directions for use.