Safe, Reliable Power With Vegetation Management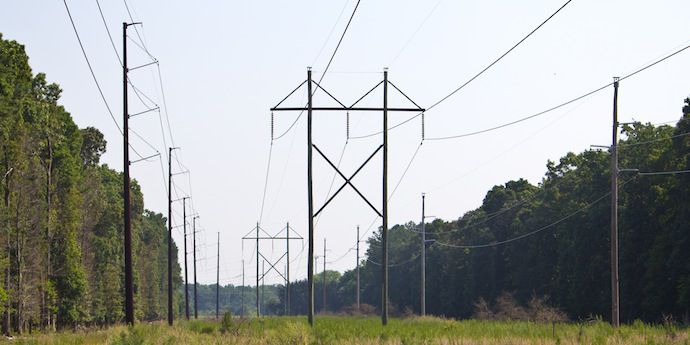 Summer heat means more demand for dependable power. Power companies need reliable vegetation control along utility rights of way and other sites to ensure reliable power, as well as worker safety. Well-planned herbicide applications can deliver both. Count on DuPont for weed- and brush-control information and products that can help minimize vegetation-related outages and the risks to crew safety.
In this issue:
Controlling Vegetation is Key to Safe, Reliable Power
Reliability is the most important attribute for a successful power utility company. As the backbone of our nation's energy program, reliable electricity supply along utility lines means power continues flowing to homes and hospitals in the heat of summer. Controlling vegetation in utility rights of way and at substations is essential to keeping crews out of harm's way.




Strategic herbicide applications help utility managers deliver safe, reliable power.

First and foremost, no trees, vines, brush or grasses can be allowed to grow big enough to interfere with power lines or substations, notes Mike Standish, vegetative management territory manager for Crop Protection Services, Timberland Division. "Second, you need to make sure repair crews have clear access to rights of way."
Herbicide treatments are an important part of the integrated vegetation management (IVM) programs Standish develops for his western Texas clients. "Mechanical control is still necessary in utility rights of way, but herbicides are the most effective tool," he says.
"When you clear areas mechanically, the brush resprouts. In three to four years it has grown back, usually with more trunks. When you look at an IVM plan over several years, herbicides cost less and do more to help deliver safe, reliable power.
"With mechanical control, you spend the same for each pass, but with herbicide control your costs go down with each treatment as you reduce brush density," he says. "Then you're able to do other things with the savings."
A Plan That Retains Native Plants
Miles-long utility rights of way call for a different vegetative management strategy than areas around power generators and substations. "You want to keep as much of the desirable vegetation in utility rights of way as possible," says Standish. "In many cases, they create great areas for wildlife."
Because it's common for rights of way to cross or run up to pastures, wetlands, nature trails or recreational areas, they should look as natural as possible, adds Mike Foley, operations manager for Superior Forestry, so careful management is essential. Managing vegetation in utility rights of way is just one service the company provides to clients around the country.
For one North Carolina utility alone, Superior Forestry maintains 16,000 line acres, primarily with crews using cutting tools and backpack sprayers filled with low-volume herbicides. "Our goal is to spray less area with each successive treatment as brush is controlled. Spot applications also are more grass-friendly."
Worker Safety Is Essential
Foley enforces safety standards among his crews of workers. "Our customers expect us to be very conscious of safety, and we make sure all our workers understand that. They can encounter rough terrain, poison ivy, snakes and bees, and occasionally get cuts and scrapes."
While those things are hard to avoid, being safe with herbicide application is much more controllable. "Our company expects them to use safe work habits, so safety training is mandatory," he adds. "We want all our workers to come away from a day's work the way they started it – maybe a little tired, but in one piece."
BRUSH FOCUS
Streamline® and Viewpoint® provide reliable control of boxelder.
Boxelder (Acer negundo), also known as ashleaf maple, is native to the central and eastern United States. Commonly found in bottomlands and stream corridors, it has adapted to drier areas and a wide range of soil pH levels. Boxelder grows quickly and is a prolific producer of winged seeds that are carried through the air or consumed and spread by wildlife, making it very invasive.
Mechanical control is not effective for long, since boxelder tends to resprout after cutting, which makes control difficult along utility rights of way.
DuPont™ Viewpoint® and Streamline® herbicides provide reliable control of boxelder and a broad range of other brush species to help improve safety along utility rights of way. Viewpoint® provides simple, broad-spectrum control for a variety of hard-to-manage brush species and broadleaf weeds. Streamline® controls a large number of brush species, yet helps preserve desirable grass understory.
Product Spotlight
Tackling Tough Brush With Viewpoint® and Streamline®
Controlling boxelder, hackberry, yellow popular and other tough brush species is difficult with mowing and time-consuming with hand-cutting. Even worse, many will grow back quickly, often sprouting multiple shoots. Herbicide treatments are an economical option for controlling those species and providing longer-lasting vegetation control in utility rights of way, while meeting Federal Energy Regulatory Commission guidelines.
Herbicides provide longer-lasting vegetation control in utility rights of way.
For dependable weed control, DuPont™ Viewpoint® herbicide delivers simple, broad-spectrum control of tough brush species and broadleaf weeds for safer rights of way along power lines and other utility and industrial sites. DuPont™ Streamline® herbicide provides control of many of the same brush and broadleaf species and allows desirable native grasses to remain. Both herbicides feature low use rates in a dry-blended formulation and have minimal impact on mammals, wildlife and the environment.
RESOURCES
Online Modules Offer Easy Training Option
Product stewardship requires continued collaboration between manufacturers and roadside managers to responsibly manage unwanted vegetation. Identifying, managing and reducing risks to safety, health and the environment throughout the life of a product can help minimize environmental impact and preserve natural resources. By educating and informing stakeholders on sound stewardship principles, DuPont helps develop reliable, sustainable solutions to meet the challenges of a growing world population.
DuPont Crop Protection has developed the Land Management Stewardship Learning Series, with training modules that address stewardship best practices to increase the efficiency and effectiveness of herbicide use.
These online learning modules cover topics that you and your employees deal with regularly, including:
Understanding Pesticide Product Labels – Learn about the purpose and importance of pesticide product labels, label types and contents.
Handling, Storing and Transporting Pesticides – Review product stewardship best practices related to pesticide handling, storage and transportation.
Mixing and Loading Pesticides and Disposing of Pesticide Containers – Learn techniques for proper pesticide mixing and loading, and container disposal.
Use the Learning Series as a training tool for new employees or for a quick review of best management practices – all in an easy-to-view format that can be accessed online at any time and completed in just 12 to 20 minutes. Get started today.
DuPont™ Streamline® and Viewpoint® herbicides are not registered for sale or use in all states. See your DuPont retailer or representative for details and availability in your state. Always read and follow all label directions and precautions for use.
DuPont™ Streamline® and Viewpoint® herbicides are for use in non-crop applications only and do not have grazing tolerances.
The information provided on this website is for reference only. Always refer to the product labels for complete details and directions for use.