Improving Mesquite Control with Streamline®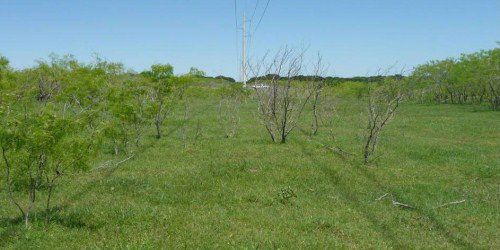 Mesquite is a hardwood tree that overruns land and reduces other vegetation, posing problems along fence lines and in utility rights of way. Mesquite control can be difficult. Usually 10 to 15 feet tall, when unrestrained, mesquite can reach 15 to 20 feet tall.

Mesquite Control Trial
Location: Childress, Texas
Situation: The trial was conducted on Conservation Reserve Program (CRP) land with heavy mesquite coverage. The mesquite trees were 4 to 6 feet tall and had not previously been treated.
Date of treatment: July 20, 2007
Treatments: The trial compared three rates of DuPont™ Streamline® herbicide to a Garlon treatment and the standard treatment of Garlon 4 + Transline. The plot was treated with a broadcast spray at 15 gallons of water per acre. All treatments were applied with MSO at 1% v/v.
Results: Streamline® achieved nearly perfect control when applied at higher rates, and outperformed standard applications when applied at a lower rate than the standard.

Application Tips for Success
Mesquite trees have a narrow window of time when treatments need to be applied. To successfully eliminate mesquite, you must apply the treatment in late fall when it is producing and sending carbohydrates to its root system for winter storage. Streamline® may provide a larger window for application than current standard treatments.
Using an herbicide to destroy mesquite will eliminate tree regrowth. If you cut mesquite but fail to kill the plant, you activate the basal buds resulting in tree regrowth.
Streamline® provided up to 100 percent mesquite control more than a year after treatment.
Garlon and Transline are registered trademarks of Dow AgroSciences LLC.
The information provided on this website is for reference only. Always refer to the product labels for complete details and directions for use.