Keep Wildlife and Natural Habitats Safe From Invasive Weeds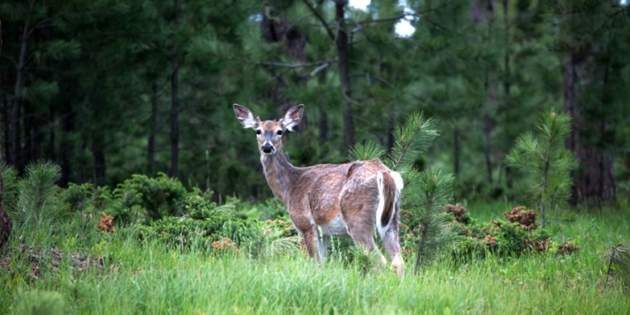 Invasive weeds in wildlife areas threaten habitat, rob wildlife of valuable food and more. DuPont Land Management is developing invasive weed control solutions for these critical areas. Scroll down to read about the following topics.
In this issue:
Click the "Sign Up Now" button to start receiving customized Weed Wise information via e-mail.
Protecting Habitats From Invasive Species
Just as a rancher strives to get the most production and nutritional value from his pastureland, Ducks Unlimited and other conservation organizations attempt to get the most production and value from the land they manage to benefit wildlife. The same noxious weeds that can rob a pasture of nutrient-rich native grasses can force out native plants that provide essential food and cover for waterfowl and wildlife in grasslands and wetlands.
Invasive weeds are increasingly a contributing factor to reduced wetland and grassland productivity, which adds to the impact of losing more than 80,000 acres of wetlands in the United States each year, according to Dale Humburg, chief biologist, Ducks Unlimited, the world's largest wetlands and waterfowl conservation organization. This loss makes it essential to restore and maintain productivity of remaining acres.
Ducks Unlimited is always searching for more effective, efficient ways to combat noxious weed infestations while restoring and preserving the productivity of wildlife habitats. In two vastly different regions of the United States, Ducks Unlimited land managers are finding success controlling two very different invasive weeds with the same product: DuPont™ Telar® XP herbicide.
South Dakota's Prairie Pothole Region: Controlling Yellow Toadflax
Millions of geese and ducks visit the Prairie Pothole Region each spring to nest and raise their young, making it one of the most important waterfowl-producing habitats in the world. Since 1984, researchers estimate that nearly 194,000 acres of native grasslands that served as essential habitat for waterfowl and many other grassland-nesting birds, have disappeared in the region, making management of remaining habitat and restoration vitally important.
Yellow toadflax is a rapidly spreading weed that has popped up in the north-central South Dakota portion of this region over the past few years.
"We're very concerned about yellow toadflax reducing plant and animal diversity and production in this area because it is so aggressive," says Randy Meidinger, manager of conservation programs, Ducks Unlimited. "This weed has also reduced the amount and quality of forage available to livestock that graze on Ducks Unlimited and neighboring properties. It must be controlled to maintain a high level of livestock and wildlife production on the prairie grasslands."
When yellow toadflax was at its worst, he says, the Goebel Ranch Complex, the largest Ducks Unlimited land holding in the region at 9,500 acres of native prairie grasslands and wetlands, was dealing with a 7 percent infestation of yellow toadflax.
"We've been treating a multitude of different patches of this weed over the past three years and are starting to turn the corner with controlling yellow toadflax," Meidinger reports. The Ducks Unlimited team also has been applying Telar® XP herbicide to newly seeded grass stands to control broadleaf weeds and provide residual control. "Telar® XP targets the problem weeds and has shown no negative impact on the desired native plants," he adds. "That has helped Ducks Unlimited successfully establish new native grassland stands in the region."
Perennial Pepperweed Threatens Habitats
Perennial pepperweed can overtake a wide range of habitats, including riparian areas, wetlands, marshes, rangeland and floodplains. Infestations have been reported in every state west of the Rocky Mountains, except Arizona.
The flowering, multi-stemmed perennial can grow to more than five feet tall and its creeping roots can extend more than six feet deep in the soil. New plants emerge from root sections as small as two inches. Once established, perennial pepperweed creates large monospecific stands that displace native plants and animals, adversely affecting food quality and nesting habitat for native birds. Alfalfa and pasture production also can be hurt by perennial pepperweed infestations.
With the exception of continual flooding, no non-chemical treatments have been found to effectively control perennial pepperweed by themselves, but excellent control can be obtained by combining herbicides and cultural practices. The most effective control regime includes spring mowing or grazing with subsequent DuPont™ Telar® XP herbicide application at flower bud.
Telar® XP effectively controls perennial pepperweed and other noxious perennial weeds without harming many desirable grass species. Telar® XP can be combined with other herbicides for broader-spectrum control, a wider application window and added soil residual activity.

Flexible, Effective Control: DuPont™ Telar® XP Herbicide
DuPont™ Telar® XP herbicide is an ideal weed-control option for wildlife areas, delivering broad-spectrum control of tough invasive weed species while preserving desirable vegetation and dramatically improving site biodiversity.
With strong foliar activity, residual control and reduction of weed seed viability, Telar® XP controls perennial pepperweed, Canada thistle, Russian knapweed and many other troublesome weeds. Spring or fall application may be used for greater flexibility, depending on the target weed species. A single application of Telar® XP has been shown to help reduce weed populations more than 90 percent by the following spring.
Studies indicate that Telar® XP herbicide has low toxicity to mammals, birds, fish and insects, and minimal potential for accumulation in groundwater when used according to label directions.
DuPont™ Lineage® ClearStand® Herbicide Features Convenient Dry Formulation
A herbicide blend from DuPont delivers a new level of convenience and effectiveness in vegetation management and forestland weed control.
DuPont™ Lineage® ClearStand® herbicide features the precise levels of DuPont active ingredients needed for forestry hardwood release and industrial brush control to help increase survival and growth of pine seedlings.
The product, developed using proprietary DuPont blends technology, combines the active ingredient imazapyr with proven DuPont sulfonylurea-based herbicides in a convenient, easy-to-use dry formulation. This highly concentrated, dry formulated product offers a significantly smaller packaged volume of imazapyr than that found in liquid formulations for easier handling, transportation and storage.
DuPont Partners With Yellowstone National Park to Preserve Park Buildings
Through the nonprofit Yellowstone Park Foundation, DuPont has donated its full portfolio of moisture management and weatherization products to help Yellowstone National Park become the most sustainable national park in the United States.
Yellowstone has embarked on a series of new construction and remodeling projects, including the Old Faithful Visitor Education Center, the Yellowstone Justice Center and a new Canyon Range Station. DuPont™ Tyvek® Weather Barrier Systems will help reduce the energy load required to heat and cool the buildings and protect structures from air and water penetration, while still allowing moisture to escape.
DuPont is proud to help contribute to the preservation of one of the nation's most beautiful natural treasures.
The information provided on this website is for reference only. Always refer to the product labels for complete details and directions for use.