Perspective® Excels in Leafy Spurge Control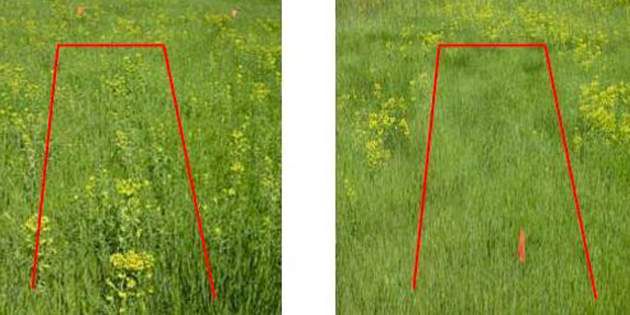 DuPont™ Perspective® herbicide helps land managers protect natural resources and public safety by keeping highly competitive leafy spurge in check to maintain sightlines and reduce fire hazards. Left untreated, the noxious weed can infest many acres and suppresses native grasses. Trials show that Perspective® herbicide provides excellent control of leafy spurge while releasing desirable native grasses.
Perspective® Leafy Spurge Control Trial
Location: Odessa, Neb.
Situation: Site had a high population of leafy spurge that was 10 to 24 inches tall with full flowering seedheads. Native grasses had been choked out and leafy spurge continued to spread rapidly.
Date of treatment: June 2, 2009
Treatments: Perspective® was applied at three rates and compared to applications of Milestone and a tank mix of Tordon + 2,4-D (see table). Each application was sprayed at 20 gallons per acre with a nonionic surfactant at 1 percent v/v.
Results: Perspective® continuously outperformed other herbicides long after treatment, with 99 to 100 percent control at the two higher application rates nearly one year after application.
Application Tips for Success
Watch weather conditions. Drift potential is lowest when applications are made in light to gentle sustained winds. Avoid gusty or windless conditions.
Evaluate potential for treated soil to be moved offsite by wind or water erosion.
Always calibrate sprayer before making applications to ensure correct spray volume and a uniform spray pattern for thorough weed coverage.
Avoid overlapping and shut off spray booms while starting, turning, slowing or stopping to avoid injury to desired species.
Use sufficient water volume to ensure thorough coverage when applying as a broadcast or directed spray.

Perspective® may be used for control of invasive weeds in non-crop applications on roadsides and in industrial sites on established, native perennial grass species. Following a Perspective® application, some seedhead suppression and/or transient stunting may occur. Always refer to the Perspective® label for complete application instructions.
Milestone and Tordon are registered trademarks of Dow Agrosciences LLC.
The information provided on this website is for reference only. Always refer to the product labels for complete details and directions for use.