Protect Investments With Better Pasture Management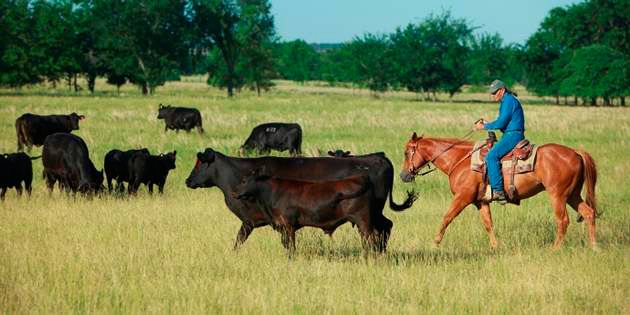 Winter provides necessary downtime for pastures and a good opportunity to consider new strategies for gaining more from your land and input investments in the year ahead.
In this issue:
Click here to start receiving customized Weed Wise information via e-mail.
Three Steps to Better Pasture Management
Taking an active approach to managing your pastures is the best way to ensure they are highly productive. In today's challenging grazing environment, making the most of grazing options is critical to stretching input and feed dollars and maximizing profits.
"Making your pastures work harder takes a systems approach that includes grazing management, balanced fertility levels, adequate weed control and control of other pests that can hurt grass production," explains Craig Alford, range, pasture and invasives portfolio manager, DuPont Land Management. "Manage all those things well and you'll increase grass production."
Alford points to three pasture management keys.
1. Assess pasture condition.
Start by determining the level of decreaser grass species. "These are typically more desirable, tall grasses that can decline under excessive grazing pressure, such as orchard grass and tall fescue."
Decreaser species are good indicators of pasture condition. "As they decline, invasive weeds and low-growing plants can become established and begin to thrive."
While some pasture managers prefer to keep low-growing plants such as forbs and brush available for wildlife feeding, they can't be allowed to dominate a pasture, adds Alford. "It's all about maintaining the right balance between decreasers and increasers."
For optimal cattle production, having at least 75 percent decreaser plant species in the pasture is considered excellent condition, but aim to maintain at least 50 percent decreaser species, he recommends. "Below that level, increasers gain the advantage and the pasture's productivity is compromised."
2. Actively manage grazing.
How you maintain good grazing conditions in your pasture has a lot to do with your grazing management plan and stocking rate, says Alford. "When a pasture is in excellent grazing condition, it may take only three acres to feed one cow per month. When the same pasture is in poor condition, a cow may need 15 acres."
He recommends initiating a grazing management plan that includes several key steps.
• Maintain appropriate stocking rate. Determine the right number of cattle to keep your pasture in good to excellent condition. If your pasture needs recovery time, consider leasing additional pasture land or reducing cattle numbers for the long-term good of your operation.
• Monitor grazing. In various areas, erect 10 foot- by 10-foot exclosures that protect grass from cows. Monitor the grazing around these areas at daily to weekly intervals, depending on grazing intensity. When the grass outside an exclosure has been grazed down 50 percent, move cattle to another pasture to let grasses recover.
• Record pasture condition over time. Drive a steel post into the ground, then take photos in all four directions away from the post, shooting a new set of photos each year. Compare the photos each year to see if you're maintaining the grass system or seeing encroachment or establishment of increaser plants, brush or other undesirable plants.
• Modify grazing patterns. If cows resist grazing some areas, encourage them to use those spots with mineral blocks or water tanks.
3. Use pasture improvement tools.
Before applying crop nutrients, determine where you'll get the best return on your investment. Conduct soil tests to identify needed nutrients. Keep weeds and brush under control to avoid the need for restoration. "When pasture conditions are greatly deteriorated, removing undesirable species and replacing them with desirable grass can take two to four years."
Spot herbicide applications can be an effective tool to stop brush species such as blackberry and multiflora rose from encroaching on pasture acres. "Good herbicide options for pasture managers include the DuPont™ Cimarron® brands, which provide effective control of brush species and broadleaf weeds such as Canada thistle, but are safe for grasses and carry no grazing restrictions," Alford says. "For best results, apply to actively growing weeds and brush, and spray thoroughly until the solution begins to run off foliage. Cimarron® products can be tank mixed with other herbicides such as 2,4-D for additional control."
Consider other available control alternatives and determine how they might fit into your treatment program, he adds. "Whether you use chemical, mechanical, biological or burning, be sure to allow enough time to evaluate treatment effects. You may not notice visible benefits until the following summer."
Controlling other pests, such as rodents and insects, is another important step in maintaining and improving pasture, says Alford.
Winter Annuals in Bermudagrass
Getting ahead of winter annuals can be particularly challenging in bermudagrass, since weeds often germinate and grow before the grass breaks dormancy. Weeds such as ryegrass, little barley and henbit can be particularly challenging to control if not caught early.
An effective strategy for visibly cleaner bermudagrass pastures is applying a herbicide when winter annuals are small, and the grass is still dormant. This will significantly reduce weed competition early in the season and help ensure clean, weed-free bermudagrass from the very first cutting.
DuPont™ Pastora® herbicide can be applied in late winter and early spring, when the ground is not frozen, and is effective in controlling winter annual grasses and broadleaf weeds that emerge prior to bermudagrass greenup. Pastora® can also be applied with fertilizer and offers excellent crop safety.
More Grazing, Haying Options With DuPont™ Velpar® L Herbicide

DuPont™ Velpar® L herbicide provides effective control of smutgrass and other tough weeds, including barnyardgrass, dogfennel, lespedeza and pigweed, in established stands of bermudagrass and bahiagrass. In early 2011, the Velpar® L label was revised to allow Velpar® L-treated pastures to be grazed immediately or cut, dried and fed 38 days after application. The previous label required a 60-day waiting period prior to grazing or cutting treated pasture. The change offers pasture managers more flexibility in weed-control programs without sacrificing grazing time.
Smutgrass is an aggressive weed that needs little moisture to thrive. It produces seed from May through the summer months in the Southeast, notes Brent Sellers, University of Florida extension weed specialist. "Mowing smutgrass can actually increase its seed production, so mechanical control is not a good option."
In pastures, smutgrass spreads quickly and competes with desirable perennial grasses, says Randy Verret, location manager for G&H Seed Co., Iowa, La. "As smutgrass invades, it occupies more area in the pasture and reduces carrying capacity. Animals overgraze more palatable grasses, which gives smutgrass even more opportunity to spread."
The key to effective smutgrass control is taking action before weed density is too great, notes Sellers. "Once smutgrass covers more than 50 percent of the pasture, it's often too late for spot spraying. When an infestation gets up to 60 or 70 percent, you're looking at pasture renovation."
To avoid that costly proposition, Jason Tate, ranch manager for Sweet Lake Land and Oil, Sweet Lake, La., started working with his retailer, Verret, to try herbicide control for smutgrass in bermudagrass. Verret recommended using Velpar® L.
"We had a high infestation of smutgrass and were looking at tearing up the pasture. But the Velpar® L application worked well," says Tate. He wants to use the herbicide to get the upper hand on smutgrass invading a few other pastures among the more than 10,000 acres he manages in southwestern Louisiana. "Smutgrass works its way into a pasture one to two years after we improve it. I really want to get control of it before it takes over, which can happen in just three or four years."

The information provided on this website is for reference only. Always refer to the product labels for complete details and directions for use.