Control Invasive Weeds for Better Forage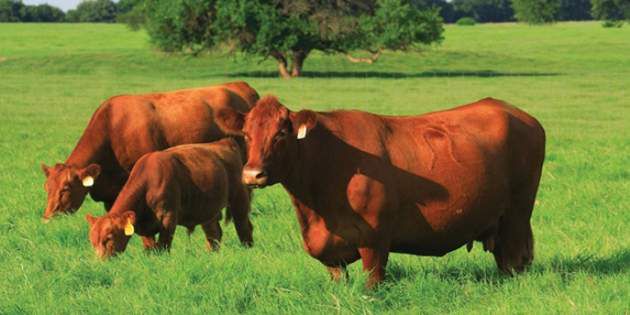 Invasive and noxious weeds rob grazing value from pasture and rangeland by outcompeting native vegetation for sunlight, soil moisture and nutrients. DuPont Crop Protection has valuable information and products to help manage these weeds and restore desirable species to your land.
In this issue:
Click the "Sign Up Now" button to start receiving customized Weed Wise information via e-mail.

Texas & Southern Plains: Keys to Revitalizing Pasture and Rangeland

With rising feed costs, many producers in Texas and the Southern Plains are considering revitalizing underutilized pasture and rangeland. Renovating this valuable land can help reduce input costs and slow spread of invasive weeds.

According to Larry Redmon, Ph.D., state forage specialist, Texas AgriLife Extension Service, and Paul Baumann, Ph.D., state weed specialist, Texas AgriLife Extension Service, three key steps are required when establishing and promoting growth of forage plants.
1. Select the right forage.
"New stands of forage, whether annual or perennial, require careful attention to species selection, site, fertility and early weed management," says Redmon.
A wide range of grasses and legumes are available, and each species has its own establishment and growth characteristics, making it more or less suitable for soil conditions, climate and an operation's needs. For example, species vary in how well they accept dry or poorly drained soils and different soil types.
"If you don't choose the right forage, you're starting off in a hole," Baumann explains. "Planting forage that will thrive in your soil gives it an edge on weed competition."
2. Nail the timing.
A soil sample should be obtained several weeks prior to the establishment date, Redmon advises. "This allows time to make limestone applications, if needed, and time to apply and incorporate phosphorous and potassium applications into the seedbed prior to establishment."
Since irrigation is seldom an option, it's critical to plant seed or sprigs and apply nutrients when rain is expected, typically during the spring, and hopefully into a moist seedbed.

"Timely rainfall is essential to establishing forages since rain is the key to releasing nutrients in the soil," explains Baumann. "If you can plant before a period of rain, you'll provide your seeds or sprigs the boost they'll need to get firmly established."
Nitrogen fertilizer should be applied only after it is clear the establishment will be successful; otherwise early fertilizer applications may only serve to increase the growth of unwanted weeds, says Redmon.
3. Control weeds early.
The earlier you begin controlling weeds, the faster you'll establish your stand, adds Baumann. "The best defense against weeds is an aggressively growing forage that crowds out the competition, so using best fertility practices at establishment and beyond is essential."
Even best practices during pasture revitalization won't guarantee that there won't be challenges from grass and broadleaf weeds. Baumann recommends using a targeted herbicide to control weeds before they become a problem.
If weeds have surfaced, the key, he explains, is to attack them when they're small four to six inches tall so control can be achieved with less herbicide. "It's best to control weeds at a time of year such as late spring or early summer when you're still getting beneficial rainfall so the forage can respond and take the best advantage of the weed removal," Baumann adds. "If you wait until the middle of July to control weeds, they'll be much larger and you'll need to use more herbicide, which adds to costs. And even after you control those larger weeds, odds are you're probably not going to get enough rain for the forage grass to benefit."
REGIONAL SPOTLIGHT
Grass Equals Profits in the Cattle Business

In July 2002, Mark and Liana DeWeese, owners of the Double D ranch, purchased 30 acres of native pasture adjacent to their original 90-acre site outside Claremore, Okla. The new pasture was riddled with invasive weeds, including sumac, blackberries and many other eastern Oklahoma weeds. Nearly half of the acreage was nonproductive.
The DeWeeses partnered with Stillwater Milling Company, the largest feed mill in Oklahoma, to determine a long-term plan to increase productivity of the native pasture. The plan combined cultural practices and strategic herbicide applications, including use of DuPont™ Cimarron® MAX herbicide.
"The targeted weeds were turning brown and dying less than one week after the first application of Cimarron® MAX," says Mark DeWeese. "Within three weeks after application, native grasses were growing where they had been absent for approximately 100 years."
They applied spot treatments of Cimarron® MAX the following spring to troublesome patches, he adds by then only 10 percent of the pasture. By the second year, they had increased total grass production by 100 percent. Heifers on the improved pasture gained more than 300 pounds on average that summer.
Sticking with their long-term weed management program, the DeWeeses say Cimarron® MAX even helped stave off problems others experienced during the major drought that hit eastern Oklahoma in 2006.
"We applied Cimarron® MAX that May and, amid a drought that brought wildfires and empty ponds, we were able to graze the same number of animal units on the pasture land, while other pastures in our area were 50 percent shorter than normal," DeWeese reports. "Considering that hay prices shot up to five times normal during the drought, Cimarron® MAX helped us save considerable money on input costs."
Good native grass is the key to a profitable cattle operation. The DeWeeses credit Cimarron® MAX with transforming and maintaining pasture quality, even in the toughest conditions.
RESEARCH AND DEVELOPMENT UPDATE
Cimarron® MAX Increases Native Grass

Studies show nearly two to three times more native grass is produced in areas treated with DuPont™ Cimarron® MAX herbicide.
Test plots conducted near Peaster, Texas, yielded 1,538 pounds of biomass per acre when Cimarron® MAX was applied at Rate I (0.25 ounce/acre Cimarron® MAX Part A and 1 pint/acre Cimarron® MAX Part B). Plots yielded 2,091 pounds of biomass per acre when Rate II was applied (0.50 ounce/acre Cimarron® MAX Part A and 2 pints/acre Cimarron® MAX Part B). Neither plot had any apparent weeds, while the untreated plot produced only 680 lbs. of biomass per acre as grasses battled for moisture and nutrients with 1,518 pounds of weeds per acre.
In a study at the Waggoner Ranch, Vernon, Texas, 2,674 pounds of native grass and only 30 pounds of weeds were produced per acre when Cimarron® MAX was applied at Rate I. At Rate II, 2,723 pounds of native grass and only 14 pounds of weeds were harvested per acre. The untreated plot produced 1,513 pounds of grass and 1,253 pounds of weeds per acre.
INVASIVE WEED FOCUS
Forage Land Robbers

Musk, or nodding, thistle is an aggressive, biennial herb with showy red-purple flowers and pain-inducing spiny stems and leaves. Mature plants range in height from 1½ to 6 feet, with multi-branched stems. Because musk thistle is unpalatable to wildlife and livestock, recently grazed forage lands are highly susceptible to invasion by the damaging weed.
The most successful control method for this invasive weed is a combination of ongoing cultural and herbicide treatments to eradicate seed from the soil. DuPont™ Cimarron® MAX and Cimarron® Plus herbicides (depending on region) provide long-lasting control of tough weeds, including musk thistle, using systemic action to eliminate the entire plant. Providing contact plus residual, both Cimarron® family products offer broad-spectrum weed control in one application with flexible use rates to suit site-specific needs. The wide application window offers weather and schedule flexibility, with no waiting period between application and grazing by beef cattle.
DUPONT INNOVATIONS
DuPont™ Velpar® L: Control Brush in Pasture, Rangeland

Spot-spraying with Velpar® L is ideal for use in low-cost preventive maintenance programs to keep brush from spreading and crowding out grasses. Simply connect the Velpar® L jug to a spot gun for convenient spot application and easy cleanup.
The broad-spectrum activity of Velpar® L controls a wide variety of woody plants, as well as mesquite, huisache, cholla cactus, cedar and juniper trees in southwestern rangelands and pastures.
Grubbing, cutting and chaining often leave roots that sprout again. Velpar® L defoliates brush, using up root energy reserves and helps to prevent resprouting — all at a cost of about 24 cents per three-inch stem diameter (large brush) or as low as 0.08 cents for one-inch basal diameter (smaller brush).
The information provided on this website is for reference only. Always refer to the product labels for complete details and directions for use.