Maximize Grass Yield and Quality with Cimarron® Herbicides
Double D Ranch, Claremore, Oklahoma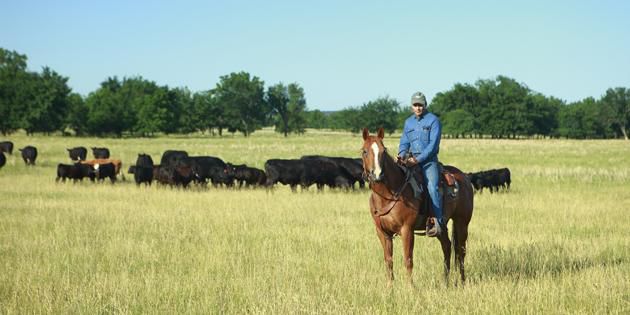 The Cimarron® family of herbicides can help growers realize the full potential of pastures and rangeland. Managing weeds maximizes grass yield and quality to boost cattle weight gain per acre. The Cimarron® group of products includes
Controlling weeds in pasture and rangeland is an important part of making those acres more productive. If left untreated, weeds compete with desirable grasses for moisture, nutrients and sunlight, quickly destroying forage quality.
69 Percent More Grass

Results from trials conducted in Cheyenne, Wyo., show significant grass yield increases when weeds were controlled with DuPont™ Cimarron® X-tra herbicide compared to untreated acres. In the first year of the trial, when rainfall was limited, land treated with Cimarron® X-tra produced 57 percent more grass than untreated acres. With more rainfall the second year, Cimarron® X-tra-treated land produced 69 percent more grass than untreated land.
Grass Equals Profits
Several years ago, Mark and Liana DeWeese, owners of Double D Ranch near Claremore, Okla., purchased 30 acres of native pasture adjacent to their original 90-acre site. The new pasture was riddled with invasive weeds, including sumac and blackberries. Nearly half of the acreage was nonproductive.

The DeWeeses partnered with the operation's feed supplier to develop a long-term plan to increase productivity of the native pasture. The plan combined cultural practices and strategic herbicide applications, including
Cimarron® MAX.

"The targeted weeds were turning brown and dying less than one week after the first application of Cimarron® MAX," says Mark DeWeese. "Within three weeks after application, native grasses were growing where they had been absent for approximately 100 years."

100 Percent Increase in Grass Production

They applied spot treatments of Cimarron® MAX the following spring to troublesome patches, he adds – only 10 percent of the pasture by then. In the second year, they doubled total grass production. Heifers on the improved pasture gained an additional 300 pounds on average that summer.

Sticking with their long-term weed management program, the DeWeeses say Cimarron® MAX even helped stave off problems others experienced during the major drought that hit eastern Oklahoma four years later.

Saving Money on Input Costs

"We applied Cimarron® MAX that May and, amid a drought that brought wildfires and empty ponds, we were able to graze the same number of animal units on the pasture land, while other pastures in our area were 50 percent shorter than normal," DeWeese reports. "Considering that hay prices shot up to five times normal during the drought, Cimarron® MAX helped us save considerable money on input costs."

Good native grass is the key to a profitable cattle operation. The DeWeeses credit Cimarron® MAX with transforming and maintaining pasture quality, even in the toughest conditions.
The information provided on this website is for reference only. Always refer to the product labels for complete details and directions for use.