Increase Roadside Productivity With Strategic Herbicide Use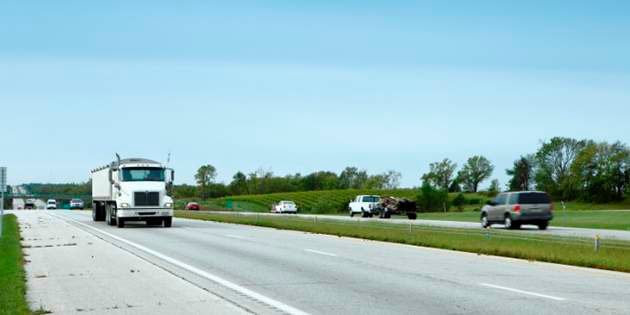 Balance roadside vegetation control costs with shrinking budgets by implementing strategic herbicide applications that will benefit productivity and protect the safety of workers and the public.
In this issue:
Click the "Sign Up Now" button to start receiving customized Weed Wise information via e-mail.
Less Mowing Creates More Time for Other Tasks
The more time highway department crews spend mowing, the less time they have to complete other important road maintenance tasks. One way to reduce mowing time and increase overall productivity is to include strategic herbicide treatments in roadside maintenance plans for effective long-lasting weed control that pays off in many ways.
"With a herbicide program, you can cover a county in about two weeks' time using just one spray truck and one follow truck," says Chris Bryan, roadside development manager, Mississippi Department of Transportation. "You'd need 12 to 15 tractors and mowers to cover a similar area in that timeframe. By controlling weeds with selective herbicide treatments, we can take workers off roadside tractors so they can complete other vital roadway maintenance.
"Our department is very interested in reducing mowing and cutting associated fuel and labor costs. My challenge is to find a way to do that while controlling tough weeds and grasses such as cogongrass."
Working in the Public Eye
Bryan is particularly mindful of public scrutiny when it comes to roadside aesthetics.
"In the past, we've used a glyphosate/imazapyr mix for roadside weed control, which damaged desirable turf while tackling weeds," he explains. "Those brown spots sometimes led to questions and concerns from the public about what we were doing. I need a product that will control tough weeds such as cogongrass without damaging summer grasses."
Bryan tested DuPont™ Perspective® herbicide last summer for selective weed control and found increased productivity and improved aesthetics.
"With Perspective®, we shouldn't have to replant grass or worry about erosion problems that can occur with the non-selective herbicides we've used in the past," he says. "Perspective® handles broadleaf weeds and produces some seedhead suppression on cogongrass and bahiagrass, which is pretty amazing."
Perspective® herbicide helps improve lines of sight along roadways by controlling a variety of tough annual and perennial broadleaf weeds, including leafy spurge, knapweeds and thistles, for increased roadside safety. Fall applications of Perspective® control early-spring weed growth, suppress grass growth and inhibit or delay seedhead formation to help reduce or defer mowing and related labor and maintenance costs.
Less Product to Mix, Handle and Store
Low-use-rate herbicides such as Perspective® are another plus for Bryan and his crews as they seek to accomplish more tasks with limited resources.
"With some new herbicides we've seen use rates go from gallons to ounces per acre, which really helps reduce the amount of product we have to store," Bryan notes. "And when an employee just needs to handle one bottle rather than several bottles of herbicide, it helps reduce mixing errors."
Leafy Spurge: Scourge of the North
Leafy spurge (Euphorbia esula) is a highly aggressive invader that can grow to heights that inhibit visibility, posing safety risks to motorists and work crews mowing along roadways. This noxious weed threat displaces native vegetation and thrives in roadside environments across much of the northern United States, as well as some areas on the East and West coasts. Leafy spurge tolerates a variety of soil conditions, but is most competitive during dry conditions when native plants are vulnerable.

Leafy spurge
Due to its extensive root system that contains large nutrient reserves, leafy spurge is persistent, making proper timing of systemic herbicide applications critical for effective control. Application timing should be confined to the early flowering and seed development phase, generally in early summer, or when the plant moves nutrients toward the roots in late summer to early fall. Seasonal treatments may be required for one or more years.
DuPont™ Perspective® and Streamline® herbicides set a new standard for effective control of leafy spurge and other invasive broadleaf species. In addition to controlling hard-to-manage species, Perspective® and Streamline® are selective to many desirable grass species that improve aesthetics and provide wildlife habitat.
A Valuable Tool to Control Tough and Resistant Broadleaf Weeds
Unsightly vegetation in utility, industrial and other sites is not only an eyesore, but can also damage structures and equipment, create fire hazards, and pose safety issues for crews. Land managers in charge of these locations can count on DuPont™ Perspective® herbicide for dependable, efficient bareground weed control. Perspective® delivers broad-spectrum broadleaf weed control, giving managers the flexibility to choose the best program for each situation. In combination with your choice of grass herbicide tank-mix partners, Perspective® can provide an excellent bareground program.
Perspective® provides effective control of field bindweed and herbicide-resistant marestail, Russian thistle, kochia, prickly lettuce, and other invasive and perennial broadleaf species. And Perspective® helps increase crew productivity by limiting weed escapes for fewer return trips. Low use rates and a convenient dry formulation mean Perspective® is easy to store, transport, mix and apply for added efficiency.

The information provided on this website is for reference only. Always refer to the product labels for complete details and directions for use.