Selective Weeding Key for Roadside Safety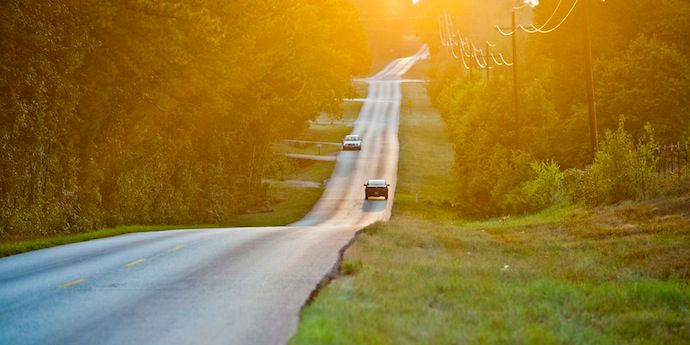 Balancing public and crew safety with vegetation management is an ongoing challenge for DOT managers. Roadside managers are using current products and techniques to tackle weed issues and meet roadside safety challenges.
In this issue:
Selective Weeding Key for Roadside Safety
Roadside rights of way can be dangerous places for both the public and maintenance crews when weeds obstruct sightlines and provide fuel for wildfires. Safety continues to be a top priority as roadside managers search for the best ways to control vegetation with the resources available.
In Delaware, Chip Rosan (left) and Brian O'Neil (right) work closely with DuPont representative Mark Rice to find the right weed-control programs to match local challenges.
"California traffic levels make roadside management a dangerous job, so the fewer herbicide applications or mowings we make per year, the safer it is for everyone," says Bill Nantt, landscape specialist, California Department of Transportation. "And with the drought conditions we are facing in California, roadside fire management has become a serious issue."
Chip Rosan, roadside environmental administrator, Delaware Department of Transportation, also considers public and crew safety his department's primary goal. "Some of our biggest challenges are taller weeds, such as marestail and other broadleaf weeds that encroach on roadways, obstructing sightlines and breaking up concrete."
Nantt's current roadside maintenance program includes a preemergence herbicide application followed by mowing and a touch-up herbicide application later in the season where needed. His crews maintain a 4- to 8-foot bareground fire strip along roadside shoulder areas for fire control. Adjacent to the fire strip, crews mow or apply a selective herbicide for broadleaf control. Both programs leave some vegetation in place as a rainwater biofilter.
Safety and Economic Benefits
Mowing is twice as expensive as chemical control," Nantt says, "and mowing next to the pavement doesn't mitigate fire danger. A cigarette can start a fire in just 4 inches of vegetation. While it may burn slowly, the fire will eventually move to taller weeds and pick up momentum. Mowing also can cause fires."
"By applying herbicides we reduce crew time out on the roadsides," adds Rosan. "Applying herbicide takes less time and equipment and reduces follow-up needed compared to mowing alone."
For Brian O'Neill, president, Weeds Incorporated, Aston, Pennsylvania, including herbicide use in his roadside maintenance contracts solves safety issues and boosts crew productivity.
"My company covers three-quarters of Delaware for the state's department of transportation," O'Neill says. "We concentrate on keeping sightlines open and roadsides safe — motorists don't want to pull off on a road shoulder and crash into guardrails because they can't see them. Keeping weeds controlled around and under guardrails also allows water to flow off roadways for less vehicle hydroplaning."
Boost Control, Reduce Mowing
To meet DOT maintenance goals, O'Neill has been using DuPont™ Perspective® herbicide alone for selective weed control on roadsides where erosion control is needed and as part of a herbicide tank mix for bareground control around guardrails.
Perspective® was registered for non-crop use in California in early 2014. It has been available in most other states since 2011.
"We've received excellent preemergence and postemergence control of a broad spectrum of annual and perennial weeds with Perspective®," O'Neill notes. "We've gone from applying gallons of active ingredient per acre to ounces per acre with Perspective®, which means our trucks can take longer trips, with fewer containers to handle."
For O'Neill's customers who prefer to include mowing in their maintenance programs, Perspective® has reduced the number of mowings and eased tight budgets.
"By applying Perspective® at the right time in the season, early weed seedhead production is minimized, and mowings are cut from 10 to five times per year. That's great savings with better control."
WEED FOCUS

Yellow toadflax blossoms have orange centers, distinguishing them from Dalmatian toadflax flowers.
Attractive plants likely introduced from Europe as ornamentals, Dalmatian and yellow toadflax are aggressive invasive species known to crowd out desirable species along roadways, railroad tracks and other transportation avenues.
Their extensive root systems make toadflax species difficult to control and can cause erosion. Both Dalmatian toadflax and yellow toadflax species are prolific seed producers, with single plants dispersing more than 500,000 seeds via rain, wind and animals. Yellow toadflax blossoms generally have orange centers, distinguishing them from Dalmatian toadflax flowers. Plants grow up to 3 feet tall.
Prevalent in the West, toadflax populations are spreading and could soon become a major land management problem throughout the United States. In fact, a recent news story by National Public Radio notes that invasive species, including Dalmatian toadflax, will be first to benefit from anticipated warmer climates in traditionally temperate zones.
Perspective® herbicide provides effective preemergence and postemergence control of multiple invasive species , including Dalmatian and yellow toadflax.
Product Spotlight
Label Update Expands Weed Control Options
New FIFRA Section 2(ee) recommendations allow application of Perspective® to control tough weed species not specifically listed on the product labels in all states except New Hampshire and New York.*
Dalmatian toadflax, yellow toadflax, Russian thistle and honey locust (4.75 to 8.0 ounces per acre)
Orange hawkweed (3.0 to 4.5 ounces per acre)
Stretch Budgets with Less Mowing
Faced with shrinking budgets, land managers and transportation authorities are finding ways to do more with less. Learn how they are using Perspective® to enhance public safety and stretch budgets with less mowing along roadsides and using bareground control in selected areas. Watch a video about how to stretch your roadside maintenance budget.
Extend Pavement Life and Protect Public Safety
Clean, weed-free roadsides play a key role in maintaining public safety. Uncontrolled vegetation presents a variety of serious threats to motorists, bicyclists and pedestrians, and can shorten the life span of road surfaces.
By achieving bareground weed control with a long-lasting Perspective® tank mix, roadsides can stay weed-free throughout the season with one application, avoiding costly retreatments, minimizing the amount of time crews spend in harm's way and allowing them to tackle other critical tasks. Watch a video on roadside bareground programs.
* These recommendations for Perspective® are permitted under FIFRA Section 2(ee) for control of additional weeds in non-cropland areas in all states except New Hampshire and New York. The 2(ee) expiration date is Dec. 31, 2016.
DuPont™ Perspective® herbicide is for use in non-crop applications only and does not have a grazing tolerance.
The information provided on this website is for reference only. Always refer to the product labels for complete details and directions for use.