Safer Summer Roadsides: Balanced Approach to Summer Weed Control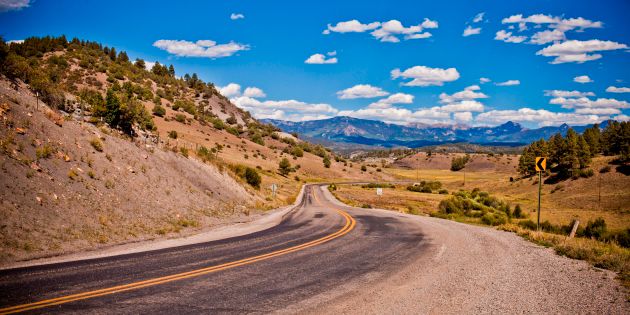 The increased traffic of summer brings increased responsibility for managing vegetation along roadsides. Strategic herbicide applications within an integrated vegetation management program help protect public safety and enhance crew safety. Count on DuPont for summer weed control information and products to help increase safety on our nation's roadways.
In this issue:
Balanced Approach to Roadside Weed Control
For many state departments of transportation, managing vegetation along roadsides has become a balancing act. Officials feel what are sometimes competing pressures to keep road crews safe, while minimizing impact on natural habitats. The decisions made about how to maintain roadways frequently draw public attention.
"Within Arkansas's urban areas, there is often more public resistance to herbicide treatments because they are perceived as dangerous to the environment, whereas in more rural parts of the state, the feelings are the opposite," says Charles Flowers, agronomist with the Arkansas Highway and Transportation Department. "Farmers are more familiar with the benefits of herbicides and recognize they can be more effective at controlling roadside weeds than mowing."
A well-timed herbicide application can control problem weeds and prevent seed production, which can reduce the need for further treatments that season, as well as lengthen mowing intervals.
Each of the state's 10 districts handles roadside maintenance differently, depending on local attitudes, says Flowers. "A major part of the budgets goes toward mowing, much of which the state contracts out to private companies. But our crews still do all the herbicide application."
ome states have taken this approach and tried to minimize mowing due to the increased safety issues it poses. Mowers along roadsides can cause traffic dangers for operators as well as motorists. Mowing on steep embankments and the potential for incurring obstructions that could be thrown by the mower are other common hazards.
Slow Weeds or Eliminate Them
As an agronomist, Flowers recognizes the role herbicides play in an effective integrated vegetation management (IVM) program. "When we run into problem weeds, mowing just slows their progress and they regrow in a few months. But applying the right herbicide can eliminate the weed problem in that area." That can translate to the need to mow or treat the area less often.
Herbicide treatments are an essential part of the IVM programs Mike Standish develops for his western Texas clients. The vegetation management territory manager for Crop Protection Services, Timberland Division, says mechanical control is still necessary along roadways, but herbicides are often the most effective tool. "With mechanical control you have to spend the same dollar amount for each pass, but with herbicide control VM crew productivity goes up and costs go down," he says. "Then you're able to do other things with the savings."
Selective Control and Lower Use Rates
Standish says the biggest benefit of using DuPont™ Perspective® herbicide is that it is effective on many of the most challenging weeds, while maintaining native grasses. "You can make one application and know you'll get good control and still preserve desirable grasses. Perspective® is even effective on weeds such as kochia that have developed resistance to other chemistries and are becoming harder to control."
Low-use-rate products simplify handling, mixing and application, he adds. "Applying just 10 ounces of Perspective® per acre versus 10 pounds per acre of older products means workers have less to load and mix, and can cover more area with smaller trucks."
"Everyone's objective is greater safety for their workers and the public," he says. "Products like Perspective® herbicide, can help accomplish both." Effective weed control with less mowing helps improve safety for everyone.
Cogongrass: Growing Threat Across the Southeast
Cogongrass (Imperata cylindrica) is one of the world's most invasive weeds, and is often considered one of the most difficult-to-control roadside weeds in the southeastern United States. It can grow to 6 feet tall, spreads via rhizomes and chokes out desirable grasses. This pervasive weed has rapidly spread across the region, reducing biodiversity, posing fire hazards and presenting a tough management challenge for many highway departments.
DuPont™ Perspective® herbicide reduces cogongrass density while giving desirable grasses the opportunity to thrive. By eliminating unwanted, aggressive weeds including cogongrass along roadsides, Perspective® improves visibility and safety for motorists and crews, while reducing maintenance needs.
A fall application of Perspective® at the full rate of 11 ounces per acre, made about one month before the first frost, can deliver suppression of cogongrass growth and nearly 100 percent seedhead control. A winter or early spring application of 10 to 11 ounces per acre of Perspective® prior to flowering can also provide suppression of seedheads.
Perspective® Is Tough on Invasives, Easy on Desirable Grasses
Controlling cogongrass and other tough invasive weeds that proliferate along roadways is a growing summer weed control challenge, especially if you want to maintain native grasses. DuPont™ Perspective® herbicide helps keep roadsides clean and safe by controlling invasive weeds and restoring native grasses. Perspective® delivers effective, broad-spectrum control of weeds and brush species at low use rates in an easy-to-use, dry-blended formulation. A fall application provides long-lasting control of winter annual weeds, keeping roadsides clean into spring, which reduces early mowing.
For tough weeds such as field bindweed and resistant species of marestail, Russian thistle, kochia, prickly lettuce and other invasive broadleaf species, Perspective® sets a new standard of control that improves crew productivity by eliminating the need to retreat resistant weed escapes.
Product Stewardship Best Practices: Land Management Learning Series
Training is a critical part of product stewardship. DuPont makes it easy to keep your crew up to date on best practices in day-to-day use of pesticide products with its Product Stewardship Best Practices: Land Management Learning Series.
Brush up your knowledge and offer 24/7 training for your crews. New modules are being added regularly, including these informative tutorials:
Understanding Pesticide Product Labels
Handling, Storing and Transporting Pesticides
Mixing and Loading Pesticides and Disposing of Pesticide Containers
Application Tips and Best Practices
Regulations and Records
DuPont™ Perspective® herbicide is for use in non-crop applications and does not have a grazing tolerance.