DuPont Display Technologies (DT) Specialty Silicones Group presented a suite of new technology and product solutions at the 24th Guangzhou International Lighting Exhibition (GILE), held at the China Import and Export Fair Complex in Guangzhou on June 9-12, 2019.

GILE is one of the most influential and comprehensive lighting and LED events in Asia. Each year, over 160,000 attendees visit more than 2,500 exhibitor booths. DT Specialty Silicones has participated in this exhibition for more than a decade to strengthen its sales capacity in China's growing LED packaging materials market, as well as to create business opportunities through ongoing customer interaction.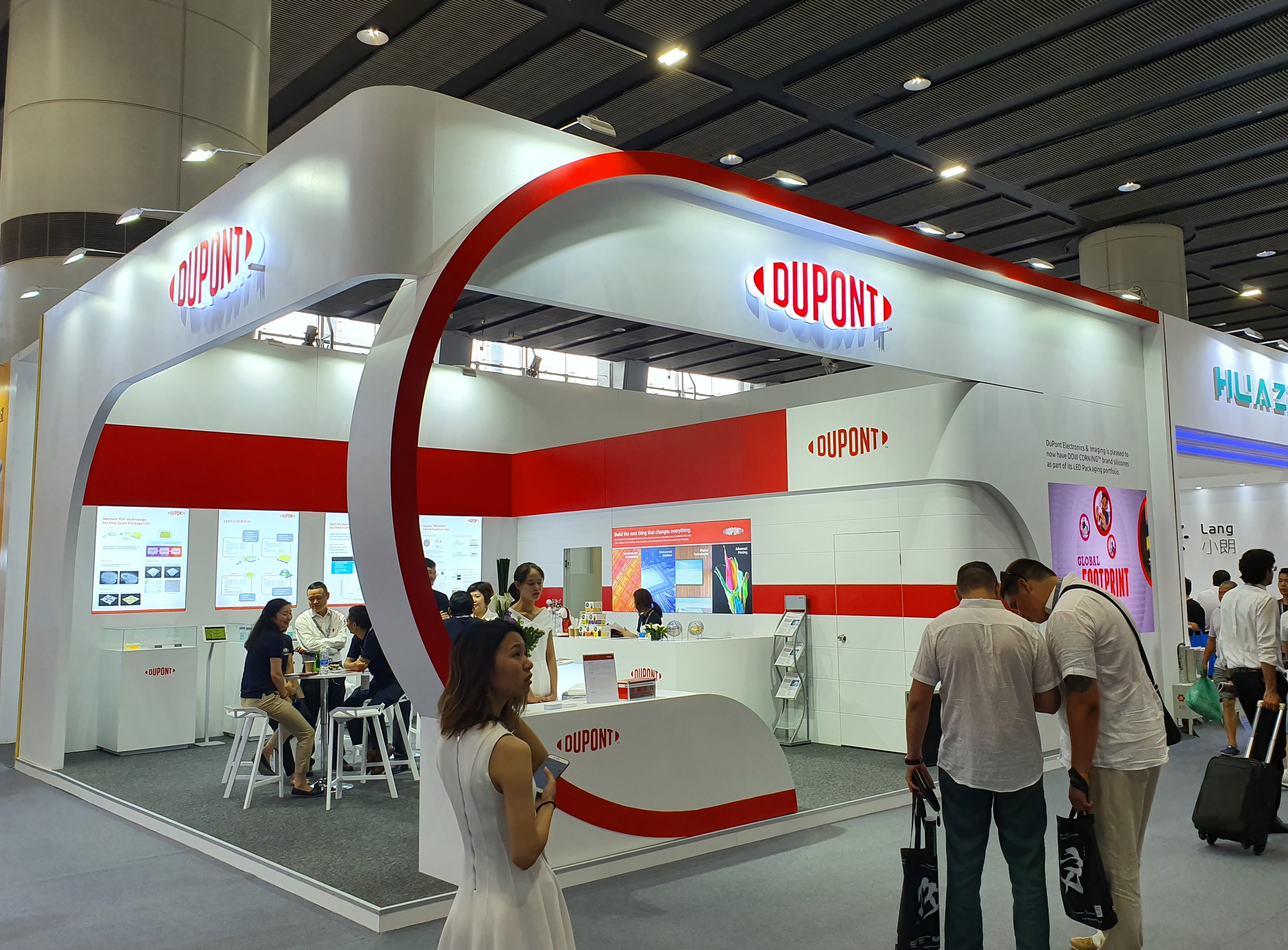 This year's event was particularly significant, as it was DuPont's first participation in the exhibition after our new corporate identity was unveiled. Our booth at the show, set up by DT Specialty Silicones, featured a separate corporate zone to introduce the high-level vision and value and DuPont E&I's portfolio, while advanced technology and product solutions were presented in the booth's business zone. Holding customer meetings in the booth helped us to successfully communicate divisional information, as well as raise awareness for the new DuPont corporate identity.
Advanced solutions broaden our reach
In the business zone, posters and samples highlighted DT Specialty Silicones' advanced technology and product solutions, including:
Film encapsulation material for chip scale package (CSP) enabling efficient package design and low total cost of ownership – the material will be processed into a film and laminated onto numerous light-emitting diode (LED) chips to complete encapsulation in one process and then diced to form CSP-type LEDs
Product portfolio suited for different LED packages – DuPont showed a wide variety of silicone-based, highly thermally stable optical encapsulation products, die-attach adhesives, and white reflective products suitable for various types of LED packages used in lighting, automotive applications, and backlighting for displays
Developmental die-attach adhesives for LEDs featuring good processability, high die share strength and lower pad contamination – these next-generation die-attach adhesive products target developing needs for LED packages using smaller chips that require higher die share strength and less contamination on the small die-bonding pad