In common vernacular, "getting the lead out" is a phrase that dates back to the 1940s and means, "hurry up!" In the electronics industry, the expression is taken quite literally. In 2003, as part of a global initiative to improve sustainability and improve social and ethical responsibility in the manufacturing supply chain, the European Union launched the restriction of hazardous substances (RoHS) directive, which restricts the use of hazardous substances in electrical and electronic equipment, including lead. This has driven manufacturers to find a lead-free alternative to tin-lead solders for wafer bumping processes, and Tin-silver plating chemistry has stepped in to fill the role.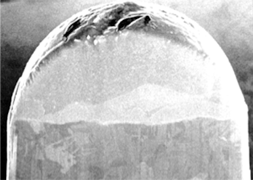 Removing lead from solders used in electronics is a difficult technical challenge because it has unique properties that ensure device performance and reliability. Dow's Solderon™ BP TS 6000 Tin-Silver delivers a lead-free chemistry that not only creates critical connections in electronic devices, but also doubles the productivity with the market's highest plating speed.
In April 2015, Solderon™  BP TS 6000 Tin-Silver was honored with the prestigious Bronze 2015 Edison Award in the Material Science: Manufacturing category. The award recognizes Dow Electronic Solutions for its development of this novel plating chemistry designed to provide advanced semiconductor packaging customers with a balance of performance and cost to enable the next generation of high-performance electronic devices, without the use of lead.