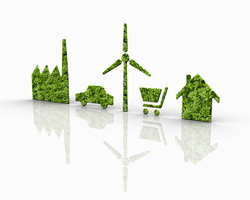 As we discussed in an earlier  tutorial, REACH is impacting the chemical industry locally within the EU as well as globally through supply chains, impacting everyone from raw material producers and suppliers to OEMs. In this two-part series, we will share Dow's specific strategies and some examples, as well as make recommendations for possible approaches.

Being prepared and ultimately compliant may be very simple, or it may require a long and arduous path. Given that REACH will continue to restrict and ban substances for the foreseeable future, companies should aim to get and stay "ahead of the curve," so that an orderly, manageable execution is possible, with enough time to line up associated staffing, budgets, qualifications, and approvals as needed.

Many of our industrial applications take an extremely conservative view of change, often implementing the same process chemistry for more than 30 years. This is most obvious in industries where change is considered to be high risk such as military and aerospace; but the electronic components sector as a whole has also been slow to change.
While these high-risk industries and applications have often been granted authorization for the continued use of otherwise banned materials and may also benefit from exemptions when implementing REACH, the end goal is ultimately to remove harmful substances from use. Therefore, the majority of applications must select alternative materials, requiring the entire supply chain to engage and cooperate as early as possible to identify, test, and qualify such compliant alternatives.
Companies across the supply chain should engage suppliers and customers in detailed discussions as early as possible to achieve the compliance goals ahead of the sunset dates. The first step is to read the REACH candidate list, which is the best source for guidance. The next gate in the process is the "Recommendation of Priority Substances to be included in Annex XIV of the REACH Regulation," currently in its 7th submission, where substances in the candidate list are recommended to proceed to the authorization list, Annex XIV. Substances on the authorization list will be banned after a specific date without an authorization permit. This recommendation to proceed to Annex XIV provides a much clearer indication of progress and timing towards a ban, but for many may not offer adequate time to identify potential compliant alternatives. It is therefore critical to review the candidate list, which offers a window into the future of substance control.
All value chain participants are still quite new to the realities of REACH, but we can look at what has already been achieved to understand some of the framework and timelines for future substance replacement. For example, consider diarsenic pentoxide (As2O5), which entered the candidate list on October 28, 2008. The substance was recommended for inclusion in Annex XIV in 2010 and the sunset date was May 2015, after which, one particular application required an authorization permit to allow for the completion of full test and qualification.
We addressed replacement of hexavalent chromium in an earlier post , but this process is ongoing ahead of the Sept 2017 sunset date. In this case, hex-chrome replacement technology was researched for years, but not until the sunset date was identified did the industry really focus in earnest on developing solutions. In the case of substances such as nonyl- and octyl- phenol ethoxylates (OPE & NPE), replacement materials already exist, but users must plan for testing and qualification of appropriate alternatives through early discussion with suppliers.
Given the number of "substances of very high concern" that REACH is trying to restrict for reduced human and environmental impact, there will be benefits to those who get ahead of the curve. Part 2 of this series will dive more deeply into finding an arsenic-free, lead-free pure gold electroplating solution to replace As2O5 to achieve REACH compliance in the pure gold electroplating process.