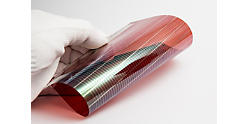 Research Triangle Park, N.C., April 4, 2016 – DuPont Advanced Materials (DuPont) is launching a new electronic ink for inkjet printing that offers the high conductivity and strong adhesion required for rapid digital design, prototyping and full-scale manufacturing.  The technology will enable digital printing for electronic components and circuits in applications where extremely fine lines are required, such as OLED panels, solar cells, printed antennae and touch panels.
"As the leader in the printed electronics industry, we must stay one step ahead of our customers' needs," said Kerry Adams, segment manager, DuPont Advanced Materials.  "Our new conductive ink for digital printing will open the door to the next important wave of innovations enabled by printed electronics."

DuPont's newest conductive ink, PE410, enables rapid prototyping and a smooth transition from "lab to fab" with the versatility to scale up to industrial high-volume inkjet print heads and machines. This allows circuit designers to immediately test a new design, quickly make necessary edits, and, due to reduced silver laydown, save on material costs.  The technology also can be adapted to non-planar printing, enabling a series of new and emerging applications.

"Based on industry benchmarks, we find DuPont's new conductive inkjet ink to provide the best combination of important properties available among competitive products," said Jeroen van den Brand, program director, Holst Centre. "When considering the low sintering temperature, conductivity, adhesion, print head stability, fine line capability and substrate compatibility, DuPont's solution is the leader."
DuPont will feature its new inkjet ink, PE410, along with its other printed electronic technologies during LOPEC (April 6-7, in Munich, Germany, hall B0 booth #310) and Printed Electronics Europe (April 27-28, in Berlin, Germany, booth #D14).  Highlights include:
Stretchable inks for wearable electronics that provide a manufacturing-ready alternative to traditional methods of embedding electronics in clothing and are used to create thin, form-fitting circuits that can be seamlessly bonded with many standard fabrics. 
A suite of in-mold electronic inks which help create lighter, less expensive and more beautiful electronic devices by reducing the need for rigid circuit boards.  These inks enable circuits to be printed directly onto plastic substrates and allow electronic features such as electronic controls, capacitive switches and LED lighting, to be readily integrated in applications such as home appliances and automobiles. 
New low-temperature inks that cure quickly at temperatures as low as 60C, opening up the possibility for printed electronics designers to use a wide range of functional and low-cost plastic films.
DuPont Advanced Materials is a leading innovator and high-volume supplier of electronic inks and pastes that offers a broad range of printed electronic materials commercially available today. The growing portfolio of DuPont Advanced Materials electronic inks is used in many applications, including forming conductive traces, capacitor and resistor elements, and dielectric and encapsulating layers that are compatible with many substrate surfaces including polymer, glass and ceramic. 
Advanced Materials has over 40 years of experience in the development, manufacture, sale and support of specialized thick film compositions for a variety of electronic applications in the consumer electronics, automotive, photovoltaic, biomedical, military and telecommunications markets.  For more information on DuPont Advanced Materials, visit www.dupont.com/electronic-solutions.html

DuPont (NYSE: DD) has been bringing world-class science and engineering to the global marketplace in the form of innovative products, materials, and services since 1802.  The company believes that by collaborating with customers, governments, NGOs, and thought leaders we can help find solutions to such global challenges as providing enough healthy food for people everywhere, decreasing dependence on fossil fuels, and protecting life and the environment.  For additional information about DuPont and its commitment to inclusive innovation, please visit www.dupont.com.

CONTACTS
Noelle Hagen
919-536-9552
noelle.d.hagen@dupont.com