A newly-developed two-component air duct, from system supplier MAHLE of Stuttgart, Germany, connects the intercooler and throttle body of the three liter, six cylinder twin-turbo engine from BMW.
Blow-molded using stiff yet elastic DuPont™ Hytrel® TPC/ET thermoplastic polyester elastomer, the air duct fulfills its task in a particularly efficient manner due to the very low material usage of the design and despite the high pressures and flow velocity encountered in such a high-performance petrol engine.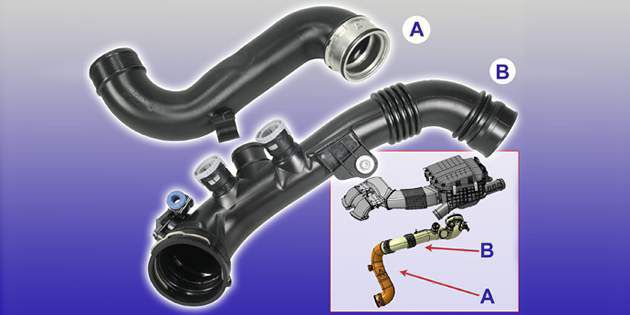 By reducing the part to just two basic components, the time required for production and assembly is significantly reduced compared to the previous version, which consisted of a series of pipes and clamps.  Moreover, blow-molding technology enables greater flexibility in the integration of application-specific connections, such as those required for resonators, sensors or the discharge of gases.  Together, the combination of lower weight, more efficient production and assembly, and the integration of variable functionality, provides for a significant cost advantage over the earlier model, which was produced using glass-fiber reinforced nylon and elastomers.
Used on the 'cold' side of the engine, the innovative air duct, consisting of two Dupont™ Hytrel® TPC/ET sections measuring 300 mm and 400 mm respectively, is one of the first mono-material solutions of its kind in Germany.