The close cooperation between DuPont and GM on this project started a couple of years ago, when they sought to optimize the material and process for the design. In turn, this would allow GM to cost-effectively realize the full benefits of the innovation. Indeed, the eventual selection of Hytrel® was key to the design's success. Even though it's not typically considered for transmission applications, it proved to offer the right balance of flexibility and stiffness despite temperature extremes to fit the complex geometries of the transfer case, while resisting swell when exposed to oils, aliphatics and aromatic solvents.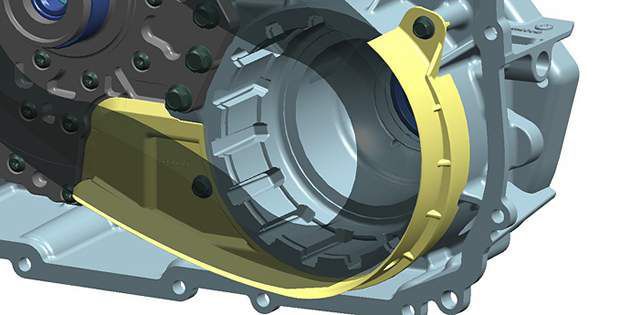 Two years in of development saw tooling iterations and material upgrades to optimize performance for service temperatures that cycle between -40°C (-40°F) to +140°C (284°F). The team extensively used the Troy-based DuPont Automotive Application Development Center to test materials, various processes and tools. Now in production, the part is manufactured by Chunil Engineering in Korea and CWB Group in China. "The success of this design on the 6T40 program was followed quickly by application of this design on the 6T45 program, which recently went into production," said Jatin Desai, General Motors Powertrain transmission structural component global team leader. "This generation offers improved performance, yet still packages the 6-speed into the space of a 4-speed."
The integrated baffle and seal lip assembly, made of Hytrel®, is designed to reduce oil aeration, provide a seal that limits fluid from flooding the chain while ultimately enabling transmission fluid fill for life.