Heat Resistant Plastics For Better Products and Processes
Heat resistant plastics are a light, versatile alternative to metal, ceramics and older-generation polymers.
DuPont collaborates with designers and manufacturers to help them improve their products and application systems, increase the speed of innovation, and make production more cost-efficient – from auto engines to energy production.
Supplying More Than Materials
DuPont offers one of the industry's broadest and most advanced arrays of heat resistant plastics. But not only. In addition to their excellent heat and aging resistance, DuPont elastomers also provide superior compression sets with resistance against aggressive media, and the thermoplastic resin materials provide ideal manufacturing productivity.
With material science, engineering, and other technical resources in over 65 countries, we collaborate with customers across four continents to support innovative application development.
Driving Lighter Engines
Smaller engines, below 2.5L, can increase fuel economy and decrease emissions, but there's a trade-off.  To provide the performance customers want, smaller engines often boost power with a turbocharger or similar device. That means hotter, harsher environments, including: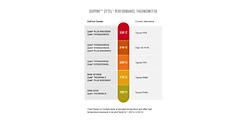 DuPont™ Zytel® PLUS nylon and DuPont™ Zytel® HTN92 Series PPA resins are based on our proprietary SHIELD technology. These heat resistant plastics offer a significant leap in thermal oxidation resistance, or long-term heat aging performance. 
Applying SHIELD technology enables Zytel® PLUS polymers to provide improved resistance to hot-air aging. Zytel® PLUS and Zytel® HTN92 Series PPA maintain good strength after being exposed to 180ºC hot air for 3,000 hours. These three products also retained their strength between 75 to 100 percent better than nylon 66, and about 40 to 70 percent higher than that of PPS. 
That kind of performance means automakers can count on hoses, CAC end tanks and other parts made with Zytel® to replace metal components in higher-temperature loops, for cost and weight savings.
See how Nissan™ Europe used Zytel® to help lighten the engine housing.
Protecting Vital Pumps and Valves
Pumps, valves and solenoids need tough protection, as they often operate in hot engines and other equipment. DuPont™ Crastin® PBT is used in solenoid valves that control water, air, steam and other gases.
Crastin® can withstand highs of 150º and lows of -40ºC, while maintaining adhesion to the copper wire during injection molding of the solenoid. The combination of production qualities and thermal resistance enable efficient, high-quality production of reliable components.
Making Chemical Production More Efficient
Processing environments in chemical and hydrocarbon plants are running hotter, longer, and with more aggressive chemicals in the mix. In order to increase mean time between repair (MTBR) and improve safety, the industry standard has long been DuPont™ Kalrez® perfluoroelastomer parts and seals.
As new demands on production have raised that standard, DuPont has developed Kalrez®Spectrum™ products that can retain their elasticity and recovery properties better than previous generations of high-temperature elastomers, even after long-term exposure to temperatures up to 327°C (620°F).
Strengthening the Energy Supply Chain
DuPont™ Vespel® CR-6100 parts are working today in more than 5,000 pumps at oil refineries, petrochemical plants and power plants around the globe. 
This heat resistant plastic has replaced metal and other composite materials used for pump wear rings, throat bushings and line shaft bearings. Improved performance, enabled by heat resistant plastics, can increase pump reliability and performance, while potentially cutting down on wasted fuel due to pump problems.
Vespel® offers:
Explore Vespel® for oil and gas centrifugal pump parts.
Learn more about high-heat uses for DuPont seals and gaskets.
Nissan™ is a registered trademark of the Nissan Corporation