In 2013 Fiat adopted a jounce bumper system for its Punto model that integrated several components into one to help deliver better performance and a lower system cost.
In developing the patented jounce bumper design,  DuPont modified Hytrel® thermoplastic elastomer to deliver better mechanical performance, excellent shape recovery and balance between stiffness and low-temperature properties- particularly under high strain conditions. Using Hytrel® offered thermal stability resulting in low molding variation and excellent processing capabilities. The material also takes advantage of a blow-molding process that uses an Ossberger machine, which can tightly control the thickness profile, facilitating optimum energy-absorbing properties with a maximum compression ratio. The new design component helps automakers and suppliers realize significant cost reduction when replacing incumbent foam polyurethane (PUR). DuPont worked closely with Fiat, Ossberger (blow molding machinery) and Insit (injection molding) to adapt and optimize a process that has been used for years to produce the protective boots for constant velocity joints in cars.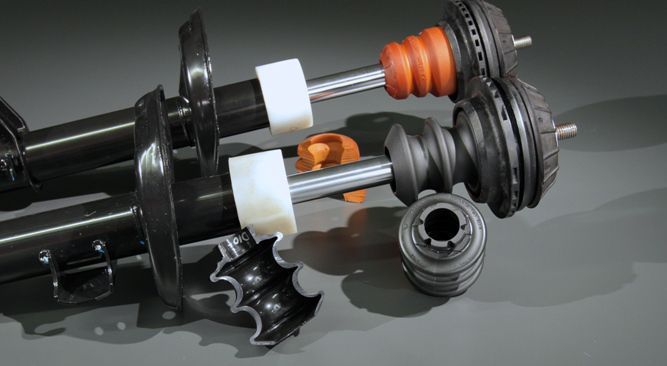 Application Development Capabilities Helped Meet Specific Requirements for the OEM
DuPont offered full technical support from material selection, design, prototyping, process, validation on part and vehicle to help accelerate and secure development for the OEM suspension engineers. As part of the application development support process, DuPont uses non-linear Finite Element Analysis (FEA) and Expert System software to develop designs that are tailored to OEM's specific force displacement curve requirements. The software is able to model plastic deformation, large deformation, nonlinear material behavior and processing limitations which helps to create the optimum thickness profile. Rapid prototyping of mold tools and laboratory testing is made available at the DuPont European Technical Center. CERAM, an independent French automotive dynamic analysis road center, provided vehicle road tests that helped optimize the jounce bumper performance for the development with Fiat.
Road Tests show Less Permanent Deformation and Higher Comfort Levels
In road tests, professional test drivers reported that the jounce bumper offered a higher level of comfort and steering feedback with a reduction of the front axis roll angle. In addition, OEMs tested the new design on a variety of vehicles over tens of thousands of kilometers without any behavioral issues. The tests help demonstrate that the new design delivered similar performance to PUR, but with lower part damage. Indeed, after traversing 3,000km of cobble stoned roads the Jounce Bumper made of Hytrel® exhibited less than 3% permanent deformation far below the industry target of 10%.