Nominated for an SPE Automotive Div. Most Innovative Use of Plastics Award – Chassis & Hardware category
Two leading automotive fluid circulation specialists have chosen DuPont™ Zytel® polyamide resins for rigid and flexible coolant pipes to achieve long-term resistance to aggressive water/glycol and road salts –to temperatures from -40°C to +125°C – while delivering processing efficiencies and weight saving. Tristone Flowtech Group selected Zytel® PA612 Long Chain Polyamide (LCPA) for a flexible pipe, while Teklas Kauçuk AS chose Glass Reinforced Zytel® PA66 to ensure rigidity and durability.
The flexible coolant pipe application was nominated for a Society of Plastics Engineers (SPE) Automotive Div.  'Most Innovative Use of Plastics Award' in the Chassis & Hardware category.  Winners will be announced at the annual awards banquet in Livonia, Michigan, on Nov. 12.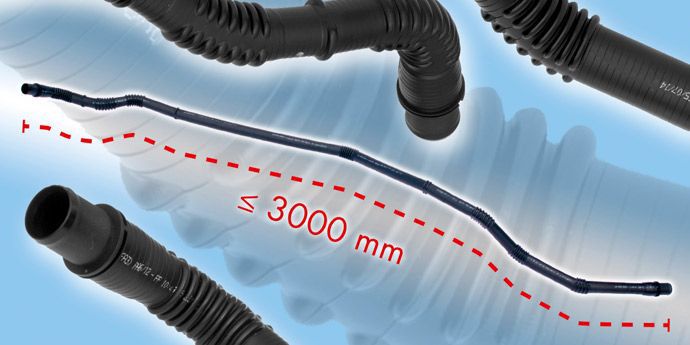 Replacing Metal, Saving Weight
The quest for Tristone Flowtech Group was to find a material/technology solution for an unusually long 2 to 3 metre variable flexibility coolant pipe designed to transport water and glycol fluid from the radiator end tank to the engine at the back, while saving weight. The challenge was not so much the length of the part since it was extruded, but to produce large pipes of up to 27mm diameter, structured in two layers with convoluted sections, that would resist 3 bar pressures, aggressive fluids and road salt.
DuPont provided the solution via a combination of Zytel® PA612 LCPA and its patented Variable Stiffness Bellows (VSB) technology, enabling thermoplastic parts to be flexible yet high-pressure resistant. At the same time, the new pipe can withstand engine compartment temperatures of 150°C, aggressive fluid temperatures up to 120°C combined with road salt, and continuous working temperatures of 95°C. In this application, Zytel® PA612 in a corrugated extrusion offers a lightweight alternative to metal, enabling up to 60 percent weight reduction over the former aluminum component.
"The key to develop such a large diameter coolant pipe using thermoplastics is to balance material behavior with design, testing and processing. Close collaboration and partnership between Tristone and DuPont enabled a thermoplastic solution and an effective price competitive and technical performance proposal that meets OEM requirements. The introduction of Zytel® PA612 LCPA and DuPont VSB technology was critical to the technical success of the project," said Patrick Gabriel, key account manager at Tristone Flowtech Group.
Superior Resistance
"Zytel® PA612 can offer superior thermal resistance than PA12 in flexible coolant pipes. We have adapted Zytel® resins to meet the latest requirements in water/glycol and temperature resistance, for example, by developing impact modified and chemically modified grades, and proprietary convoluted mono or multilayer designs. For rigid coolant pipes produced by gas, water and projectile injection, processors can select special glass/bead reinforced Zytel® PA66 resins offering different viscosities and levels of glass reinforcement to suit those different processing techniques," said Mario Delbosco, development programs manager, DuPont Automotive.
Zytel® GR PA66 for Rigid Cooling Pipes
Rigid coolant pipes of Zytel® GR PA66 can withstand temperatures up to 150°C, pressures to 2.4 bar, and mechanical stresses in hot and confined engine compartments. Added benefits include part integration and weight reduction. "Glass Reinforced Zytel® GR PA66 is a very relevant product for water injection processing, resulting in better control of wall thickness while preventing dual wall formation, and enabling effectiveness through faster processing cycles" said Emre Çelikkol, plastic product development manager, Teklas Kauçuk AS.
Teklas Kauçuk AS is a major Turkish supplier to the automotive industry offering patented water injection molding technology (WIT) processes for plastics parts production. Founded in 1971 in Istanbul, Teklas owns today multiple manufacturing facilities worldwide and supplies major OEMs both domestic and overseas. Main product groups count low and high pressure fluid circulation systems including rubber, plastic and metal pipes; and windscreen wiper systems.
TRISTONE is a full system provider of Engine & Battery Cooling, Air charge and Air Intake applications for the automotive industry. As one of the market leaders in Europe, TRISTONE has in the meantime successfully expanded its customer support network and operations into the NAFTA region and is now focusing to do this also in China and India.