DuPont™ Tyvek® Cargo Covers—Trusted Protection for Pharmaceuticals in Transit
Tyvek® Cargo Covers are in a class of their own, providing proven protection against temperature excursions plus the added benefit of protection against rain, dust, pollen, bird droppings, insects and other sources of contamination. And, because they are lightweight, easy to handle and available in a wide range of pre-shaped sizes, Tyvek® Cargo Covers help streamline operations.
Tyvek® Is Engineered for Protection
Since its introduction in 1967, Tyvek® has enabled new dimensions of protection, security and safety in a wide variety of industries and applications. Over the years, DuPont scientists have continued to develop innovative new styles of Tyvek® to meet evolving marketplace needs.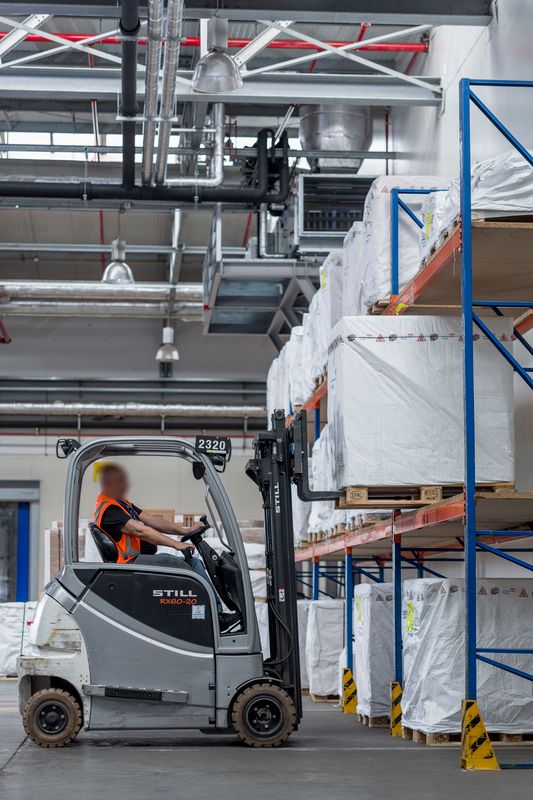 The unique structure of Tyvek®—tough, continuous filaments—creates both a tortuous path for superior microbial barrier and excellent strength properties, making it an ideal protective material for healthcare applications.
Made of high-density polyethylene (HDPE), Tyvek® has a unique balance of properties that cannot be found in any other material. Specifically, Tyvek® is lightweight, yet strong; breathable, yet moisture- and chemical resistant; as well as puncture-, tear- and abrasion-resistant. Tyvek® is also low-linting, smooth and opaque.
Inherent Breathability Makes a Big Difference
Unlike other materials used for cargo covers and thermal blankets, Tyvek® is breathable. This inherent property is a key differentiator and the reason why Tyvek® Cargo Covers speed recovery to the desired target temperature when a shipment is brought back into the cold chain after a hot environment exposure.
Tyvek® Cargo Covers not only enable the product to recover faster to label temperature, they allow the controlled escape of condensation and excessive moisture, which minimizes the risk of water damage to product, packaging and labels.
Protection, Security and More
In addition to protecting both the physical and clinical integrity of pharmaceutical products in transit, Tyvek® Cargo Covers offer security, traceability and reduced environmental impact.
The opaque outer surface of Tyvek® Cargo Covers provides security from prying eyes and makes it easy to detect tampering.
Because DuPont is deeply committed to the quality and integrity of its products, every Tyvek® Cargo Cover features a Safety Recommendation Label that includes a serial number that can be traced for quality investigations.
And, Tyvek® is recyclable. Currently, there is a recycling program for Tyvek® Cargo Covers in North America and DuPont is working to set up similar programs in other regions of the world. Tyvek® Cargo Covers can be used again if return logistics are feasible for the pharmaceutical company.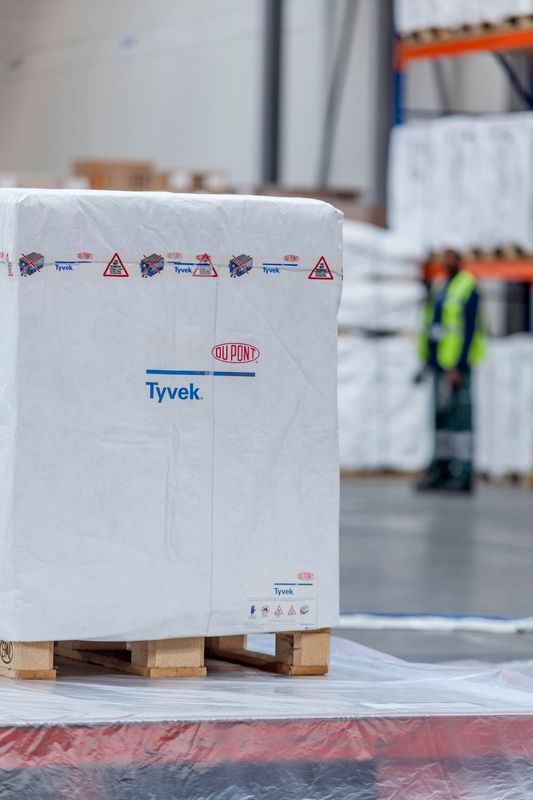 Styles and Sizes to Meet Your Needs
Lightweight Tyvek® Cargo Covers are available in a wide range of industry-standard and customizable pre-shaped sizes for a quick and easy fit, which helps streamline operations.
There are three styles to choose from—Tyvek® Solar™ W10, Tyvek® Solar™ W20 and Tyvek® Xtreme™ W50. Deciding which style of Tyvek® Cargo Covers to use is dependent on various factors such as length of time in transit and type of product being shipped. DuPont experts are available in every region around the world to help you choose the best style of Tyvek® Cargo Covers for your specific needs and to share their knowledge about the science of protection.
A Legacy of Trusted Protection
For nearly 50 years, DuPont™ Tyvek®—the material For Greater Good™—has been helping to protect the health of millions of patients worldwide by providing trusted protection for pharmaceutical products and medical devices.
Leading pharmaceutical manufacturers around the world rely on Tyvek® to provide trusted protection during every step of the process—for aseptic processing, active packaging, final product packaging and cargo covers used during shipment.
Learn More
To learn more about how Tyvek® Cargo Covers—an exclusive technology patented by Blueye®—can protect your pharmaceutical products in transit and streamline your operations, visit Tyvek® Cargo Covers for Pharmaceuticals or contact your local DuPont representative.