Tom Carney's Work in the Applied Sciences
10.16.17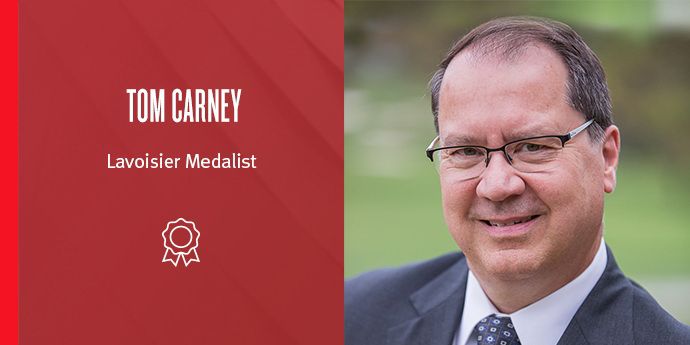 Walk into any electronics store. Stroll through the bathing suit aisle at any major department store. You're seeing some of the results of Tom Carney's more than 30 years of innovation at DuPont.
Carney joined the DuPont Fibers division immediately after earning his Ph.D. at the University of North Carolina, Chapel Hill. After 23 years, that division was spun off, Carney rejoined DuPont a year and a half later. "I was anxious to get back to the company," he says. "DuPont was where I wanted to be."
Now a DuPont senior research fellow in Circleville, Ohio, Carney is a recipient of the 2016 Lavoisier Medal, which honors men and women whose extraordinary technical achievements have resulted in both significant business impact and enduring scientific value.
"When I finished school, I wanted to be able to produce something. I wanted to do something good for society and focus my energy on something useful for people," Carney says. "DuPont made that possible."
Carney is the kind of scientist who rolls up his sleeves and dives in. He led the team that developed DuPont™ Kapton® B polyimide film, which provides the uniform, aesthetically pleasing matte black appearance in mobile phones and other electronics, while maintaining the necessary balance of physical, chemical and electrical properties over the wide temperature range that smartphones need to sustain.
"It's really about what our customers need – and want," Carney says. "They need highly technical, high-performance material that looks great." And that's exactly what Carney and his team set out to provide.
From Phones to Beaches
Many swimsuits would also look and fit differently without Carney's contributions. Carney is the sole inventor of LYCRA® XTRA LIFE™, a product that protects swimwear against degradation up to 10 times longer than unprotected fibers. "This unique technology keeps swimsuits looking great and feeling comfortable."
Carney says he's achieved more than he ever expected, especially the commercial success. "I've managed to transform ideas into products that fit our customer's needs and that we're actually selling and that I can identify with," he says. "I can look at a mobile phone and say, 'Hey, my stuff is in there.' Or go into Macy's and look at hang tag on swimwear and say, 'Hey, that's what I invented.'"
About the highlights of his career at DuPont, Carney says it's the times he's been able to work through really difficult challenges.
"When you work in R&D, most of the things you try don't work," he says. "There have been a couple of occasions when we tried everything and were ready to throw in the towel, and then we find the answer — something that works."
It's tremendously gratifying and exciting when that happens, says Carney. "Those are really big deals and really satisfying. And by giving me the opportunity to pursue my ideas, and the freedom to take them all the way to commercial products, DuPont has made all that possible."