DuPont Electronics & Communications and SPIC Huanghe Hydropower sign strategic collaboration Letter of Intent to promote the development of cutting-edge photovoltaic technology and drive the adoption of more efficient and reliable solar energy applications. Bainian Liu, vice general manager of Huanghe Hydropower and Doctor Gary Gu, DuPont AP regional technology director & general manager of China R&D Center (first row left to right), Xiangui Wei, general manager of Huanghe Hydropower, Jon Kemp, president of DuPont Electronics & Communications, Xiaoping Xie, president of Huanghe Hydropower, Eric Wang, global sales director of DuPont Photovoltaic and Advanced Materials. (2nd row right 5 to 8)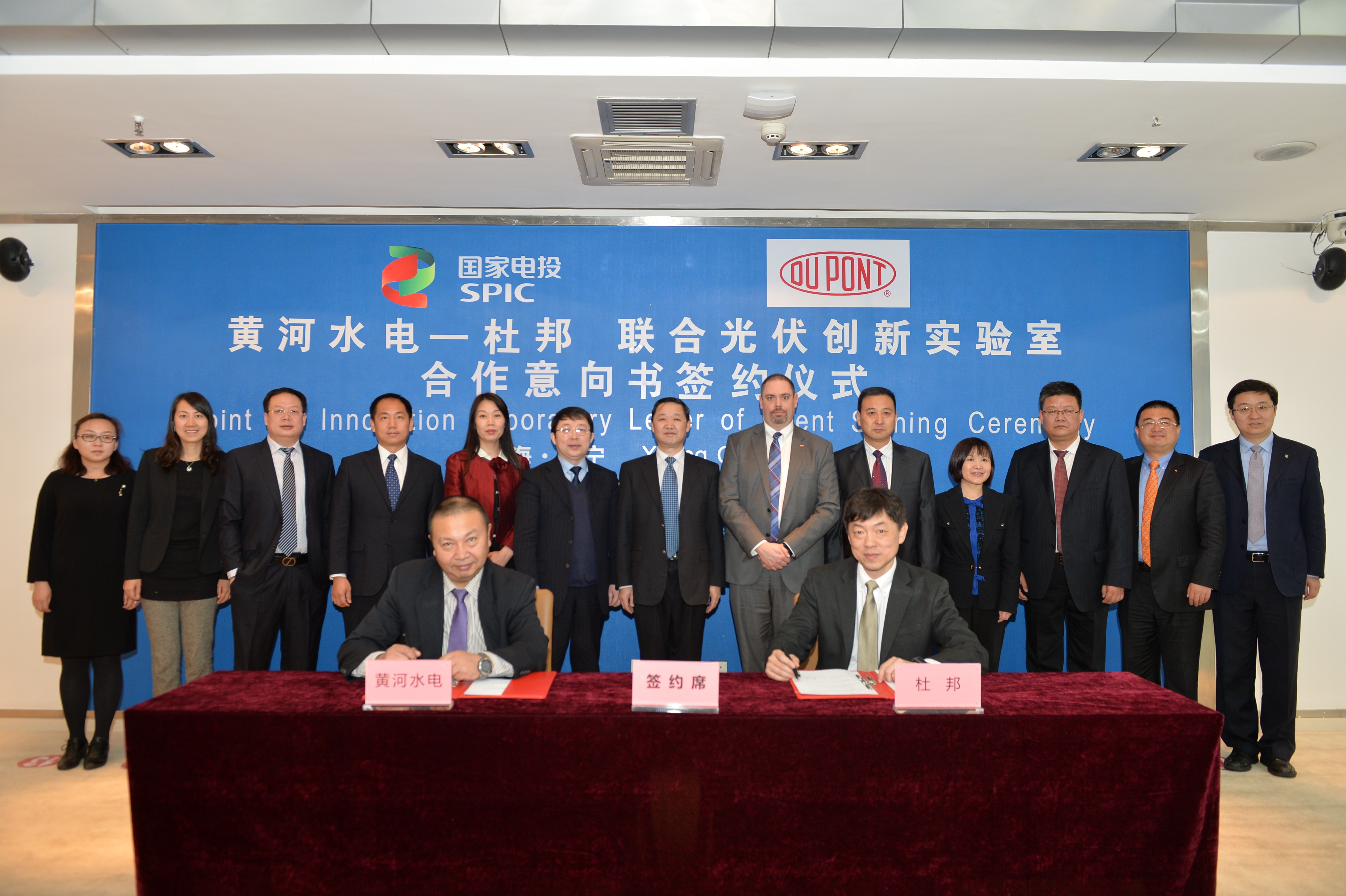 Venture Will Promote Technologies to Achieve High-Efficiency Power and Lower Levelized Cost of Electricity
CHINA, Feb. 8, 2017 – DuPont Electronics & Communications (DuPont) and State Power Investment Corporation (SPIC) Huanghe Hydropower announced the signing of a strategic collaboration letter of intent and establishment of a joint laboratory of advanced photovoltaic technology innovation. The in-depth collaboration letter of intent will include research and development of advanced photovoltaic technology, on-site technical service, and support for power stations and overseas market development. Both parties aim to strengthen research and development in China to promote the development of cutting-edge photovoltaic technology and drive the adoption of more efficient and reliable solar energy applications.
At a recent high-level energy transportation forum held in Beijing, it was announced that clean, low-carbon energy will become the focus of China's 13th energy development five-year plan. As a result, China will begin to vigorously advocate use of non-fossil energy, strategically adjust the country's energy infrastructure in favor of low-carbon energy and pursue multiple measures to promote the development of wind power and photovoltaic power. In addition, China will explore how to further lower the cost of photovoltaic power, reduce the cost of systems and increase efficiency, all of which are urgent priorities.
Addressing these priorities is the impetus behind formation of the joint laboratory of advanced photovoltaic technology innovation by DuPont and Huanghe Hydropower. Unlike other photovoltaic labs that are focused on testing materials, the joint DuPont and Huanghe Hydropower laboratory will conduct research on advanced core technologies, long-term technology development and applications, with particular emphasis on next generation high-efficiency crystalline silicon cells and new module designs, as well as field studies of power stations.
"The successful experience of over a half century has helped establish DuPont as a global leader in materials R&D, testing methods, cell efficiency, long-term reliability of modules and field testing of power stations, all while making great strides in the optimization of supply chain management, quality and safety management systems," said Jon Kemp, president, DuPont Electronics & Communications. "We are very honored to have the opportunity to provide Huanghe Hydropower the full range of our professional experience in cell, module and power station testing to help ensure the long-term reliability of Huanghe Hydropower's solar energy assets. With Huanghe Hydropower as a partner, we look forward to working together in the spirit of inclusive innovation to conduct international research at the joint laboratory of advanced photovoltaic technology innovation that will enable a new generation of technology to enter the market sooner."  
At the signing ceremony, Xie Xiaoping, president of Huanghe Hydropower Development Co., Ltd. credited DuPont's expertise in photovoltaic technology and its R&D application experience for playing a crucial role in enabling Huanghe Hydropower to install 20GW PV power stations by 2025 and help realize its ambitious goal of having the world's largest capacity. "This joint lab will be the first one in Northwest China known for global advanced photovoltaic technology research and application. With its advanced equipment and highly professional researchers, the lab may be located in Qinghai-Tibet Plateau, but we hope its impact will be global. Closer to home, the lab also will provide valuable forward-looking technical support for the two 10GW clean energy bases in Hainan Tibetan Autonomous Prefecture and Haixi Mongolian and Tibetan Autonomous Prefecture."
In recent years, Huanghe Hydropower has been developing photovoltaic power stations and wind power projects in Qinghai, Gansu, Ningxia and Shaanxi, and has achieved new energy power generation capacity of more than 3000MW. Its water and solar complementary power generation is highly regarded among the world's new energy industry.
"Achieving Huanghe Hydropower's future consolidation and expansion goals are impossible without access to advanced photovoltaic technology. DuPont's technical advantage will enable us to meet these goals; through cooperation and mutual benefit, we will jointly develop new photovoltaic technologies and explore overseas emerging markets," said Xiaoping.
As a leader in providing global users with proven power and lasting value, DuPont has developed many of the core materials used today in the photovoltaic industry. Located in the DuPont China R&D Center, DuPont's world-class photovoltaic technology center is the global leader for materials testing in the industry. DuPont™ Tedlar® polyvinyl fluoride film is the only backsheet material field-proven to help protect modules for more than 30 years in various harsh climates. DuPont™ Solamet® photovoltaic metallization pastes increase cell efficiency by 25 percent while reducing laydown 70 percent over the past 10 years. DuPont has launched over 120 new products in the past eight years.

Huanghe Hydropower Development Co., Ltd. is a large comprehensive energy company under the State Power Investment Corporation. Founded in October 1999, it is now mainly engaged in power plant development and construction; power plant production, management, testing and maintenance; production and sale of crystal silicon products and solar cells and modules; production and sale of electrolytic aluminum; mineral resources development, etc. Huanghe Hydropower has experience in the development and production of photovoltaic cells and modules and the construction of grid-connected photovoltaic power stations.
DuPont Photovoltaic Solutions (DPVS) is the leading supplier of specialty materials to the solar energy industry. Since 1975 more than half of the world's 900 million installed solar panels contain DuPont materials. The DPVS portfolio, including Solamet® photovoltaic metallization pastes and DuPont™ Tedlar® polyvinyl fluoride films, is the established benchmark of the industry, delivering lifelong value through proven performance, reliability, efficiency and best return on investment. To learn more, please visit http://photovoltaics.dupont.com.
DuPont (NYSE: DD) has been bringing world-class science and engineering to the global marketplace in the form of innovative products, materials, and services since 1802.  The company believes that by collaborating with customers, governments, NGOs, and thought leaders we can help find solutions to such global challenges as providing enough healthy food for people everywhere, decreasing dependence on fossil fuels, and protecting life and the environment.  For additional information about DuPont and its commitment to inclusive innovation, please visit www.dupont.com