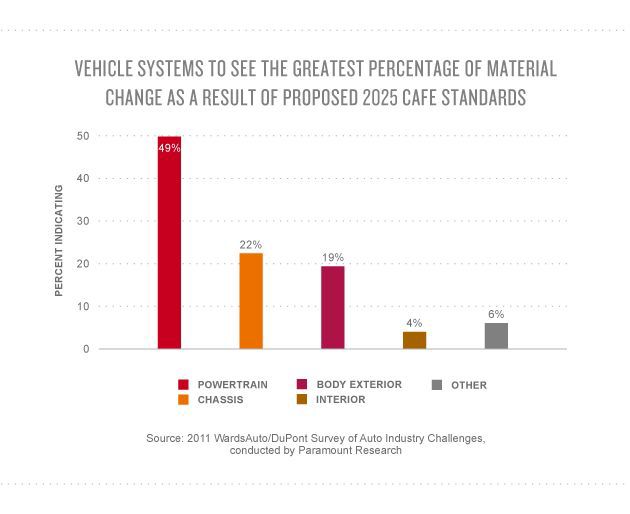 Drive to Reduce Dependence on Fossil Fuels Demands Materials Innovation
"Clearly CAFE regulations have confronted the industry, but they've also driven focus around technology needs, material demands and cost issues," said David Glasscock, DuPont global automotive technology director. "While the CAFE standard is a little lower than proposed, it's significantly higher than where we are today. Advanced materials, alternative propulsion systems and new technologies must be developed quickly and cost effectively."
Only 5 percent of the vehicle design and engineers polled said they are "very confident" that currently available materials will help them meet proposed CAFE standards. Nearly half the respondents say the greatest change in materials will be in power train systems, noting that advanced propulsion systems — from downsized engines to hybrid and electric vehicle systems and batteries — will drive new material requirements.
Respondents identified the need for higher strength, lighter metals including aluminum, magnesium; more cost-effective advanced composites for structural components that can significantly reduce weight and high-heat resistant, lightweight materials to withstand higher combustion pressures and temperatures.
"This is a defining moment — not just for materials, but for the industry," said Glasscock. "And it's one that breaks the silos of the value chain and is inclusive of the global marketplace."
DuPont recently opened automotive collaboration centers in Seoul, Korea, Pune, India and Shanghai, China, connecting them globally with facilities in Meyrin, Geneva; Wuppertal, Germany; Nagoya, Japan and several in the Americas to strengthen the industry's ability to collaborate on ways to reduce dependence of fossil fuel.
In 2010, DuPont launched more than 1,700 new products and invested 22 percent of its $1.7 billion R&D budget on reducing dependence on fossil fuels, new chemistry and materials.
"The combination of collaboration centers and science-powered innovation shows we are ready — and looking forward — to the challenges," said Glasscock.
In addition to materials challenges, the WardsAuto and DuPont survey explores how new CAFE standards will impact vehicle manufacturing and offers a ranking of the top challenges consuming industry resources.