Cyrel® EASY EPR High Durometer Smooth Surface Digital Plate
DuPont™ Cyrel® EASY EPR is the built-in flat top dot digital plate designed to perform with a wide array of substrates. Cyrel® EASY EPR has a smooth surface ideally suited for the micro-screening of solids.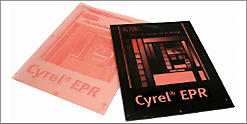 Applications
Flexible Packaging

Tag & Label

Folding Cartons

Beverage Cartons
Product Features
The flat top dot shape compresses less, providing a more consistent and stable print surface.

Higher latitude and better uniformity reduces press make ready time.

Very high resolution and low dot gain.

Screened high density solids and low graininess.

The EASY EPR's smooth surface is perfect for special print effects based upon micro-screening, especially on film.