Food Security Index – A South Africa Deep Dive
8.9.16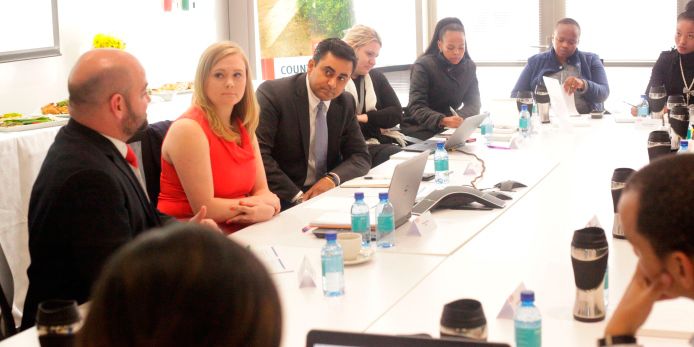 The Global Food Security Index, compiled by The Economist Intelligence Unit and exclusively sponsored by DuPont, is a dynamic, global benchmarking tool that deepens the dialogue on food security by examining the core issues of food affordability, availability, and quality and safety in 113 countries.
In its fifth year, the Index has become a policy check for governments and a country diagnostic tool for investment. Non-governmental organizations and multilaterals have turned to the Index as a research tool to identify key countries in which to focus advocacy efforts for food security challenges.
Recently, DuPont hosted a media briefing in Johannesburg, South Africa to discuss regional results of the newly released 2016 Global Food Security Index.
"The United Nations has estimated that the world's population will grow by another 1.2 billion in just 14 years' time. Solving the challenge of food security is not something that can be done single-handedly," said Prabdeep Bajwa, regional director for DuPont Pioneer in Africa. "Collaboration between farmers, communities, food processors, local and national governments, NGOs, multinational businesses, and other collaborators along the food value chain — right down to the consumer — is essential to effectively and sustainably feed an ever-growing global population."
Morgan Gray, DuPont corporate communications specialist provided a review of the Index at the briefing. Within South Africa, the Index results showed opportunities for improvement in diet diversification, high quality protein, and increased investment in agricultural research and development. South Africa achieved a higher score this year, climbing 0.6 points from its 2015 position to 62.9 out of 100 points. Its global ranking, however, fell from 46th to 47th out of 113 countries. Food security remains a top priority for South Africa amidst ongoing drought and rising food prices, and agricultural strategies that incorporate climate-mitigating technologies will be key to securing access to food for the country.
"By 2017, DuPont will invest over R70 (US$49.5) million in Africa technology hub research facilities in Delmas (Mpumalanga) and Hoogekraal (North West)," said Bajwa. "The network of research facilities and testing locations will advance DuPont's ongoing efforts to accelerate seed product development for African farmers, helping them better manage pests and crop disease, climate volatility and soil fertility."
Bajwa was a guest on CNBC Africa where he discussed the Index and DuPont's commitment to food security.