Mary Ellen McNally: Breaking Things Down to Change Lives
12.1.16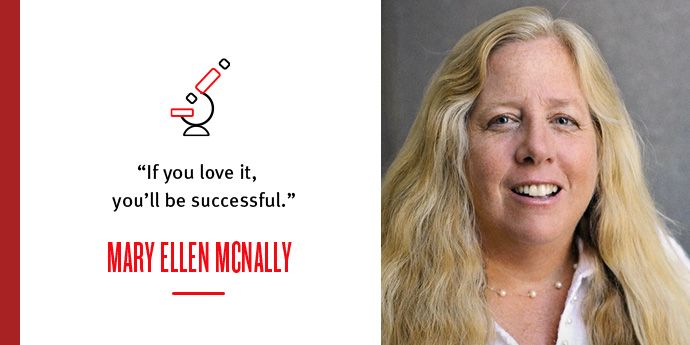 "I'm a consumer, just like everyone else," says Mary Ellen McNally. "I want to make sure that all my food is the best it can be."
Many people around the world may share that sentiment, but Mary Ellen McNally is most certainly not like every consumer. A DuPont Technical Fellow at the Stine Haskell Research Center for DuPont Crop Protection, McNally joined the company more than 32 years ago armed with a PhD in analytical chemistry and a can-do attitude. Today, McNally is widely revered by her peers throughout the industry as being at the top of her game in helping to ensure that agricultural products leave a small — or non-existent — footprint on the people, animals and environment they touch.
Named to the 2016 "Power List" and the Top 50 most influential women in the analytical sciences by The Analytical Scientist magazine, McNally is passionate about the theory of chromatography — a versatile method of separating many different kinds of chemical mixtures to understand what they contain.
"My background in physical chemistry has always made me captivated by separation theory; my career in industry has taught me to be practical in its use," McNally wrote in 2015 as the guest editor for Chromatography Online magazine.
McNally oversees analytical testing for DuPont agricultural products for crop protection, which include insect-, weed- and disease-control solutions that improve crop yield and quality. The objective of this testing is to know exactly what is placed in the environment.
"We also want to know the exact fate of our compounds — on soil, on water, and on the crops that they are applied to," says McNally. "In DuPont Crop Protection, we are looking at animals that might ingest it, the soil, water and plants it may be applied to. Our goal of course, is to ensure that our products do not have adverse effects on the environment."
DuPont operates in a highly regulated environment, which is why McNally's prowess with separation and measurement is so important. "We need to understand down to 0.1 percent everything that is in our products," she says.
Where the Inspiration Comes From
Mentors have a big place in McNally's career. Her PhD advisor, Dr. Robert L. Grob, at Villanova University, was an early and influential supporter of her work. An exacting individual, Grob wasn't satisfied with experimental results that were achieved just once, but demanded that experiments be performed again and again, until a result was reproducible. "His point was to make it difficult, if not impossible, for someone to question your data," says McNally. "That guidance has served me very well."
Later, when McNally did a post doc at the University of Georgia, she worked under the guidance of Dr. L.B. (Buc) Rogers. His influence was of another kind. "He instilled in me the ability to get ideas from things that you see in your everyday life," says McNally, who recalls going through the latest journals by the American Chemical Society with Rogers every week. He always wanted to discuss the advertisements, not the articles. Why? "Because that's where he felt inspiration would come from," says McNally, who today believes she got her iron discipline from Grob, and her ability to be creatively inspired from Rogers.
McNally knew that science was her avocation at a young age. Attending an all-girl Catholic school in Springfield, Pennsylvania she was fortunate enough to have an extremely charismatic and encouraging chemistry teacher. This woman was such a powerful force for science that four of the 30 women in the class went on to become chemists. "She loved it, and she caused us to love it too," says McNally.
Happiest when she makes a difference in the world, McNally recalls a game-changing insect control product — DuPont™ Rynaxypyr® she helped produce at DuPont. Before-and-after photographs of a farmer's crop showed cabbages that had substantially increased in yields based on the data because of her product. "It changed his lifestyle, and changed the economy of the town he lived in," says McNally.
But McNally has had her share of challenges, too. "At one point in my career, things were extremely competitive," McNally says. "People were extremely protective about their research, their data, and no one was sharing." Unhappy with the approach, McNally had a life-changing "aha": that the only true competition was with herself — to improve upon what she had done the previous day. "I decided I would openly share and collaborate as much as I could, with the goal of helping myself perform better," she says. Her career soared.
Being a woman in science can be difficult, she admits. "It's a cliché, but you have to work harder, and do more, and be better to be considered equivalent," she says. "Even today, I think a woman has to sell herself more to get deserved respect. I know women, really brilliant minds, who left academia because it was so much harder for them than their male peers."
It concerns her that the numbers of women in STEM (science, technology, engineering, and math) field are not proportional to the general population. But her advice for young women is encouraging: "If you love it, you'll be successful," she says.