Shippers Eye DuPont Scrubbers for Clearer Skies
2.9.17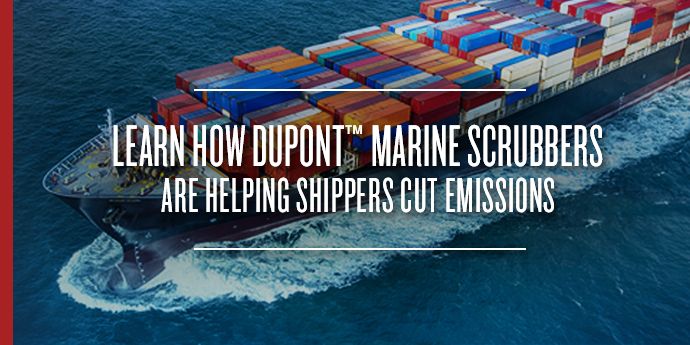 An estimated 90% of world trade travels by sea. However, air pollution caused by sea trade is an increasingly pressing issue for maritime industries.
Aligning with urgent United Nations goals to combat air pollution for seafarers and seaside communities and conserve oceans and marine resources, IMO's Marine Environmental Protection Committee (MEPC) took strong steps in October to reduce sulphur emissions from cargo ships, oil tankers, containers and other large vessels. Specifically, the global body upheld an existing mandate capping sulphur emissions from commercial ships at 0.5% of fuel content, down from the current 3.5%. The global 0.5% S limit will be enforced in 2020.
The potential benefits of these mandates are huge. The shipping industry is among the world's biggest sulphur emitters, according to a recent Reuters' article. Sulphur content in heavy fuel oil is up to 3,500 times higher than the latest European diesel standards for vehicles. That's a huge difference, but these new mandates could close that gap and reduce these harmful emissions.
"This decision reduces the contribution of shipping to the world's air pollution impact from about 5% down to 1.5%," says Bill Hemmings of Transport & Environment, an international advocacy group, "and will save millions of lives in the coming decades."
Technological advancements may make meeting these ambitious goals possible for an economically crippled global industry in search of higher profitability.
Decision Time for Maritime
Analysts estimate that the container shipping sector alone could face an additional US$35–$40 billion in compliance costs given the sulphur ruling. No surprise, then, that many shippers held off deciding how to meet these new requirements until the new IMO regulations were finalized.
Now that the requirements are confirmed for 2020, ship owners and operators must decide on the best, most economical way to meet new exhaust gas limits.
Some shippers may switch to costlier marine diesel oil (MDO), marine gas oil (MGO), liquefied natural gas (LNG), or methanol. Price differences between these more expensive low-sulphur fuels and current heavy fuel oil (HFO), however, are expected to widen as demand for low sulphur fuel increases. Fuel refiners are not producing enough low-sulphur oil to meet even current demand from the shipping sector, according consultancy Energy Aspects.
As a result, many shippers are charting another route: installing exhaust gas cleaning systems (EGCS) — or scrubbers. Doing so will allow them to continue burning HFO and become compliant while also avoiding the high cost of converting to low-sulphur fuels.
"Scrubbing is a simple, robust and proven technology that is a cost-effective and efficient option," Melanie Davidson of DuPont Clean Technologies told Bunkerspot magazine. With IMO mandates now in place, she says, the exhaust gas cleaning industry is preparing for a rush of retrofits.
Because of the large financial returns of the technology, some 500 to 2,000 additional ships are expected to be equipped or built with scrubbers in the run up to 2020.
Washing Out Sulphur ­— and Costs
Scrubbers are fairly simple: slim, torpedo-shaped units are fitted into the exhaust towers of ship engines and generally replace the engine silencer.
The exhaust from engines, boilers and generators passes through the scrubber tower, where a series of sprays removes impurities and absorbs SOx gases from the exhaust. This treated gas then exits the scrubber into the atmosphere.
Scrubber technology provides two big benefits:
It allows shippers to become compliant with the new regulations while using cheaper fuels.
It spares refiners from having to expand expensive systems needed to treat high-sulphur fuel.
High Stakes on Great Lakes
Scrubber retrofits are already underway at Interlake Steamship Company. The Middleburg Heights, OH, company is retrofitting five of its Great Lakes bulk carriers with DuPont™ Marine Scrubber systems from Belco Technologies Corp. (BELCO), a wholly owned DuPont subsidiary.
With three installed and operating and another two on the way, the systems allow Interlake to meet all North American ECA IMO Annex VI sulphur and washwater requirements while continuing to operate on heavy fuel oil.
"This technology allows us to achieve our goal of continually shrinking our fleet's environmental footprint while dependably, safely and efficiently delivering raw materials to our steel, construction and power generation customers throughout the Great Lakes," says Interlake President Mark W. Barker. The 103-year-old company aims to become the most efficient and environmentally responsible fleet on the giant inland sea.
A Brighter Future
Continued improvements in emission monitoring, washwater treatment and reduced system footprint are likely to further increase the popularity of marine scrubbers in coming years. Some predict that the technology will let shippers, passenger ships, cruise liners and other large vessels safely and economically use HFO for another 20 to 30 years.
DuPont Clean Technologies says that its robust flue and exhaust gas cleaning systems help mariners meet clean air regulations with minimal maintenance and operational requirements.