Claudia Jañez: Breaking with Tradition
2.7.17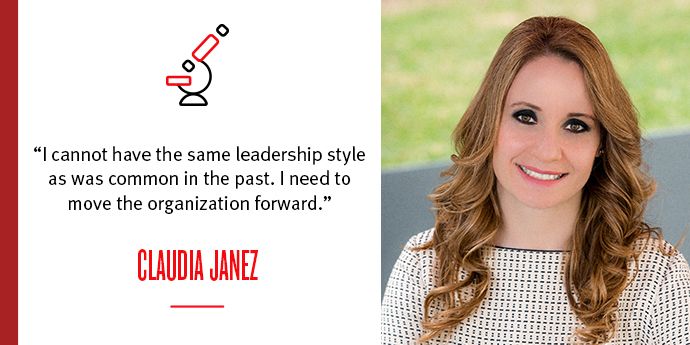 Claudia Jañez doesn't believe in taking no for an answer. Early in her career, when she was a 27-year-old lawyer at a large U.S. automaker in Mexico City, her boss — the general counsel — suddenly left the company. Jañez went to her superiors and told them she wanted the job. They told her she was too young.
"You can tell me I'm not qualified, but not that I'm too young," says Jañez, who today is president, general manager and legal director of DuPont Mexico, Central America, and the Caribbean. She is the first woman to hold this job, as well as the youngest person to act in the role.
Jañez countered with a proposal. Let her do the general counsel job for six months, at her current title and pay grade, and if she aced it, she would get the job. "I told them they had nothing to lose," she says. They agreed, and the rest was history. Jañez exceled at the job, was duly appointed, and ran the department successfully for more than eight years before she joined DuPont.
"I will never let anyone tell me the only reason I can't do something is because I am too young," Jañez says today. "I've always been very clear that I have to deliver and work hard to get places. I've never hesitated to demonstrate that I am the best person for a job."
DuPont Breaks with Tradition
Jañez has been at DuPont for a total of nine years. She first spent three years in the legal department in the early 2000s. Then, she left the company for a few years, only to be recruited back in 2011 as general counsel and head of government affairs in Mexico. Two years ago January, Jañez was named head of Mexico. "It's been quite a ride," she says of the last six years.
"My predecessors were all men, all engineers, and all had many more years of work experience than I had when I got the role," says Jañez, who was 43 when appointed president. "With me, DuPont went in a completely different direction." Radical changes were afoot. The company was making a major acquisition of Danisco, an international food ingredient and biotechnology firm with a large Central American presence, and at the same time was divesting itself of its large Performance Coatings business. Jañez was tasked with helping with both undertakings.
"I was handling the acquisition of Danisco in my lawyer role. Then started helping with the separation and divestiture of Performance Coatings," she says. "It was very challenging but a very exciting time."
Because the then-president moved to the company that took on the Performance Coatings unit, his job was vacant for several months, during which Jañez — true to form — took on responsibility for running the company while integrating Danisco into the organization. Although a new president was appointed in 2013, the same scenario played out again within just a few months — DuPont sold the division that the president was leading, and he went with the divested company. This left another leadership gap until DuPont asked Jañez to assume the role of president while keeping her duties as general counsel.
An Open-Door Policy
Jañez is renowned for her hands-on leadership, collaborative style, and open-door policy. Perhaps the biggest symbol of the change she brings to DuPont is her eschewing of the traditional grand office of the president in favor of keeping her former lawyer office.
DuPont has owned a large, 15-story building in Mexico City, for more than 40 years. The building has a penthouse, with a stupendous view and a large terrace, where traditionally, the president would sit behind a desk and hold meetings.
Jañez rejected that formal office setting and instead, she opened up the space for everyone in the building. "If someone wants to have a reception for their customers, or distributors, or recognize their team for an accomplishment, they can book the place. It's open to anyone at any time," she says. She believes that having access to the open space has been a great unifier for the organization. "And by staying in my own office, I am closer to my people, and more available. It tells everyone, 'you can see me, and I'm part of the company.'"
When Jañez came back to DuPont in 2011, 52 percent of the employees were Baby Boomers and most were 55-plus years old. In only six years, because of the various divestitures and Danisco acquisition, the population is now 56 percent Millennials, and 35 percent Generation X. "I cannot have the same leadership style as was common in the past," she says. "I need to move the organization forward."
Opportunities for Women
Jañez is proud to be an example to other women who want to advance their careers at DuPont. She agrees that she has an unusual background. For starters, she didn't have a technical STEM (science, technology, engineering, and math) background. But her law degree and her MBA have served her well. "Law and business turn out to be a good combination for leadership," she says.
Women get very good opportunities in DuPont, according to Jañez. "DuPont has been a pioneer in diversity. We have a lot of programs for childcare and offer flextime — not just for women, but for men, too. DuPont doesn't assume that it will always be the woman taking care of the children."
"If you'd asked me when I started out, I would never have imagined, 25, 30 years ago, that I would end up here. But I have never been scared or worried. I have always been confident in my abilities," she says.