George Washington Carver: Agricultural Trailblazer and Humanitarian
2.22.17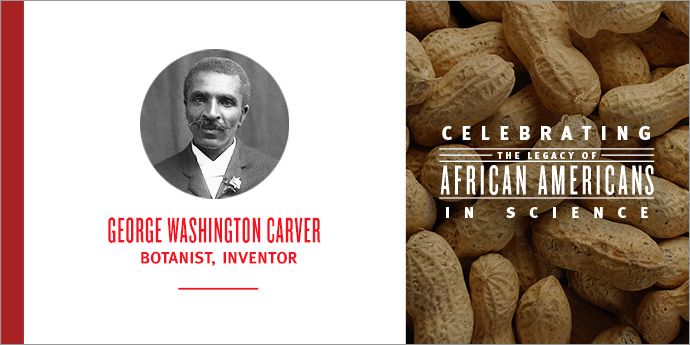 As a child, George Washington Carver was not able to do heavy farm work, so the young slave performed household chores, including gathering foodstuffs from the woods and fields around the southern Missouri farm. As the nation blazed with Civil War and early Reconstruction, Carver spent long hours exploring the local countryside and rich local flora. In time, locals nicknamed the studious young man "The Plant Doctor," a testament to his practical knowledge developed by keen observation and experimentation that was freely shared with farmers.
Carver never lost his deep boyhood curiosity, or his eagerness to share his discoveries for the betterment of humankind. Today Dr. Carver (1860s-1943) is honored as a selfless trailblazer in agricultural science and technology. His thousands of discoveries in soil science, plant breeding and hybridization, bacteriology, bio-agricultural engineering, ecology and food science and nutrition have borne life-saving fruit for millions of people around the world. These pioneering advances continue to provide foundations and inspirations for important agricultural science today.
From Slave to Artist to Professor
Carver's journey, from slave to eminent professor and researcher, is a dramatic, uncommon adventure through Civil War, Reconstruction, on to the Depression and World War II America.
Taught by his owners to read and encouraged in his agricultural explorations, Carver, now a young free man, left Missouri to continue his study and work. At first he was accepted, then rejected by a local college after learning he was black. He then traveled to Minnesota, but after witnessing the lynching of a black man, fled. In the ensuing years on the road, Carver supported himself by farm work and through a laundry he started and ran.
In 1886, he moved to Eden Township, Kansas. Now stronger, Carver worked as a ranch hand and experimental farmer. Maintaining a conservatory of plants, flowers and a geological collection, he would manually plough 17 acres of the claim, planting rice, corn, Indian corn and garden produce, as well as various fruit trees, forest trees and shrubbery.
A few years later, Carver became the first black student at Simpson College in Indianola, Iowa. He supported himself with gardening jobs. Eager to capture the beauty of plants and flowers in still-life paintings, he enrolled in an art class. One day his teacher and friend Etta Budd took Carver aside. Fearing he would never be able to support himself painting plants, she urged him to study them at the Iowa State College of Agricultural and Mechanical Arts, where her father was a professor of horticulture.
Carver transferred in 1891, becoming the school's first and only black student. Due to racial prejudice, he was forced to eat meals in the dining hall kitchen until Budd intervened. Carver stayed at Iowa State for five years. An outstanding biology student, he became the school's first black student to earn a Master's in Agriculture (or any type of Master's degree) and later — its first black faculty member.
In 1896, Carver left to begin a 47-year career teaching and heading the agricultural department the Tuskegee Institute in Alabama, founded by Booker T. Washington. In his later years, Carver also pursued his own research and educational labs.
Carver's work across nine decades produced significant, cross-disciplinary advances.
Pioneering Crop Rotation
At Tuskegee, Carver focused on researching and helping poor African American farmers. His teams developed crop-rotation techniques to improve soils depleted by repeated plantings of tobacco and cotton. And his teams encouraged and taught farmers how to restore nitrogen by alternating plantings of peanuts, soybeans and sweet potatoes. Besides improving cotton yields, the practice gave farmers alternative cash crops. (Carver also was an early advocate of chemical fertilization.)
Products from Plants
Carver believed that higher yields were only part of the benefit of improved production methods. His deep, practical interest in the chemistry of plants also convinced him that he could develop new, non-food applications for agricultural products and byproducts.
He saw farms as "God's true storehouse, [which] can never be exhausted. We can learn to synthesize materials for every human need from the things that grow."
Over his lifetime, Carver and his small industrial lab team became genius at creatively unlocking this hidden potential. They developed 118 derivative uses for sweet potatoes (including ink, dyes, plastics synthetic rubber, postage stamp glue), 75 for pecans and hundreds for soy and other crops, in everything from crayons to baby food to nitroglycerine to cattle feed. Their discoveries, including recipes for peanut butter muffins and other treats, were published in free agricultural bulletins.
This pioneering work was then known as "chemurgy." Today, the science of using agricultural products, notably plant carbohydrates, as feed stocks for industrial production of plastics, paints, ethanol, etc., has evolved into modern biochemical engineering.
Inspiring Commercial Hybridization
Since youth, Carver had been fascinated by plant breeding and hybridization. His Iowa State Bachelor's thesis was entitled "Plants as Modified by Man." He continued the work throughout his career, inspiring many mature and budding scientists.
Among them was Henry A. Wallace, the young son of a colleague, Iowa State professor Henry C. Wallace. Racial prejudice prevented Carver from living on campus. So in 1894, the Wallace family invited Carver to live in their home.
On free days, Carver agreed to six-year-old Henry's request to accompany him on the long nature walks he had continued since his own youth. The two identified and collected specimens around the Ames campus: Iowa Tallgrass, Purple Prairie Clover, Rattlesnake Master, Butterfly Milkweed and myriads of others. Back at the greenhouse, the pair experimented with sick plants and crop breeding.
Carver left for Tuskegee two years later, but his influence was deep and lasting. At fifteen, Wallace conducted experiments that helped demonstrate the concept of hybrid vigor. In 1924, he began selling the first commercial hybrid seed corn. Two years later, Wallace founded the Hi-Bred Corn Company, which would eventually become Pioneer Hi-Bred International, Inc., and is known today as DuPont Pioneer.
Like his father, Henry A. Wallace later became U.S. Secretary of Agriculture. His worldwide efforts to create more productive strains of corn and wheat, inspired by Carver, are credited with saving over one billion lives from starvation.
Wallace later wrote: "George Carver deepened my appreciation of plants in a way I could never forget. I feel I must pay him this debt of gratitude."
When Carver died in 1943, President Franklin D. Roosevelt recognized Carver and his selfless lifetime of achievements and awards. "All mankind are beneficiaries of his discoveries in the field of agricultural chemistry," said Roosevelt. "The things he achieved in the face of early handicaps are an inspiring example to youth everywhere."