Marcia Berimbau: A Renaissance Woman Helps Feed the World
1.19.17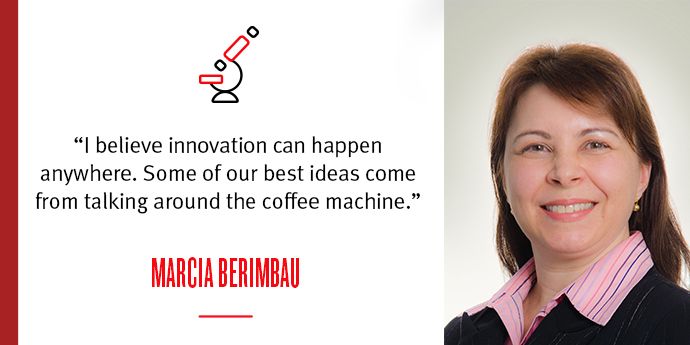 Marcia Berimbau started her career at DuPont in the traditional way: as a scientist, working in Brazil. A chemical engineer by training, Berimbau was a believer in the fundamentals of science, and in the importance of formal, precise processes and procedures. But several years into her career, she broadened her way of thinking. Although engineering was still vital to her job — and to her — she realized after moving into an "innovation manager" role at Danisco that she needed to know more about business. She promptly enrolled in an MBA program in São Paulo, Brazil.
Berimbau, now the Innovation Director for South America for DuPont Nutrition & Health, is a can-do sort of person. She believes in taking initiative. She also loves to learn. So, when promoted to Innovation Director at Danisco in 2001, she realized that she now needed more knowledge than either her technical or business degrees afforded her. In her new role managing teams of engineers and business workers, she needed to better understand people. That's when she went back to university — in her spare time, after putting in long days at work — to study literature and language. "As I became more and more involved in leadership, I realized that understanding the human side of people, and how they think, was essential," she says.
Literature in turn opened the door to philosophy — and to another humanities degree that Berimbau finished in 2011. "This was very important to opening my mind, and understanding some very fundamental things about people," Berimbau says today. "Although I'm in a technical area, my work is mostly dealing with teams, project groups, and strategies, and that's what I needed the most help with."
Think globally, act locally
Berimbau runs DuPont Nutrition & Health "Innovation Lab" for South America. Her group exists because, as she says, "science is global, but food is local." DuPont R&D groups might come up with the firm's blockbuster new enzymes, but if they don't complement diets around the world, then it's for naught. That's why DuPont has placed Innovation Labs around the world. "To put a final product in something like ice cream, or a piece of bread, we have to see what that ingredient is bringing to our market in particular," Berimbau says.
She points to some of the recent food innovations her team has been involved in. Countries in South America — Chile is a prime example — have been worried about their citizens' health, and have recently passed regulations about food ingredients such as trans fats. In response, Berimbau's team launched a zero trans-fat, low-saturated-fat campaign. "We've presented prototypes of margarine and biscuits using DuPont products to our customers, and are now working on a healthy cake. These are meant to be an inspiration to our customers, for products they can offer to their customers."
Collaborative leadership style that promotes innovation
Berimbau is known for her participatory leadership style that promotes innovation. "I enjoy being close to my teams, to encourage them to exchange ideas and collaborate," she says. Although each different industry group works huddled together — Dairy, Ice Cream, Bakery, Beverages and Oils & Fats — Berimbau fosters openness and cross-industry collaboration between the groups. "The 'zero trans & low sat' concept was originally an Oils & Fats campaign that moved quickly into Bakery," she says. "Another example is the cooperation between the Ice Cream and Beverages team in the creation of milk & soy ice cream concept."
According to Berimbau, innovation is a combination of structured processes and the freedom to create. "We have structured processes that involve deep understanding of customer needs and our capabilities. But I believe innovation can happen anywhere. Some of our best ideas come from talking around the coffee machine."
It is also important to share beyond the South America lab. Each industry has a global knowledge team, a centralized multi-functional and multi-regional group that regularly meets to solve particular challenges affecting the industry worldwide. "We have systems in place so that local innovation is never lost or buried deep in some regional facility," she says.
For example, her bakery team recently found an innovative new application for some DuPont™ Danisco® enzymes applied in the milling industry. "We discovered that if you used the enzyme earlier in the process, while the grain is still wet and undergoing what we call 'conditioning,' that you end up with whiter flours, and better yield," she says. "I'm very proud of my team's innovations. Sharing these innovations globally is the way to understand and realize our full potential."
Growth Opportunities at DuPont
Berimbau says that DuPont is a good place for women to advance to leadership positions.
"When I started my career 30 years ago, it was very different. I felt I needed to fight to prove my point, that I could do things as well as my male colleagues," she says. "But as the years have gone by, we see much more women in management roles, both within DuPont, and at our customers." There is still a gap in the number of women in senior positions, she says. "I enjoy spending time mentoring women and also men on how to grow and be successful. I believe we all have the potential and opportunities to grow at DuPont."
Looking back, Berimbau says she feels "wonderful" about her career choice, because she knows she's making a difference. "Feeding the world is a noble challenge," she says. "It's a good thing to know that what you are doing benefits the global population."