Nutrition in Hospitals — A Crucial Part of Care
3.16.17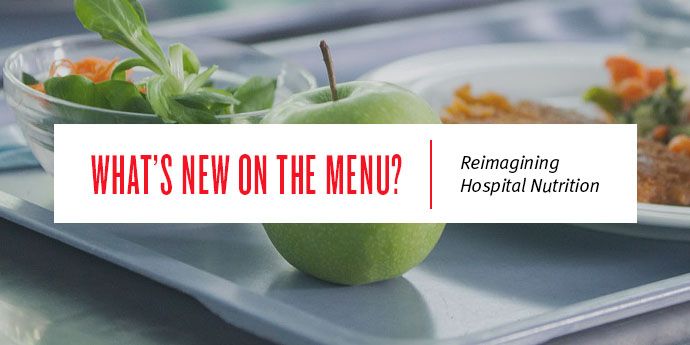 The primary purpose of hospitals is to help patients get healthier. So why is the nutrition in hospitals often an afterthought? No one expects to come home from the hospital raving about the applesauce, but most people expect healthy food. Recently published studies indicate that, beyond taste appeal, many hospital kitchens have some work to do on the nutrition side, as well.
Hospitals are paying attention. They recognize that quality care involves every aspect of the patient experience, including food service.
This realization is driving hospitals to revamp all areas of their food service, from sourcing ingredients and cooking techniques to the menu and delivery. The end goal is food that is both tasty and healthy.
In the end, if the food isn't healthy, it's not meeting the hospital's primary goal. If it's not appealing, patients who need good nutrition to support their recovery simply won't eat it.
Health First
"Food has a major impact on wellness and recovery. That's a scientific fact," says cardiologist Joel Kahn, clinical professor of medicine at Wayne State University and author of The Whole Heart Solution. "A heart patient's tray should not have eggs, bacon and pancakes on it." While this may seem obvious, hospital dieticians face a dilemma when it comes to balancing healthy food with what patients will actually eat. Luckily, more and more hospitals are coming up with new ways to address the challenge.
Beaumont Hospital in Royal Oak, Mich.,1 exemplifies many of the new practices that are transforming hospital food with an eye on both nutrition and taste. Beaumont prioritizes buying fresh, local produce whenever possible, and has partnered with a food aggregator to create a business bridge between a hospital serving 5.5 million meals a year and small Michigan farmers accustomed to being paid in cash.
"Hospital patients, on average, are sicker than they used to be," says Maureen Husek, Beaumont Hospital director of nutrition and retail services. "Medications, or the diagnosis itself, can leave patients with little or no appetite, and sometimes we have to be creative to get them to eat." She cites the local, fresh lettuce Beaumont serves as an example. "It tastes better and it's more enticing than what we could import from elsewhere."
Beaumont operates a room-service model of food delivery, as opposed to the older cafeteria-style model. Patients choose from a menu and then order their meals via a phone bank, where operators with access to patients' records and diet restrictions review the choices before passing them on to the kitchen. In addition to helping the hospital provide food that patients are likely to consume, this just-in-time system has taste benefits — food gets to patients faster — and cuts much of the waste inherent in the tray-line approach.
Healthy Shouldn't Mean Tasteless
Henry Ford West Bloomfield Hospital2 is also engaged in an ongoing effort to provide more nutrition in hospitals with food that is both nutritious and attractive. This effort is driven by Chef Rob Hindley's strong conviction that healthy should not mean tasteless. Hindley operates a "brigade-style" kitchen based on the ideas of legendary French chef, Auguste Escoffier. It's as far from assembly-line cooking as one could imagine, and cutting corners is not allowed.
For example, for pre- and post-surgical patients who may not have much appetite, the kitchen prepares a clear consommé made from scratch from bone and vegetable broth, an item that is hard to find even in fine restaurants because its preparation is so time-consuming and labor-intensive. Vegetables are shocked with cold water after they're boiled to brighten their appearance. "It's a little more expensive doing things this way," says Hindley, "but we make up for it by being efficient and not wasting a scrap of food. We use everything."
In addition to what could only be called gourmet cooking techniques, Hindley uses fresh (not canned) fruits and vegetables whenever possible. "Your food is only as good as the ingredients," he says. To further add zest, the kitchen uses sodium alternatives such as fresh herbs, spices and vinegars.
Beyond the Hospital's Four Walls
At the Lankenau Medical Center3, which is part of Main Line Health near Philadelphia, efforts to provide healthy food extend beyond the hospital's kitchen to include a half-acre farm that produces more than 4,000 pounds of food annually, much of which is distributed to patients after clinic visits or hospital stays.
As Lankenau Associate Administrator Chinwe Onyekere explains, "We wanted to design something that supports people on a local level and provide an example for people to take home, show them what they can do in their own communities." In addition to its educational value, the organic farm removes any cost barrier the hospital's vulnerable patients might have to trying new foods, and gives doctors "a tangible hook to talk about nutrition."
This is not a trivial matter. Proper food plays a crucial role in the health of patients with chronic diseases such as obesity, heart disease and diabetes.
Another Creative Approach
The Aalborg University Hospital4 in Denmark has taken yet another creative approach to hospital food. It has teamed up with DuPont Nutrition & Health to help the estimated 50 percent of hospital patients believed to be at some nutritional risk using a snack most everybody likes: ice cream. Together, they created two protein- and fiber-rich frozen sorbets — blackcurrant and raspberry — as ideal alternatives for patients with low appetite, an impaired sense of taste or swallowing difficulties.
All in all, with fresh ingredients, classic French kitchen practices and alternative offerings such as DuPont's new sorbets, hospitals are taking huge strides in improving both the nutritive value and the taste appeal of the food they serve. These developments in nutrition in hospitals are important components of improving the quality of life for all patients.
--------------------------------------------------------
1 http://www.beaumont.edu/patients-visitors/locations-maps-and-directions/beaumont-royal-oak-campus/
2 https://www.henryford.com/locations/west-bloomfield
3 https://www.mainlinehealth.org/locations/lankenau-medical-center