A Passionate Safety Management Leader
3.7.17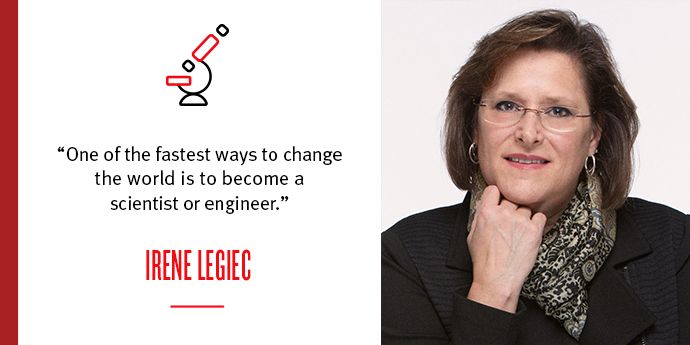 What drives Irene Legiec, DuPont's Global Process Safety Management and Fire Protection Leader, is her love of teams. Legiec believes that when people work together effectively, they provide the most powerful foundation to learn and grow.
Indeed, it's that love of teamwork, Legiec believes, that helps drive innovation throughout DuPont.
"We have to expand horizons to be collaborative across STEM fields," says Legiec. "It takes a diverse STEM team. And the fun piece is you get to keep learning."
Legiec works within the Center for SHE [Safety, Health and Environment] and Operations Excellence at DuPont's Wilmington, Delaware headquarters and helps coordinate process safety globally. She and her team provide the technical sauce that enables standardization that both keeps employees safe and addresses local regulatory compliance needs around the globe. "This is about keeping our people — and our communities — safe," she says.
Self-Professed Safety Geek
A chemical engineer by training, Legiec loves calling herself a safety geek. She personally visited over half a dozen DuPont sites last year. Legiec knows that SHE management is not only about being prepared for an emergency, it's about the health and welfare of the employees and the communities in which the DuPont facility operates.
"From a passions perspective, this fits a need and you get to help the environment," says Legiec. She says that what's most rewarding for her is to immerse herself in the business and science of DuPont's nearly 150 production facilities.
Legiec has managed groups of varying sizes. She always emphasizes camaraderie and collaboration. "Instead of [a focus on the] individual, it's a constantly growing dynamic where people support each other," she says. Legiec is a firm believer in "celebrating the brilliance of people."
How Collaboration Leads to Innovation
That attitude, in Legiec's world-view, drives innovation. And innovation, in turn, supports the DuPont mission "to feed the world, improve the energy supply and clean up the environment." For Legiec, collaboration goes hand-in-hand with innovation "across borders and across sectors."
Indeed, Legiec is herself a perfect example of a "cross border" person. Her parents were born in Poland and immigrated to Canada after the second world war. Canadian borne, she remembers how her parents instilled a "work ethic and drive" in all of their children. While her father was a machinist and went to school for a degree in mechanical engineering, it was her mother (who waitressed in Legiec's uncle's diner) who was the "huge science geek." Says Legiec, "She's the one who drove learning and my passion for science."
The family backyard helped foster her curiosity and love of science. As a young girl, Legiec remembers how her mother would plant marigolds between the tomato plants for pest control, both encouraging and fostering in her a love of learning. A lifelong interest in science followed.
In 1991, Legiec received her PhD in chemical and biochemical engineering at Rutgers University, in Brunswick, New Jersey, where she had previously earned her Master and Bachelor of Science degrees. Legiec started working at DuPont the same year she earned her PhD. Her first assignment followed naturally from her studies: developing and designing the process control strategy to stabilize a lagoon in New Jersey. In 1994, three years after joining DuPont, Legiec received a patent related to her dissertation.
Adding Management to the CV
At DuPont, Legiec migrated to manufacturing technology support, and by 1997, the company asked her to consider leadership positions. "Working in management is something that spurred my interest because of the people we have," she says.
In addition to manufacturing technology management and her current global process safety management roles, Legiec also has worked in research and development, capital improvement management and continuous improvement. She became certified as a Six Sigma Black Belt in 2009.
Reflecting on the beginning of her career in the 1990s, Legiec says that becoming "a PhD chemical engineer was a little lonely being a woman." But promoting STEM education for everyone is a passion of hers. "We need to build a diverse and inclusive bench of talent," she says.
Always looking to mentor new engineers, Legiec is on the Technical Steering Committee of the Center for Chemical Process Safety (a division of AIChE). She serves on a committee that's developing an online, process safety management certification program for undergraduates.
Last fall, Legiec presented at the Delaware STEM Council. An excerpt from her speech at the organization's November 2016 symposium could have summarized her own career.
"We need to inspire students early and retain them on their journeys," she said at the event. "One of the fastest ways to change the world is to become a scientist or engineer."