The Potential of Packaging
5.13.15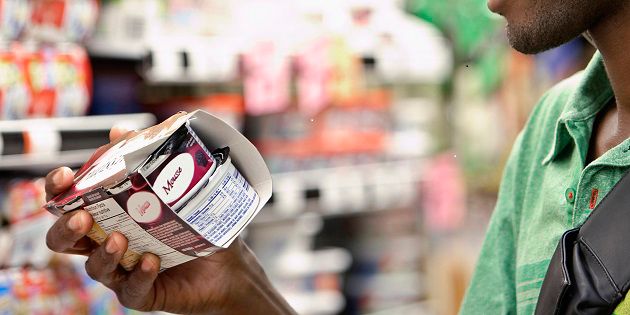 We've all felt the disappointment of opening a package of fresh meat to find that it's not quite so… fresh. The meal gets tossed in the trash and we vow to pay more attention to sell-by dates. While one meal wasted doesn't seem to hold much weight, it's part of the roughly 1.3 billion tons of food lost globally each year.
In developing countries, large quantities of essential food and beverages are lost due to supply chain issues and ineffective packaging. Meat spoils before it can be consumed. Milk collected in an unorganized fashion is prone to contamination, making it unsafe to drink.
With billions of dollars of food transported around the world, protection is a packaging priority. From farm to table, packaging must be created to safeguard food during transit, preserve perishables and facilitate portion-controlled meals that reduce food waste.
More Protection, Less Waste
With the Earth's population expected to soar to nine billion by 2050, packaging has enormous potential to impact food security by minimizing waste and feeding a growing population. To ensure people have access to sufficient and nutritious food, food production needs to double over the next 40 years. Currently, about a third of the world's food is wasted or lost, explained Yasmin Siddiqi, Global Relationship Manager for DuPont Packaging & Industrial Polymers.
In her keynote address during "The Last Food Mile" at the University of Pennsylvania Siddiqi explained, "Food waste has a huge environmental impact because most of the food in landfills contributes to global warming by emitting methane. This is 21 times more potent than CO2 as a greenhouse gas. Add to that the environmental impact of lost food in terms of wasted water and energy, and you start to see that one pound of food saved has a significant human and environmental impact."
This glimpse into the big picture behind food loss is driving innovations that are transforming packaging, and lives.
Transporting Food in Challenging Climates
The infrastructure in developing countries lacks sophistication resulting in massive food waste and deterioration in food quality and safety. In India, for example, sprawling geography and an unorganized collection process make getting packaged beverages to rural populations a challenge for manufacturers. Population growth will exacerbate the issue.
The Science Behind a Long, Safe Shelf Life
When the integrity of packaging is compromised, there is a risk of spillage, oxidation, loss of freshness and reduced shelf life. DuPont™ Nucrel® integrates the paper, metal and polyethylene layers of the juice packs, protecting the beverage.
Maintaining milk's freshness without refrigeration is imperative in many parts of the world. A new and importantly lower-cost film pouch from Parakh Agro Industries, Ltd. in India ensures milk stays fresh without refrigeration for 90 days. The five-layer EVOH-based film is made with DuPont™ Bynel® tie layer resin.
Meat, which is growing in popularity and often transported long distances, can lose its freshness if not packaged confidently. Barrier shrink bags using DuPont advanced materials produce stronger, thinner packaging that helps keep meat fresh longer and reduces puncture and package failures.
The Next Wave of Innovation
Innovators around the globe are working to develop better performing packaging materials that are manufactured more efficiently, and can protect food so that more people can have access to safe and nutritious food.
The DuPont Awards for Packaging Innovation honors international advancements in packaging that are changing the way we live. These award winners will be recognized at a ceremony on May 14, 2015.